Is 'dog-eared' research for the dogs?
UC's FETCHLAB for diagnosing and treating canine hearing impairments is a rare breed in the U.S.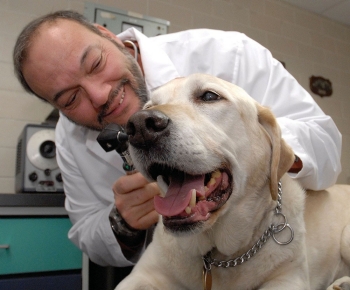 by Katy Cosse
When Pete Scheifele joined UC's faculty in 2007, he brought an important collaborator with him: his mixed-breed miniature pinscher/beagle named Otter. A highly trained show and service dog, Otter was at the center of the first project at Scheifele's new lab, officially called the Facility for Education and Testing of Canine Hearing and Laboratory for Animal Bioacoustics, which bears the cute acronym FETCHLAB.
"When Otter was about 14 years old, he started to go deaf," Scheifele says, "and he couldn't hear his cues anymore. That was when I had just started FETCHLAB, and we were talking about canine hearing aids. Because he was so highly trained, Otter seemed like a good trial dog."
For the next three years, Otter successfully wore his hearing aids and showcased his abilities on "The David Letterman Show" and the Animal Planet channel. Along the way, his achievements spurred a new field of research and development at FETCHLAB, part of UC's Department of Communications Sciences and Disorders. Since then, the FETCHLAB team has fitted four dogs with hearing aids, tested hundreds of pooches for hearing impairments and earned a national reputation as canine-audiology experts.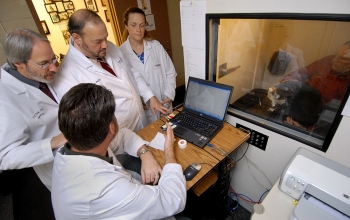 That reputation led to partnerships with the Department of Defense and the U.S. Air Force, where Scheifele, a Navy veteran, serves as an audiology consultant for military working dogs flying to Afghanistan and Iraq. In 2011, the government invited him to Lackland Air Force Base in San Antonio to serve on the first blue-ribbon committee studying post-traumatic stress disorder in such dogs.
FETCHLAB is also expanding educational opportunities in the field. This winter, UC will graduate the first class of audiologists with a certificate in animal audiology, the only such program in the world.
Locally, FETCHLAB continues to improve the lives of dogs, performing free hearing screenings to police dogs and installing noise-absorbing (and stress-reducing) sound panels in animal shelters.
Scheifele credits their far-reaching efforts in canine audiology to two UC alums: Tom and Christine Carleton, who created the Otter Audiology Fund to support FETCHLAB's work with dogs. "The Carletons were focused on the quality of life for dogs," he says. "And the fact that we are making a difference in canine hearing really is attributable to the Otter Fund. They gave us the benchmark that we use for our purpose in life."
Tom, A&S '91, and Christine, A&S '90, Carleton's financial support has enabled FETCHLAB to serve a huge part of the community, "impacting students, veterinarians, soldiers, military working dogs, police dogs and the average pet owner," Scheifele says. "They have made a huge impact."