The sun is out and class is in
At UC's Center for Field Studies, science and nature go hand in hand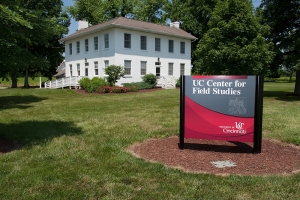 by Tom Robinette
Surrounded by the stillness of a forest thousands of acres thick, it's easy to forget you're on the grounds of one of the University of Cincinnati's most advanced teaching and research facilities, the UC Center for Field Studies (UCCFS). The renovated farm, roughly 20 miles northwest of UC's Uptown Campus, blends high-level science with deep-woods know-how in what executive director David Lentz calls the most inspiring classroom ever.
"What the field station offers is important for research, but the educational opportunity that springs from that is tremendous," Lentz says. "At any given time, probably at least a half to two dozen undergraduate and graduate students are working out here on invaluable research opportunities."
Lentz, a professor of biological sciences in the McMicken College of Arts and Sciences, isn't the only one stirred by Mother Nature and driven to protect her. The support of donors who share the same passion for environmental education helped make the center possible. Since UCCFS opened in 2008, private donors have provided more than $1 million in funding to the center.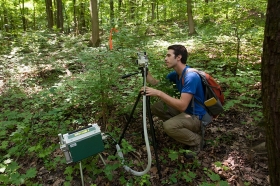 The field research station began as a partnership with the Hamilton County Park District on what used to be a Shaker farm amid the 4,000-acre Miami Whitewater Forest. For five years, countless faculty and students have visited the center to conduct the kind of work that just can't be duplicated on an urban campus — research on plant populations; geological, geographic and archaeological fieldwork; as well as research of environmental processes in a changing landscape, including ecological, atmospheric and hydrological.
In addition to the inimitable gifts of nature at UCCFS, researchers also have the latest technology at their disposal — automated weather stations, a water-quality sensor, advanced computer systems and a station-wide sensor array to record and relay environmental data in real time.
The unique eco-techno combination of experiences lends itself well to the STEMM disciplines of science, technology, engineering, math and medicine. In fact, the interdisciplinary research taking place among the center's meadows, streams and woods represents a variety of UC colleges and academic disciplines, particularly environmental studies, biological sciences, geology, anthropology and geography. "There's a whole avenue of research that couldn't be done without the field station," Lentz says. "It's absolutely essential.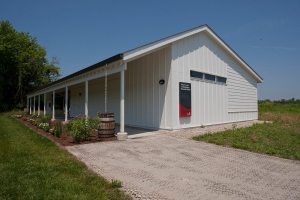 Plus, we have students who have never been out in the woods before. This gives them a valuable experience that they wouldn't have otherwise."

Four donors were specifically thanked at the center's grand opening — John and Georgia Court, Elizabeth Martin and the late Martha Tuttle. The Court family has been particularly generous to UC. Donations made through the Courts' foundation established an endowed chair of Ohio Valley archaeology and funded the construction of the Court Archaeological Research Facility addition at UCCFS, which was completed in May.
Image gallery
Photos by Dottie Stover