Campus News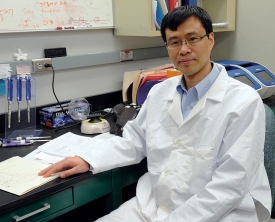 Flame retardants linked to hyperactivity, low IQ
Prenatal exposure to chemical flame retardants used in everyday products, such as baby strollers, carpeting and electronics, is associated with hyperactivity and lower intelligence in early childhood, according to UC researchers. A study presented by Aimin Chen, assistant professor of environmental health, showed that chemicals known as polybrominated diphenyl ethers (PBDEs) disrupt thyroid hormones and cause hyperactivity and learning problems.
Chen and his colleagues collected blood samples from 309 pregnant women enrolled in a study at Cincinnati Children's Hospital Medical Center to measure PBDE levels. They also performed intelligence and behavior tests on the women's children annually until they were 5 years old.
They found that maternal exposure to PBDEs was associated with deficits in child cognition at age 5 and hyperactivity at ages 2 to 5. A 10-fold increase in maternal PBDEs was associated with about a four-point deficit in IQs in 5-year-olds.
Even though most PBDEs are not used as a flame retardant in the U.S. anymore, they are found on many consumer products bought several years ago. In addition, the chemicals are not easily biodegradable, so they remain in human tissues and are transferred to the developing fetus.
Solving the mystery of premature birth
UC and Cincinnati Children's Hospital Medical Center have joined with the March of Dimes Foundation, two other major Ohio universities and three other hospitals to establish a new collaborative research program aimed exclusively at finding the causes of premature birth. The March of Dimes intends to invest $10 million in the program over five years.
The Ohio collaborative will focus initially on evolution of human pregnancy, genetics of unique human populations, the disparity among races in having seriously premature babies, molecular and developmental biology of pregnancy and the role progesterone signaling plays in premature births prior to 37 weeks. Louis Muglia, professor of pediatrics and researcher at Cincinnati Children's, serves as the coordinating principal investigator for the new collaborative.
$2 million in nursing grants
UC's College of Nursing has won more than $2 million in grants from the U.S. Department of Health and Human Services' Health Resources and Services Administration (HRSA). HRSA grants are to improve and expand health-care services for underserved populations. UC's four awards enhance nursing-workforce diversity, increase nursing faculty, develop interactive inter-professional education and train nurse anesthetists devoted to serving in underserved areas.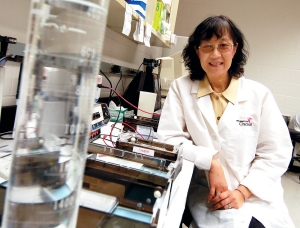 Environmental genetics re-funded
UC's top-ranked environmental health department was recently awarded $8.7 million from the National Institutes of Health (NIH) to continue operation of its Center for Environmental Genetics. This state-of-the-art research core supports scientists conducting studies on how agents in the environment interact with genetic and epigenetic factors to influence disease. Led by department chairman Shuk-mei Ho, UC's 20-year-old center is one of only 20 of its kind funded by the NIH. During the last funding period, center members held a collective $350 million in funding for UC and Cincinnati Children's Hospital Medical Center.
---
Rankings and accolades
Over the last several months, UC has continued to mount up praise from across the country and around the world. Here are just a handful of recent compliments for the campus, students and faculty:
The 2014 issue of U.S. News & World Report's Best Colleges guide ranked UC 135th among the top tier of the magazine's designation of "National Universities," up from 139th last year. UC was also listed third among 23 national universities identified as "Up-and-Coming Schools."
PolicyMic, a millennial generation news site, ranked UC No. 1 in the nation for return on investment. The ROI ranking looked at salaries for graduates, tuition, graduation rates and the amount of debt students accumulate.
The Princeton Review rated UC one of the nation's best institutions for undergraduate education for the seventh straight year.
AlliedHealthWorld.com named UC's two rec facilities—the Campus Recreation Center on MainStreet and the Fitness Center at CARE/Crawley — to its national top 10 list of outstanding university fitness centers.
UC was one of three universities in the nation to be awarded top funding — a $300,000 grant — to ease the nationwide shortage of physics and physical-science teachers. The other two were Central Florida and Georgia State.
CCM artist diploma student Thomas Richards, CCM '12, was one of only six artists named as a winner of the 2013 Metropolitan Opera National Council Auditions. The 24-year-old bass-baritone competed with nearly 1,500 singers for a top spot, which came with a $15,000 cash prize.
Senior design student Scott Lenkowsky's futuristic tire design placed in the top 100 out of more than 11,000 international entries as part of the iF Product Design Award competition.
---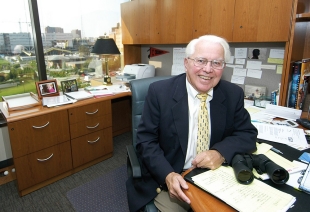 Remembering President Steger
Joseph Steger, HonDoc '04, UC's 24th president, died May 9 in Cincinnati at the age of 76. His 19-year term of office, 1984-2003, was the second longest in UC history.
As president, he launched the world-renowned campus Master Plan in 1989 to direct the dramatic rebirth of UC's campus. Through his term, indicators of academic quality and research productivity climbed dramatically, UC achieved increasing attention for fiscal responsibility, and UC's undergraduate curriculum was revitalized with the adoption of online and digital tools.
Steger published more than 70 articles and edited a book on statistics while conducting research and consulting on technology-transfer management, identification of management talent and higher education's role in economic development. In recognition of his contributions to science, he was elected a Fellow in both the American Psychological Association and the American Psychological Society.
On campus, the Joseph Steger Student Life Center opened in 2004 to house offices and meeting spaces for student groups and organizations. It is one of the most unique buildings on the MainStreet corridor.
Steger earned his PhD in psychophysics and MS in experimental psychology from Kansas State University after graduating from Gettysburg College with a degree in psychology. Gettysburg named him a distinguished alumnus in 1987.
UC Magazine obituary for Steger and links to other stories

---
550 smiles and counting
Putting a smile on a child's face is business as usual for the dental hygiene students at UC Blue Ash College. The students, through a community outreach program called UC Smiles, have provided access to quality dental care for kids in underserved areas — many of whom have never had the opportunity to visit a dentist.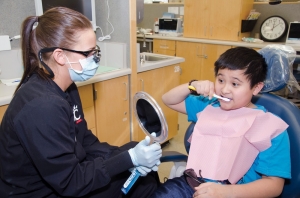 Dental hygiene students benefit, too, because they have a requirement to complete a certain number of hours treating patients in the dental chair.
The college partners with several local school districts, including Cincinnati Public Schools, Norwood City Schools and Fairfield City Schools. UC Smiles is supported in part through sponsorships by local dental-health organizations.
UC Smiles has served more than 550 local primary-schoolchildren over the past four years:
2010 - 1 event for 68 students
2011 - 2 events for 136

2012 - 5 events for 260
2013 - More than 100 children participated in UC Smiles in the first three months, and several more events are planned through the end of the year.
The children take a school field trip to the college. The checkups include a full oral-health exam and teeth cleaning. Each child receives an assessment of his or her oral health, toothpaste, a toothbrush and floss.
The dental hygiene program graduates approximately 32 students a year, making it the largest program in the state of Ohio and the only such program offered in Greater Cincinnati. It began in 1967, the same year the college first opened its doors.
UC Blue Ash dental hygiene technology program
---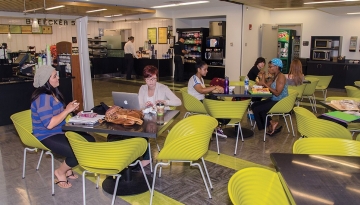 UC Blue Ash expands
Students at the University of Cincinnati Blue Ash College have a lot of new space in which to study, meet with friends or relax between classes. The college opened the new Bleecker Street Café and Student Commons in Muntz Hall at the beginning of the summer semester. In July, the UC Blue Ash library opened in its new home nearby.
The café and student commons cover 7,000 square feet and completed the first phase of a $4.5 million renovation project. The addition provides more space for the growing student population and expands the dining options on campus.
"This new space is designed with our students, faculty and staff in mind," says Blue Ash Dean Cady Short-Thompson. "We wanted to provide new, inviting and comfortable space where people can come together to meet, study or just take a break from a busy day. I believe this addition will really help transform our campus."
Bleecker Street Café is named for an entertainment district in New York City's Greenwich Village. The concept is based on a typical city deli, featuring pizza, fresh baked pastries and bread, signature sandwiches, a breakfast menu and a coffee bar that includes espresso, smoothies, iced coffee and more.
The final portion of the four-phase renovation project is a dean's suite. The entire project will add approximately 22,000 square feet to Muntz Hall, space that is needed as UC Blue Ash continues to grow. The college has more than 6,000 students, up from 4,900 just five years ago, making it the largest regional college campus in Ohio.

UC Blue Ash dedicates $4.5 million renovation project
Image gallery of the library space


---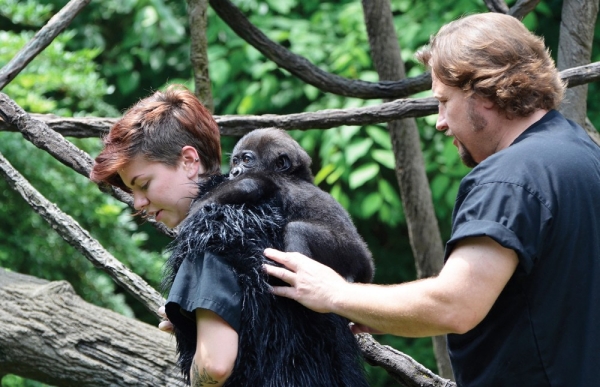 Growing up Gladys
Above, UC anthropology student Grace Meloy had a rare but special opportunity this summer as an animal care intern at the Cincinnati Zoo. Grace joined a team led by Ron Evans in hand-rearing Gladys, an orphaned gorilla that came to the zoo following her birth in January when her mother rejected her. The challenge was to help Gladys crawl, walk and act like a gorilla, which at times required Grace to slip into a hairy disguise when interacting with the primate. All the work paid off in June when M'Linzi, Gladys' surrogate mother, immediately took to the baby ape and began what appears to be a lifelong bond.
Photos courtesy of the Cincinnati Zoo & Botanical Garden.
Click any image to enlarge.
---
Bearcats break record
UC hit a new all-time high for enrollment this fall, welcoming more than 42,600 students to its campuses. This year's largest-ever freshman class includes more than 6,350 students, a 5-percent jump over 2012.
So who are all those new Bearcats? Interestingly, more than 30 percent of the freshman class are first-generation college students. In terms of their academic chops, the 2013 freshman class averages an ACT score of 25.1.
UC's Institutional Research also reports that the institution is making strides in building diversity on campus, with more than 17 percent of the freshman class representing students of color. Across campus, out-of-state students now number about 20 percent of UC's population, and international students total more than 2,700 graduate and undergraduate students, which is roughly 6 percent of UC's total student makeup.
To accommodate the growing demand for housing, UC leased a couple of hundred beds at nearby University Park and Campus Park apartments to bring its total on-campus (and near-campus) capacity to 4,900 beds.

Read more about UC's record-breaking enrollment
---
Co-op in China
UC, the world founder of cooperative education in 1906, signed an agreement this summer that is taking its mandatory co-op model to China.
UC's cooperative education program now has a new home base at Chongqing University, one of China's largest, leading institutions and home to a premier engineering college. An agreement signed in July established a joint co-op institute between the two universities and calls for UC to provide experience and expertise in establishing a mandatory co-op program at Chongqing as part of two engineering majors while also establishing UC's curriculum and offering UC faculty instruction.
Initially, the agreement will affect only students enrolling at Chongqing; however, it is hoped that the partnership will also provide future experiential learning opportunities to current UC students for study abroad and international co-op in China. The effort is part of UC's aim to become a leader in establishing strategic global partnerships in Europe, Latin America, the Middle East, Asia and sub-Saharan Africa.
This agreement is the first to establish a joint co-op institute between universities in the United States and China. With it, Chongqing University, considered a major educational and economic center in southwest China, becomes the first in the country with a mandatory cooperative education model.

Read more about UC's co-op efforts in China
---
'New' Morgens Hall: Revealing yet refined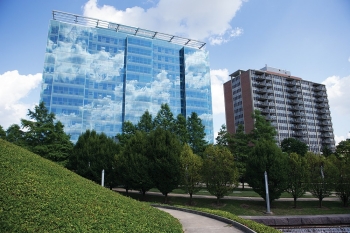 You've probably never seen a "before and after" like this one. Take one glance at the renovated Morgens Hall, and it's as clear as the 2,000-panel glass exterior that the northernmost sibling of UC's original "Three Sisters" has undergone an ultimate makeover and emerged as the queen of all campus housing.
Morgens' only remaining sister, Scioto Hall, stands to the south nearly unchanged since her founding in 1964. A monument to modernism of the era, Scioto closed in 2008, but discussion is under way regarding her future. The remaining triplet, Sawyer Hall, was razed in 2006, leaving a concrete foundation as the only discernible vestige of her existence.
Morgens' $35 million renovation goes much deeper than what meets the eye. The glass-curtain exterior features a high-tech design that gives the apartment-style residence hall greater insulation than the original exterior. Underneath all that glass, many unique features make Morgens the latest example of innovative, eco-friendly architecture that has been a UC hallmark since the inception of the university's Sustainable Design Policy in 2001.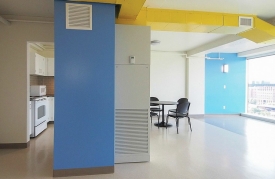 Facts about Morgens
142 furnished apartments with 454 beds are on levels 100 to 1200.
There is no 13th floor.
Level 1400 is a penthouse with two apartments, one each for the resident coordinator and assistant resident coordinator.
Four apartment styles are available: two-person small studio; two-person standard studio; three-person, two-bedroom apartment; and eight-person, five-bedroom apartment.
Glass panels have adjustable privacy screens that are 98 percent opaque and thermal weaved for energy conservation.
Each apartment features first-of-its-kind furniture developed by UC Housing and Food Services staff with an industry partner -- a patented-design desk-dresser combo that allows it to expand and contract, saving floor space.

Read complete news release on Morgens Hall renovation
View dozens of images in photo gallery