Nippert Stadium update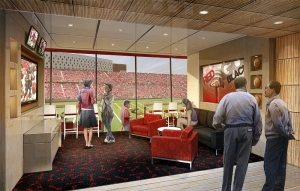 Gates to reopen August 2015 with new four-story pavilion that wraps around the stadium's west side
Starting with the 2015 football season, catching a game at UC's historic Nippert Stadium will take on a whole new feel — especially for those cheering from one of the facility's brand new suites or club seats.
Private donations and strong presales of premium seating will allow the $86 million renovation project to start in December 2013 following UC's final home game. Highlighted by a new four-story pavilion that will wrap around the stadium's west side, construction will last about 20 months so the gates can reopen by August 2015.
Upon returning, visitors will find a new press box and space for private suites, indoor club seating, as well as loge boxes. Total additional seating is expected to hit around 5,000, which will take a sell-out crowd at UC to roughly 40,000. Besides the new pavilion, the west concourse will also be renovated, including concession stands and restrooms. Improvements on the east side will include expanded and additional concession and restroom facilities along with enhanced spectator traffic flow by way of new skywalk connectors from the upper deck of the stadium to O'Varsity Way's brick plaza, next to Sheakley Lawn. Those areas, according to renderings, would become part of an expanded eastside concourse available during games.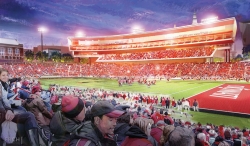 "Every fan, donor, alumnus and student who attends a game beginning in 2015 will benefit from the scope of this project," director of athletics Whit Babcock said after the UC Board of Trustees formally approved the expansion plan in June. "This project exemplifies our desire to develop a top-notch college football game day experience and compete with the nation's elite."
The 2014 season will be played entirely off campus, and UC officials have contracted to use Paul Brown Stadium during the transition year. Officials also point out that no university general funds are paying for the project. Instead, private donations and premium seating options will fund the project over a period of years.
Babcock says the new premium seating opportunities will generate enough revenue to cover the annual debt service for the project, as well as generate dollars to pay for additional facility improvements and scholarship opportunities. All 18 Founder's Suites in the new pavilion, though among the most exclusive in pricing, were spoken for during the silent phase of the project's fundraising campaign. The Founder's Suites cost $100,000 a year and required a 10-year commitment.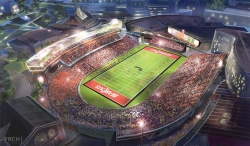 "We are excited by the support that the Nippert Stadium renovation and expansion project has received from the Greater Cincinnati community and beyond," said Babcock. "Our UC supporters have certainly answered the bell. We have two years to continue these efforts, and we need the help of the Bearcat faithful. But we are well on our way."
Each of the Founder's Suites will accommodate a couple dozen guests on the private fourth floor and will include retractable windows, a lounge area, a kitchenette, flat screen televisions with replay monitors and catering options.
Other premium seating packages include Patio Suites (a four-seat loge costs $16,000), the Founder's Club ($6,500 per seat) and Scholarship Club Seats ($2,500 each). Each option requires a multiyear commitment and, depending on the selection, includes a range of amenities from open-air seating to complimentary food.
Get more details about the project and premium seating options at www.gobearcats.com/nippert or by calling 1-877-55-UCATS.