Final wrap-up: UC's Olympic connections, '14 games and more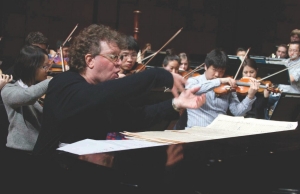 Alumnus adds dramatic score to excitement of Olympic Games

As the Winter Olympics close, we pay tribute to an alumnus who has received national attention for his involvement with the Olympics, but few people know his name. That's because award-winning Randy Edelman is not an athlete, but a composer.

Edelman, CCM '69, HonDoc '04, composed the rousing theme music featured in NBC's coverage of the games. The network originally used his music to close the 1996 Summer Olympics in Atlanta, for which he won an Emmy. NBC has continued to use his on-air theme music for nearly 20 years, including coverage of the Sochi games.

The movie themes for which Edelman is best known, which include compositions for "The Last of the Mohicans," "Ghostbusters II," "The Mummy: Tomb of the Dragon Emperor" and "While You Were Sleeping," have become the backbone of sports broadcasts. He has written NBC's NFL Football Theme, ESPN's Sports Century documentary series theme and an opening score for the Super Bowl.

LINK: Read more about Edelman
Other UC connections to Olympics

— updated Feb. 24, 2014