Lewis Johnson: From Olympic hopeful to Olympic commentator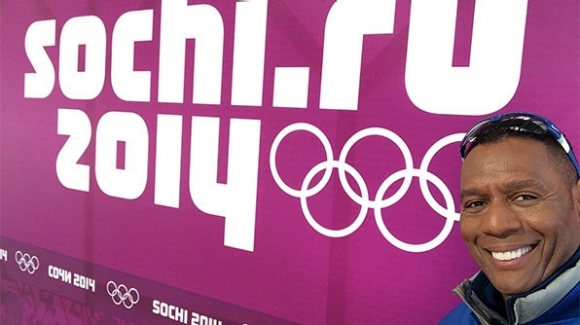 UC track and field Hall of Famer covers his 8th Olympics for NBC

by Deborah Rieselman

Once an All-American middle-distance runner and a UC Hall of Famer, Lewis Johnson, Univ '86, is now a broadcaster known for covering every Olympic games, summer and winter, since 2000. Between games, he covers track and field for both NBC and ESPN, as well as college football for NBCSN.
At the 2014 Olympic Winter Games in Sochi, he served as a bobsled, luge and skeleton reporter — his eighth Olympics as an NBC correspondent. At previous Olympics, Johnson served as:

the marathon reporter — 2012 London Summer Olympics
bobsled, luge and skeleton reporter — 2010 Vancouver Winter Olympics
track-and-field reporter — 2008 Beijing Summer Olympics
alpine-skiing reporter — 2006 Torino Winter Olympics
diving and track-and-field reporter — 2004 Athens Summer Olympics
a reporter covering Opening and Closing Ceremonies, bobsledding and speed skating — 2002 Salt Lake City Winter Olympics (where he also covered gold-medal-winning U.S. speed skater Derek Parra's visit to Home Depot, where he worked while training, and bobsledder Vonetta Flowers becoming the first African-American athlete to win a gold medal at a Winter Olympics)
track-and-field analyst — 2000 Sydney Summer Olympics (where he twice joined Bob Costas in the studio to report on breaking news: 1) U.S. shot-putter C.J. Hunter's pre-Games positive doping charge and 2) French sprinter Maria Jose-Perec's mysterious disappearance into Australia)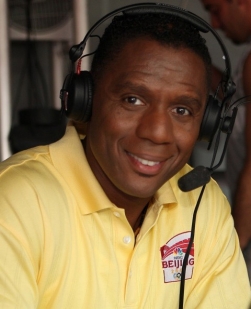 The year after graduating from UC, the 6'6" Lewis placed eight in the 800 meters at the 1987 NCAA Championships with his personal record of 1:47.00. He ranked in the Top 10 in the U.S. at 800 meters and competed in the U.S. Olympic Trials in 1988 and 1992. After competing professionally in Europe for seven years, he began transitioning into broadcasting with ABC Sports and ESPN in 1993.

He got his first on-air break at the 1994 Goodwill Games in St. Petersburg, Russia, while working as a stage manager for Turner Sports. He got to call the 10K race-walk, which featured a classic finish with a Russian and the Spanish world-record-holder dueling to the finish. The next year, in 1995, Johnson retired from athletics to pursue a full-time TV career. He spent four years with ABC Sports as a college basketball and college football reporter, before joining NBC in 1999.

In 2012, Sports Illustrated named Johnson one of Best Sideline Reporters for his work with NBC. He is also the founder of the Lewis Johnson Media Group.

Of all the Olympics he as covered, working at the the Beijing Olympics was a personal thrill because former UC sprinter Mary Wineberg, Ed '02, was part of the 4X400 relay team that won gold there.

"Going to the Great Wall of China, walking through Tiananmen Square and having a chance to experience the Olympics in all their beauty and emotion was incredible," he told UC Magazine at the time. "But to have a couple of kids from your alma mater competing and grabbing medals, that put the whole experience from the Beijing Olympics over the top."