Running down a dream
UC sprinters strike silver and gold in Beijing, then return to campus for Homecoming gathering with other Bearcat Olympians.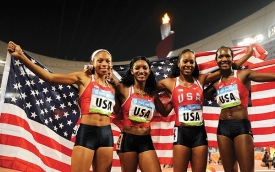 Head down. Legs frozen in the starting blocks. David Payne tuned out the 90,000 fans inside Beijing's Bird's Nest stadium and dialed into the only sound that mattered -- the pop of the gun.
If there was ever a moment for poise, this was it. To have even gotten to this point -- a 2008 Olympic finalist against seven of the fastest hurdlers on the planet -- had been an unlikely accomplishment. But a medal -- though it gleamed just 110 meters away -- seemed impossible.
After all, the 26-year-old had only surfaced on the international stage a year earlier when he grabbed bronze at Worlds, and that was after jetting to Japan as a last-minute fill-in for an injured teammate. Payne, att '04, continued his ascent in '08 and claimed the final spot on America's China-bound team with a third-place finish at Olympic trials in July, an impressive feat considering his season had been marred by ulcers, an appendectomy, a deep heel bruise and a stress-fractured tibia.
Despite the injuries and long odds, there he was, halfway around the world, bursting from the Olympic blocks, leaping hurdle after hurdle and sprinting to the finish exactly 13.17 seconds later. Beaten only by the world-record holder, Cuba's Dayron Robles, Payne was fast enough to claim a silver medal.
"Once I crossed the line, I wasn't quite sure if I had placed," the former UC All-American recalls. "When I found out I had, I can't quite put into words how I felt. It was every happy and excited feeling you can imagine, exploding at the same time."
Six Summer Games had passed since a Bearcat stepped onto an Olympic podium. Swimmer Michelle MacPherson last did it in Los Angeles when she won bronze for Canada in 1984. It was 12 years prior to that when a UC athlete last claimed an Olympic medal for the United States. Swimmer Jenny Kemp won U.S. gold at Munich in 1972. But unlike the decades-long wait for Payne's prize, UC fans had to wait only two days more for Cincinnati's next Olympic medalist.
Mary Wineberg, Payne's former UC teammate, sprinted the first leg of America's 4X400 relay at Beijing, a thriller that saw team anchor Sanya Richards run down Russia in the homestretch to win gold. The victory was particularly sweet for the U.S. runners after several disappointing losses in which American speedsters were favored.
"When I was up on the podium, it was just a very emotional and amazing experience," says Wineberg, Ed '02. "I wanted to shed tears, but I was still in shock. I still couldn't believe that we had just won gold. That was my dream."
Like Payne, Wineberg faced down demons of her own before climbing to her sport's pinnacle. The 29-year-old UC record setter and 400-meter specialist nearly quit the sport after failing to make the U.S. team in 2004. These days, however, she and Payne both have their eyes set on London, the site of the 2012 Games.
"Once you are in your first Olympic Games, it does become addictive," Wineberg explains. "I love the nerves and the butterflies. The goal is to go back to the Olympics in four years, and I will do it."
Front and center for both medal-performances by UC athletes in Beijing stood yet another past Bearcat track star. Former All-American middle-distance runner and current NBC Sports announcer, Lewis Johnson, Univ '86, had the privilege of sharing their stories on air. "Going to the Great Wall of China, walking through Tiananmen Square and having a chance to experience the Olympics in all their beauty and emotion was incredible," says Johnson, a UC Hall of Famer. "But to have a couple of kids from your alma mater competing and grabbing medals, that put the whole experience from the Beijing Olympics over the top."
Johnson qualified for U.S. Olympic trials himself in 1988, but was eliminated in the semifinals. He went on to compete professionally in Europe for several years before getting involved in television broadcasting in 1995. His new profession eventually allowed him to experience the Olympics firsthand (both summer and winter) as a broadcaster in Sydney, Salt Lake, Athens and Torino. But Beijing was his first opportunity to tell a Bearcat Olympian's story.
"The Games are more than just statistics and bib numbers," he says. "It is a human-interest event. It is the world coming together and sharing this emotional experience. And when you have someone from the university from which you hail, and you get a chance to talk about them, there's a great chance to be a storyteller."
Johnson returned to UC for Homecoming in October 2008 to emcee UC's halftime ceremony to honor past Olympians. He was amazed at campus and particularly Varsity Village.
"Right before the Homecoming parade started, I walked up to Dr. (Nancy) Zimpher and said, 'I just want to tell you, as a former athlete and someone who has been away for awhile, to come home and see this campus as beautiful as it is, is just unbelievable.'
"The facilities are crazy. I still have a scar on my hand from a fall I took over on that track when it used to be like concrete. To see that these kids have these attractive stadiums for soccer, track, baseball and football is incredible."
The NBC commentator, also known for his NFL and NBA sideline reports, says it is only a matter of time before UC's next crop of Olympians comes along.
"Mary and David have set the stage for other great athletes to want to come here and realize they can achieve not only a conference and national title, but an Olympic dream right here through UC."
Related articles:
Complete Olympic history at UC
Other famous Bearcats who went pro
Jenny Kemp wins swimming gold at '72 Games
Alumna Kemp witnesses Munich massacre
Oscar Robertson anchored original dream team in '60
George Wilson helps USA basketball stay perfect in '64