The man behind the mascots
by Sarah Fasce
October 2009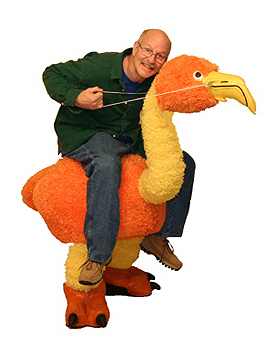 Not many people can say that they've literally seen their work go up in smoke and be proud of it.

Creators of the movie "Old School" asked Randy Kent, Univ '75, to make a cougar mascot for their movie, so they could burn it. But, Kent didn't mind. "I don't get that attached to them," he says.

There have been plenty of opportunities, however, for Kent to become attached. The UC alum has created the mascots ranging from Pac Man to Mr. Red.

The founder of Stagecraft Inc., a corporate and school mascot-making business, Kent was also responsible for creating the Bearcat from 1975-2006. Mascots are "what give sports personality," he says from inside his shop on Cincinnati's Spring Grove Avenue, while working on final touches on the head of the Oregon Duck. The strong smell of all-purpose cement fills the air and traces of white fur stick to Kent's fingers.

Kent knows what it takes to be a memorable mascot, after all. He once was one himself. "We always tell people that we build our costumes from the inside out," says Kent, who spent time as Scooby Doo at Kings Island.

It was at there that he first developed his perception of a mascot's persona. Kent says he tells people that a good mascot doesn't ever talk, because it would break the illusion. He also learned that there is a difference between wearing a costume and becoming a character. Kent's wife, Mary. RWC '82, whom he met at the theme park, says that you get to know who is inside the costume without even seeing them because of their mannerisms. Mary, who was in charge of escorting the characters at Kings Island, could tell which one was Kent right away, because he was always running around, walking on top of benches.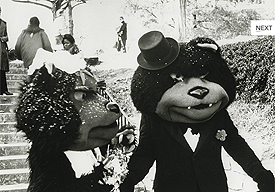 In making sports mascots, Kent tells people that the person wearing the costume has to be as fit as a player on the field. Not only is there the physical challenge of trying to motivate the team and the fans, but the costumes are uncomfortably hot.
When he first started making costumes, he didn't install fans or cooling packs. "Over the years we have adopted those things because of pressure, but you're adding weight which is adding heat," Kent says.
While working at Kings Island, Kent began to repair costumes. Using his mother's sewing machine in the basement, he soon found himself making costumes more comfortable by replacing soles on the feet and sewing up ripped hands. "I basically taught myself to sew and put the costumes back together," says Kent.
When the Cincinnati Stingers hockey team came to Kings Island to find someone to make a mascot, they were referred to Kent.
Kent created the male and female Bearcats in the '70s that married in front of the student body.
Soon afterword, requests began coming in for the Kahn's Hotdog, the Madeira Mustang and from Kent's alma-mater, the Finneytown Wildcat. In his senior year at UC, he made Mr. and Mrs. Bearcat and donated them to the school. After other schools saw his work, he was asked to do the Maryland Terrapin, the Louisville Cardinal and Mississippi Bull Dog.

Through the years, Kent has accumulated more than 600 original molded heads in his inventory along with patterns of the costumes, feet and gloves, spending as many as 100 hours on each costume.

Kent and Mary run Stagecraft as a family business. "You eat it, sleep it and drink it," says Mary, who joined her husband's company in 1984.

Kent sometimes gets started as early as 4 a.m., hours before people are hitting the snooze button, but he likes it that way. "The costume business has become my life and my career. I control my own future," Kent says. "Neither of us wants to give up the independence of having our own company."

That ownership of his work has landed Kent clients from all over the U.S. and around the world. Ten years ago, he made several 12-foot tall moveable costumes for a festival in Singapore. One of the costumes was damaged in shipping, so Kent had to fly to Singapore to repair it. On that trip, he watched with pride as his giant character creations came on to the stage.

From Kings Island to Singapore to Hollywood, Kent continues to create mascot magic on his own terms -- something that makes him and Mary proud.

"We'll take this any day," says Kent. "Because it's ours."

Related stories:

Secrets from inside the Bearcat suit

Link: