CCM grad Phil Solomon at White House for Halloween
University of Cincinnati alumnus entertains 5,000 plus trick-or-treaters and family members while they wait for their goodies from the president.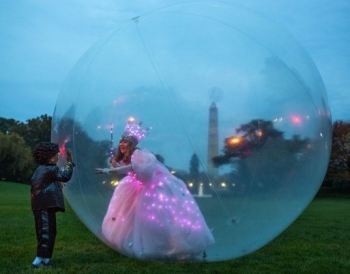 What would be more impressive than being hired to entertain thousands of guests at the White House? Being rehired another time might qualify, as Phil Solomon, CCM '93, can attest. Being the featured act at the White House Halloween party twice makes the gig seem like more than a simple lucky break.

And once again, the man who routinely performs on stilts, juggles machetes and breathes fire personally met President Barack Obama. Solomon and his Los Angeles company, Way2Much Entertainment, used a variety of skills to keep a steady crowd of children busy.

About 5,000 local school children and children of military families attended after receiving a special invitation, explains White House press materials. The White House moved the event to the South Lawn this year because it was bigger and could more easily handle the growing crowds.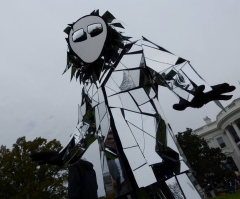 Solomon, who would have been hard to recognize that night if he weren't wearing his enormously tall stilts, dressed as Herman Munster. One of his colleagues dressed as Glinda the Good Witch and performed inside of a giant bubble, one of his more popular effects at otherperformances.
"It was a super successful event," Solomon says, "and we even had a private meeting and photo with the president and first lady. A sublime time indeed. Huge thanks to our killer crew and exceptional performers who gave it their all!"

Solomon is founder and CEO of Way2Much Entertainment, a premier award-winning live-event production company. Solomon is also a coordinator and international Master Trainer for Cirque Du Soleil.