Alumna Pamela Myers blazed the trail to Broadway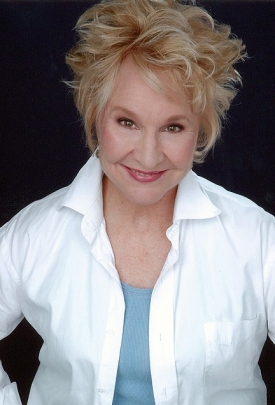 by Barbara Blum
More than 40 years ago, the musical theater department at the University of Cincinnati's College-Conservatory of Music was born with the momentous objective of equally melding three skills into one program -- acting, dance and voice -- with a smattering of business acumen thrown in.
In the spring of 1969, a lone student graduated. She climbed aboard a Greyhound bus for New York City. Her first Broadway audition was for a new musical written by a young composer and based on a series of one-act plays about life in the Big Apple. She sang a country and western song, "Little Green Apples," and was cast in the role of Marta. The composer was Stephen Sondheim, and the young woman landed the role for the debut production of "Company," earning a Tony nomination in the process.
That may sound like the plot of an old-time Hollywood movie, but it was the real-life experience of Pamela Myers, CCM '69. From that dream beginning, Myers blazed the trail for many UC graduates to seek out the bright lights of Broadway. She has forged a career on the national stage, despite spending many of those years living in Cincinnati.
That first big break, Sondheim's "Company," directed by Harold Prince, opened in April 1970. Myers performed the solo piece "Another Hundred People" and lent her talents to "You Could Drive a Person Crazy." "Company" garnered a (then) record-breaking number of 14 nominations, including one for Myers as Best Featured Actress in a Musical. The show would earn six 1971 Tony Awards, including Best Musical.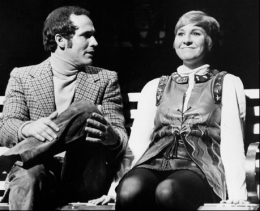 Later, Myers would originate the role of Peppermint Patty in "Snoopy! The Musical," which premiered in December 1975 at the Little Fox Theatre in San Francisco. (Oddly enough, another CCM alum, Vicki Lewis, played Peppermint Patty in the first off-Broadway production of the show in 1982.)
UC's first musical theater grad moved back to Cincinnati to raise a son, but landed back on Broadway in 2002 with a role as Cinderella's stepmother in the revival of "Into the Woods," starring Vanessa Williams.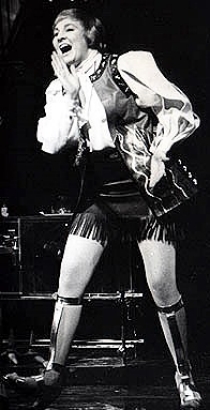 Over the years, Myers has performed in such diverse roles as Mama Rose in "Gypsy," Dot in "Sunday in the Park with George," Mrs. Lovett in "Sweeney Todd" and Gooch in "Mame." She has appeared in several UC CCM productions, including "Hello Dolly" as Dolly Levi, "Sweeney Todd" as Mrs. Lovett and "The Full Monty" as Jeanette. Myers plans to returns to CCM in November 2011 to perform Aunt Eller in "Oklahoma." [CCM box office]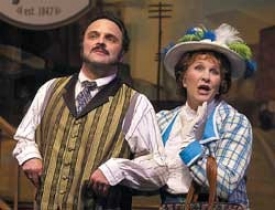 A veteran of concerts and showcases, Myers has performed with the Cincinnati and Boston Pops orchestras. She appeared in the "Salute to Sondheim" at the Shubert Theatre and in "What a Swell Party! The Cole Porter Salon" at the Alcazar Theatre in San Francisco (with fellow UC alum Lee Roy Reams) in September 2011.
Related article: Tips from the top: "How to have a career with a second act" by Pam Myers (May 2002)

LINKS
Wicked stepmother's dream comes true

Myers makes trek from Broadway to recording studio for first CD
Standing on a Broadway stage as Cinderella's stepmother, Pamela Myers was "relishing whacking off my daughter's toes," as she puts it, when the '69 CCM grad had a revelation: If she wanted to record a commercial CD, she had better do it right away.
Returning to the stage that once earned her a Tony nomination had taken her "a mere 30 years," she admits. "With that record, I decided it was now or never to make my own CD."
Of course, any project spurred by that kind of inspiration requires a novel approach to production. Hence, Pam's "The Chance to Sing" features her vocals accompanied by the composers on piano.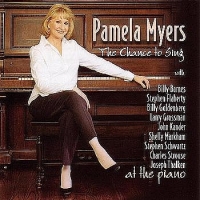 After completing her N.Y. and L.A. run of "Into the Woods" with Vanessa Williams, she started her next undertaking by contacting two personal friends. Soon Stephen Schwartz offered to play for her before she had even asked. (The two have known each other since their college summer-stock days, she says.)

After making other contacts, she got up the nerve to phone composers with whom she had never worked, including Tony winners John Kander and UC alum Stephen Flaherty, CCM '82. "I was completely stunned when they said yes," she says in all seriousness.
"You have to realize that I had been living in Ohio for the last 13 years, which is not exactly in the loop. After my panic attack, I began an incredible experience. Little did I know I would have the most amazing summer, living a musical theater dream."
She and the composers sat together at a piano to select songs that suited them both. The accompanists were "all terrific and patient, even if they had to play in some horrible key," she chuckles.
"What a privilege to sing with each musician playing in his own style. I tried to stay simple, keeping each song true to the vision before the orchestrator took over. My only regret is that I couldn't have the same interaction with the lyricists."
In reviewing the CD, Show Business Weekly said Myers sounded "as brassy and radiant as ever."