Tips from the top 'Dazzlers'
Living a full life after taking off the crown
by Heather French, DAAP '97, MDes '01, Miss America 2000
Continue to speak out. Winning the Miss America 2000 title gave me the opportunity not only to travel across the United States speaking about the plight of our nation's forgotten heroes, but also to gain a national perspective on the issues. My concern, as the daughter of a veteran, is to find ways to increase awareness, education and funding for veterans' needs.
Put words into action. We have already made some progress against homelessness. Partnering with the Manufactured Housing Institute and SENCO, we created the "Homes for Heroes" program, which provides houses to formerly homeless veterans. The Heather French Foundation for Veterans was also formed to serve homeless veterans, and we have established a dot-com to help raise funds. I am also the spokesperson for the campaign to help Vietnam veterans fight Hepatitis C.
Keep on lobbying. Throughout my Miss America year, my platform often took me to Washington to lobby members of Congress and the Senate on veterans' issues and legislation. Recently, the "Stuart Collick-Heather French Henry Homeless Veterans Assistance Act" (H.R. 2716) passed with flying colors before the House Veterans Affairs Committee, and the Senate version of the bill is currently being reviewed.
Finish school. Traveling more than 20,000 miles a month as Miss America, I saw first hand the importance of education as the way to better the lives of all Americans. I committed to live by example and made education my No. 1 priority. After my Miss America year, I returned to UC and completed my master's degree at the College of Design, Architecture, Art, and Planning. My graduate thesis focused on designs for garments inspired by heroic events throughout American military history.
Have a storybook wedding. After completing my Miss America obligations in September 2000, I married Lt. Gov. Stephen Henry of Kentucky at the Cathedral of the Assumption in Louisville, followed by an old-fashioned carriage ride to our reception for 1,500 guests at a historic Louisville hotel. As a fashion-design graduate, I was pleased to be able to create my white silk peau de soie gown in collaboration with designers in New York and Nashville.
Start a family. A beautiful daughter, Harper Reneé Henry, arrived the following July. She weighed 8 pounds, 10 ounces and was named after her mother and grandmother.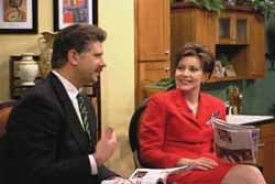 Begin a broadcasting career. My new job is to host WDRB-TV's "Fox in the Morning" show. I'm enjoying the eclectic mix of feature stories, interviews, entertainment and commentary. The program airs each weekday morning (6-9 a.m.) in the Louisville market.
Henry, whose winnings from the Miss Kentucky and Miss America programs helped her complete her college education, was honored by the UC Alumni Association last year as the 2001 recipient of the Jeffrey Hurwitz Young Alumni Association Outstanding Achievement Award, an honor presented at the UC Day Banquet. The Vietnam Veterans of America recognized Henry's efforts on behalf of veterans by awarding her their 2001 bronze medallion for public service, and the Military Order of the Purple Heart Organization recently honored her with the Purple Heart Recognition Award.
Links:
"Here she is . . . Miss America 2000"
Read about UC's Miss America 2008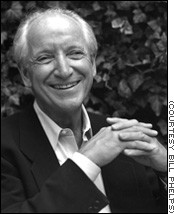 How to target your talent for a new audience
by Michael Graves, DAAP '58, Hon. Doctorate '82, A-list architect, designer for the masses
Editor's note: Michael Graves is internationally renowned for his postmodern architectural works, one of which is UC's Engineering Research Center. A different circle of fans celebrates his collection of aesthetically pleasing household objects, many of them designed especially for Target, a chain of upscale discount stores. An eclectic mix, his collection includes china, weather vanes, Irish woolen blankets, tuxedo studs, patio furniture and teapots. His peers don't always approve.

Don't listen to critics. When I first began to experiment with creating objects for the home, I didn't know it was considered "lowbrow" for an architect to do that. It just seemed a natural extension of my interest in the textures, colors and shapes of the visual world.

Design is design. Whether at a large scale -- cities, campuses or groups of buildings -- versus the simplest objects for the interior or even for the kitchen, all of these things are within the province of the architect or the designer.

Set your own standards. Even though I've taken a lot of heat for this image, I like to think of my practice as a shopping bag overflowing with all kinds of creative goods. I think of myself as a "general practitioner" of design, rather than a specialist.

Make them feel at home. What appeals to me is the domestic life of buildings, of a room, and what I can do to make it "human." Even when the space is more formal -- an office or board room -- I like to domesticize it and create psychological comfort.

Be affordable. Good design doesn't have to be expensive, you know. It has nothing to do with economic class. If I were designing for Cartier or Tiffany, I would expend the same energy as I do when I'm designing for Target.

Be prepared to succeed. Consumers now have more than a thousand choices in the Graves line of whimsical, well-designed household items, but the original bird-spout teapot for Alessi is still one of my favorites. More than 2 million have been sold since 1985.

Graves, professor of architecture at Princeton University and president of the successful architectural firm that bears his name, has won national and international acclaim for his designs. The UC grad was honored by President Clinton in 1999 with a National Medal of Arts and in 2001 received the American Institute of Architects' highest honor, the gold medal, for his significant body of work.
Links:
See a sampling of his home design products by typing his name in the search box of the Target Web site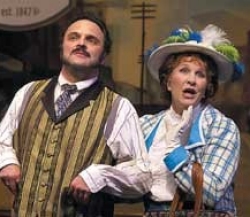 How to have a career with a second act
by Pam Myers, CCM '69, veteran actress
Be a character actor. I've had my limitations as we all do. I am not a leading lady in the traditional sense, and I was never an ingenue. Luckily, the way my talent fits, I am really a character person. So I think that has helped me when it's come to casting.
Be flexible. There was a time when people wouldn't do television if they did movies. Or they wouldn't do soap operas or commercials. Well, that's gone. If you're in the entertainment business, you have to be open to doing all kinds of work. You have to constantly reinvent yourself. In my 30-odd years, I've done everything a musical performer can do.
Be a self-starter. Think of different ways of marketing yourself. I've gotten roles over the years through my agent, but that is not the primary way you get work. You have to pursue work a lot. I get most of my work through direct contact or booking it myself.
Keep yourself in shape. When I did "Gypsy," someone said, "It's so strenuous. How does she do it?" I "do it" by staying in shape. Keep your voice in shape, too. Vocalize. Do that by singing at least once a week.
Don't take it personally. If you gain 20 pounds in this business, they'll tell you. I've been told I was too fat, that I looked too old. It's personal, brutal, and it always hurts. But you have to understand people hiring in the business are selling a product. They want what they want. If you get bitter, it just works against you.
Pace your life. Have your own limitations, and be strong about that. For longevity, it takes a little thinking and foresight. "Am I going to destroy my voice for the rest of my career?" It's not worth it. There are certain things you have to learn as the years go by to protect yourself.
Have a work ethic. And try to be as pleasant as possible in the process. As you get older, you have a chance to influence younger people. When you play a lead, it has a lot to do with setting the tone of the company. Younger people look to you to get their cues. I was not aware of that when I was younger. I am now.
Pam Myers is CCM's first musical theater graduate. She received a Tony nomination for Stephen Sondheim's 1970 musical "Company." She has appeared in many TV sitcoms and was a regular on the variety series "Sha Na Na." This spring, she returns to Broadway in the revival of Sondheim's "Into the Woods."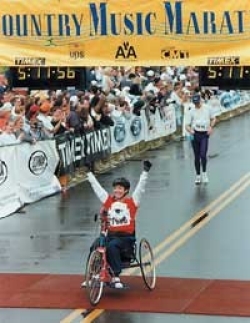 How to beat the odds
by Stacy James, A&S '93, Ms. Wheelchair Ohio 2002
At the end of my junior year at UC, a diving accident left me a quadriplegic. In spite of that, the life I have led since 1991 is far more abundant and joyful than I ever could have imagined. How can that be? I discovered that the ability to face life's challenges exists within each of us. Here's what works for me:
1. Positive attitude. I don't look at what I lost, but what I still have to live for. I choose to become better, not bitter; to try my best; and to be thankful for blessings -- physical progress, family, friends, a home, a free country and the opportunity to fulfill my dreams.
I was certain that God had a plan for my life, and I determined to work hard in therapy to use my life to serve him. I finished my college education, graduated magna cum laude and walked across the stage with the help of crutches to receive my University of Cincinnati diploma.
2. Perseverance. I want to live this one life well. Facing my fears. Never giving up. Not feeling sorry for myself. With patient, continuous effort, even when that is difficult. I have raced in nine marathons as a wheelchair athlete. Each time I began, I knew my arms, shoulders and back would be in pain for four or five hours, pushing my chair for 26.2 miles. But I made a commitment to finish, and finish I would.
3. Faith. When my world was ripped out from under me, I had something great to hold on to: my relationship with God. I knew that he loved me, that he would never leave me, that I was valuable because I was made in his image. And he was still a good God. He didn't let me get hurt as a punishment. I knew he had a plan for my life, and I was going to honor him with it.
A motivational speaker, writer and wheelchair athlete, Stacy James won her Ohio title in February 2002 and will compete for the Ms. Wheelchair America 2002 crown in August. As Ohio's spokeswoman, James will be making public appearances and speaking to advocacy groups and others about the achievements and needs of women with disabilities. She is writing a book and has a Web site.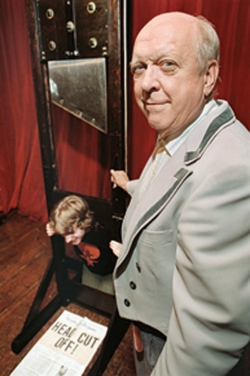 by William Brewe, A&S '55, JD '58, disillusioned lawyer turned illusionist
Recognize signs that your profession has become an illusion. After 15 years, I knew I was not suited for a government position. I saw too many politicians putting unjustified spins on what was going on, placing blame on others and taking the easy way out by ignoring problems. One day, I said, "I don't need this."

Decide when it is time for the great disappearing act. For a couple of years, I had been working from 8:30 a.m. to 6 p.m., then coming back to work from 7:30 to 11. I had ulcers, gallstones, pancreatitis, four trips to the hospital and one surgery delayed because I wasn't in good enough physical shape. I knew it was time to leave. I stayed just long enough to be eligible for deferred retirement.

Select which career to conjure up next. When pressure at work was too great, I'd go home and get out books and equipment related to what had become my avocation since age 7. That was one of my greatest pleasures, the one thing that kept me from being tied in a knot. So I left the practice of law to engage in a more forthright form of deception; I opened the first full-line magic shop in Cincinnati.

Wait, then ask if your decision was the magic one. I knew I did the right thing within a few weeks. I felt better immediately. I didn't have as much income, but it was adequate, and I had more peace of mind.

Brewe left his position as second assistant solicitor with Cincinnati's legal department in 1974. Today, he performs magic on stage, constructs custom illusions, serves as president of the Cincinnati Academy of Magic and Allied Sciences, and advises the Counts of Conjuring, the world's oldest organization for teenage magicians.