UC's royal coeds
Meet Miss America 2000 -- bright, beautiful and a Bearcat.
And a talented freshman is America's Junior Miss 1999.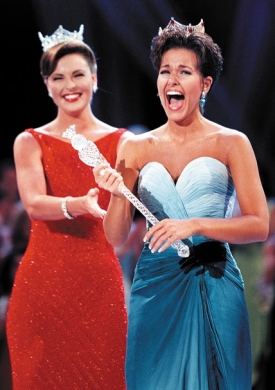 Here she is . . . Miss America 2000
by Mary Niehaus

Success! In her fourth try for the title, UC graduate student Heather Renee French Henry, DAAP '97, is Miss America 2000.

"This is such a dream come true," she told reporters after receiving her crown. "It's like a Cinderella story. I don't know whether to laugh or cry."

Mostly, the new Miss America is smiling. A young woman with great spirit, Heather is enjoying substantial benefits: a $40,000 scholarship, up to $200,000 for personal appearances and speaking fees, and a complete wardrobe from New York designers like Kasper and Anne Klein. Acing the national swimsuit competition and honored for her "quality of life" speaker's platform on behalf of homeless Vietnam veterans garnered another $2,500.

French readily acknowledges that it takes more than brains, beauty and talent to be Miss America. Self confidence, perseverance, maturity and the ability to think clearly and articulate one's thoughts are essential. Her co-op experience at UC helped develop these traits.

"Heather co-oped in a St. Louis design firm," her mother, Diana French, points out. "What she experienced there really helped her become a more mature, well-rounded person. She worked in graphic design, but she also helped with a promotional tape showing businesses how to interview people for jobs. That is Heather's strong point, the interview."

During questioning by pageant co-host Marie Osmond, French-Henry projected friendliness and poise. Osmond acknowledged the student's involvement in numerous musical, artistic and teaching projects, and asked whether French feared being labeled a "jack of all trades, master of none." "No," she replied. "In today's world, you have to be able to do many things well." Audience members applauded her comment that "when you stop learning, you stop living."

Heather also drew applause from DAAP's Dean Jay Chatterjee when she took time on national television to describe her college by its full name: Design, Architecture, Art, and Planning. Osmond had mistakenly referred to the university's "jazz" college.

Grace Meacham, professor of fashion design at UC, vouches for the new Miss America's persevering spirit, noting that "in this day and age, it's very different to find a student with this kind of drive." She has been part of the fashion design program for seven years, first as an undergrad and, currently, as an instructor in fashion drawing and author of a textbook -- still in process -- about the history of fashion design and illustration.

Taking a year's sabbatical in order to fulfill personal appearance and speaking obligations, French-Henry travels about 20,000 miles a month. In her first week as Miss America, she appeared on "Good Morning America," "The Donny and Marie Show," "Later Today" and "David Letterman."

"I miss the UC campus," she admits. "I went back and saw all my professors and my students after I won the Miss Kentucky title. I told them I'd be back in a year."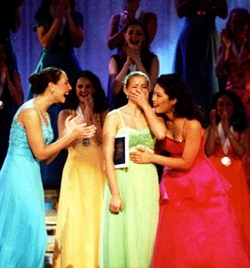 Freshman is America's Junior Miss 1999

No doubt about it, UC is the university for beautiful, intelligent women. In addition to Miss America 2000, the campus is celebrating another student winner of thousands of dollars in scholarship funds and a prestigious national title. She is Sarah Jane Everman of Kennesaw, Ga., America's Junior Miss 1999.

An actor, dancer and singer who hopes for a career in live theater, Everman is a freshman at UC's College-Conservatory of Music in the musical theater program. The recipient of numerous state-level honors for both performing arts and academic excellence while in high school, she sang "Don't Rain on My Parade" from the musical "Funny Girl" to clinch her lead in the national Junior Miss competition at Mobile, Ala.
In all, Everman's awards total $53,000 and the opportunity to travel and speak on behalf of America's Junior Miss, the oldest and largest scholarship program in the United States for high school girls.