Tips from the top
UC has more than 200,000 living alumni, many of whom are experts in their fields and ready to provide fascinating advice. More than 30 alumni experts share their secrets for investing in art, surviving a presidential visit, getting the best seats in the house and more.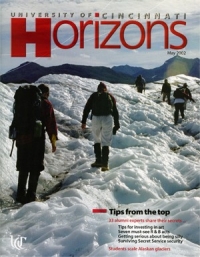 Dazzlers
Miss America 2000 Heather French -- Tips for a full life after the crown
Architect/designer Michael Graves -- How to 'Target' your talent
Veteran actress Pam Myers -- Staging a career with a second act
Ms. Wheelchair Ohio Stacy James -- Celebrating life, beating odds
Illusionist William Brewe -- Tricks to magically change your life

Dreamers

Business owner Carolyn Renninger -- Prepping for a presidential visit
Concert promoter Joseph Santangelo -- Seven must-see R & B acts
Sweet CEO James Dintaman -- Suggestions for 'smooth' celebrations
Goodyear attorney David King -- Scoring the best seats (on a blimp)

Russophile Rodger Henn -- Turning Russians into capitalists
Risk-Takers
Cincinnati mayor Charlie Luken -- Weathering a political crisis

Buried treasure hunter Art Cohn -- Handling sunken treasure

Philanthropist Doug Cramer -- Cashing in on art investments

Mountaineer Jean Ellis -- How to get to the top
Pragmatists
Jack in the Box CEO Robert Nugent -- Recovering from a PR nightmare
King of car dealers Jeff Wyler -- Should you buy or lease?

Horticulturist Tom Smith -- How to grow greener grass

Physicist, researcher Vince Schmithorst -- Jazz up your child's math skills

National columnist Brian Mitchell -- A guide to understanding the news
Nurturers
Health Care Advocate Marilyn Gaston -- Rx for a healthier America

Good neighbor Roz Manifold -- Nurturing artists in the inner city

Psychologist JoAnne Pedro-Carroll -- Broken marriages break kids

Court official Sister Mary Russley -- Keeping kids off the wrong path

Nonconformists
Blind champion athlete Dennis Wyant -- Winning while playing in the dark

Historical dance expert Steve Percer -- Waltzing without glass slippers

Novelty entrepreneur Don Poynter -- Ways to get serious about being silly

Nudist resort owner Ralph Kilborn -- Be comfortable in your own skin

Comic book artist P. Craig Russell -- Drawing opera from stage to page

Record runner Ted Corbitt -- How to go the distance -- after 80

Sports
Olympic diving tips from Becky Ruehl
Slam dunk pointers from Melvin Levett

70-yard TD pass tips from Greg Cook

Tennis lessons from Tony Trabert

Their words live on

President William Howard Taft
Pea-pickin' Tennessee Ernie Ford

Social revolutionary Jerry Rubin

Mother of Credit Unions Louise McCarren Herring

Computer pioneer Paul Herget

How we selected the stories -- Editor
Also in this issue

The ice students cometh
A university writer and a photographer recount their summer on the glaciers of Alaska, spent with UC students.

Betrayal for justice
A German exchange student, Werner Von Rosenstiel, traded a swastika for free speech.
Departments
Letters to the Editor
More on Sperti ointment, mail delays, Ted McCarty.

How important is a university magazine?
Results from Horizons' readership survey.

Campus News
New cancer treatment, record outside research funds, CCM's "Moveable Feast."
On Campus Yesterday
In Thanksgiving garb, c. 1948