Nursing a forgotten population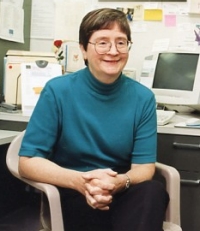 In the waiting area of the Health Resource Center, patients sit, talking politics and drinking complimentary coffee as "Raiders of the Lost Ark" plays on the television.
One might mistake the scene for a suburban doctor's office. Then again, probably not. The smell alone -- a pungent mix of alcohol and body odor -- is a clear-enough reminder that this Over-the-Rhine clinic is far removed from the world of health-care maintenance.
A more apt summation of the HRC's approach to health care is crisis management.
The free clinic, squeezed into the first floor of the Freestore Foodbank, is a novel idea for Cincinnati's urban poor -- a place to mend, both mind and body. The HRC opened in March 1995 as the vision of Connie Ragiel, associate professor of nursing at the University of Cincinnati for 23 years.
Ragiel realized the need for a social safety net while working nights and weekends in the psychiatric emergency room at University Hospital. She took a year's leave of absence from teaching to see her project through. Today, the College of Nursing pays her full salary with the understanding that she spends 60 percent of her time running the clinic.
"We opened with the idea that we would serve people who had nowhere else to go, people who had been turned away from other agencies, people who were at the bottom of the pecking order," Ragiel explains from an upstairs office, which overlooks a littered alley. "Our philosophy is that every person has the ability to heal themselves if they only have the resources and the knowledge."
The patients who drop in at 112 East Liberty are poor, often homeless, and usually have nowhere else to turn for care. Ailments range from mental illness to diabetes to drug abuse to HIV to whatever else walks in off the street. Today, like most Tuesdays, the clinic is busy. It is the busiest day of the week, a day when clients can get an HIV test or see a doctor, a lawyer or a psychiatrist.
In the diverse crowd waiting for care, Janice Clark, 36, sits, arched over, elbows in her lap and tapping her foot. An addict for the last half of her life, she got off a bus from Tennessee to Cincinnati six months ago. It turns out that trip was the beginning of her road to recovery. For now, Clark's home is a treatment center in Price Hill, but the Health Resource Center is her haven.
"I come here to see my therapist and to get antidepressant medicine," she shares. "It helps me to deal with my abuse issues. We talk about the new changes in my life. It is just the little things. I've gained all of my weight back, and my family is starting to talk to me again."
Beyond giving treatment, the staff at the HRC is also helping Clark look for an apartment. She intends to enroll at a vocational school to become a gourmet cook. "Today, I feel like I could handle basically anything coming my way," she says. "Six months ago it was much different."
Patients are not the only ones whose lives have changed as a result of the clinic. When Ragiel and a graduate student opened the center more than four years ago, 18 people showed up for care the first month. Word of their service soon spread. Now, the staff of paid professionals, volunteers and interns juggle about 700 visits every month -- each patient with a unique problem.
"We go from one crisis to the next," Ragiel says. "There is no such thing as prevention. There is no money for prevention. So all we deal with is restoration and alleviation of crisis."
Medical bills, insurance cards and co-payments are foreign terms here. Everything, including prescriptions, is free. For Ragiel, a clinical nurse specialist in psychiatry, continuing the same level of care for a growing number of clients is often the greatest challenge. When she isn't downstairs seeing patients, she is in her office writing grants and "scrounging" funds to cover a ballooning budget that will eclipse $341,000 this year. "We don't have a penny in reserve," she says. "What comes in, goes out."
Funds for salaries and supplies arrive by way of private donations, grants and contracts with agencies like the U.S. Department of Housing and Urban Development, which pays the Health Resource Center to find and assist minors living on the street as drug dealers and prostitutes.
"It has been very hard," Ragiel says. "It is the hardest work I've ever done. Someone once said to me, 'You are now a full professor; you ought to be enjoying your tenure, yet you are working like all hell is breaking loose.'"
Her response: "All hell is breaking loose. Part of what we are doing is awakening people to the reality of what poverty and changes in the welfare system are having on people. It is killing them, and it is killing them by the dozens.
"Yet no one knows they are dying because there isn't anyone there to speak for them. I don't think most of the people in this city know these people exist. They do. I can vouch for it."
Most are surprised to hear that 80 to 90 percent of the clients cannot get Medicare because they do not have an address or they are unable to fill out paperwork. "To get a medical card, you have to have a place to live so they can send it to you," Ragiel says. "Our people are doubled up with their uncle, boyfriend or father, and they move every two or three weeks."
The clients the Health Resource Center serves are other agencies' treatment failures. Many times they have been "invited to leave" other clinics because they showed up drunk or missed too many appointments.
"These people live such horrendously complicated lives that an appointment or medication is probably the last thing on their mind," Ragiel says. "They are sleeping under a bridge. They are getting evicted. Maybe their husband is in jail on drug charges. Their plate in the morning is filled with more trauma than you and I would see in a year or a lifetime."
Often the worst thing on Ragiel's plate is the bureaucracy that attaches itself to health care. "We send people up to the hospital to be admitted, and they are turned away. Oh, the anger we feel against the system knowing that they wouldn't have been turned away if they had insurance."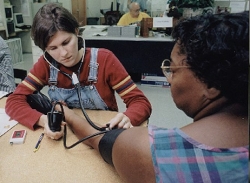 To get through the days, Ragiel says she prays more than she used to. Coping with the stress of the clinic is a group effort, and the tears still flow. "It is vitally important that we share the sorrow and the joy, the good things that happen and the bad things that happen."

People who work with the poor measure their successes one at a time, or as Ragiel puts it, "in pennies, not dollars." Many of her stories have sad endings, but many others are positive.
The latter she cherishes. That's what keeps her going. That's what gives the Health Resource Center its energy.
There is the prostitute who decided, after more than three years of peddling her body to feed an addiction, to seek treatment. There is the abused mother who nearly lost her five children and now, with a boost from the clinic, is piecing her life back together, working on her social-work degree at UC and making the dean's list. There is the man who had lived out of a dumpster for seven years and today has a clean apartment. Though he still has behavioral issues and continues to pray in the middle of the street, the staff knows he is eating well because they take him grocery shopping.
These people are living examples of the personal interest taken. Says Ragiel: "We go to court with our clients. We advocate for them. We have bailed them out of jail."
It isn't even uncommon to find the receptionist digging for pocket change to cover someone's bus fare. Ragiel estimates she spends $200 a month out of her personal bank account to help meet the needs of the clinic.

In four years, her investment has reached roughly $10,000, most of her free time and part of her sanity because she didn't want to die without enhancing the lives of others. That accomplished, she still has no intention of quitting. "This clinic started moving on its own energy source, and I have never felt as though I am in charge of it," Ragiel says. "I follow it. I don't know where we are going. But it has got its own trajectory."