Bearcat Sports
Who's laughing now? An interview with Bob Huggins in 1999

by John Bach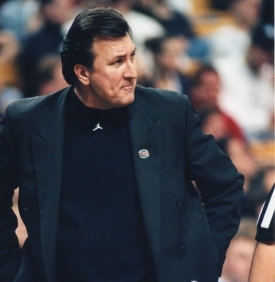 Ten years ago, Bob Huggins, a relatively unknown coach from Akron, Ohio, arrived at UC, uttering phrases like "Final Four."

His optimism drew snickers from local reporters accustomed to UC's mediocre style of basketball in the '80s. That was 1989. By 1992, the Bearcats made it to the Final Four, and nobody was snickering, especially the media. Huggins had won over the home crowd, but nationally, many still doubted UC.

"After '92, there were a lot of people who said we couldn't stay there," Huggins says."We have finished among the top 10 in the country three of the last four years. The battle is to stay there. Getting there is great. Staying there is better."

Huggins, 46, considered one of the premier coaches in college basketball, began his 11th season in Cincinnati this year, becoming the longest-running coach since UC picked up the game at the turn of the century. To date, his tenure is only matched by Boyd Chambers, who led the Bearcats from 1918 to 1928.
To his credit, Huggins has nearly 100 more victories than any other coach in the school's history. Most meaningful, however, has been the fact that his 247 wins and 82 losses prior to this season means Bearcat fans have gone home happy 75 percent of the time over the last decade.

That is three out of every four games. He entered the season as the ninth-winningest active coach.

So where is UC basketball headed during the second decade of the Huggins era? Straight to the top, according to the Associated Press, which picked UC as the No. 1 team in the country at the start of the season. According to the coach, one not to peer too far into the future, this year's team will return to the national spotlight.

"We are right in the mix," he says."It depends on our young guys and how fast they mature."

The Bearcats have plenty of depth returning in senior center Kenyon Martin and three senior forwards, Pete Mickeal, Jermaine Tate and Ryan Fletcher.

UC complemented its veterans with a recruiting class ranked among the top three in the nation.

The team picked up three outstanding perimeter players in DerMarr Johnson, Kenny Satterfield and Leonard Stokes to accompany sophomore point guard Steve Logan. Logan earned Conference USA All-Freshman honors last year.

Though laden with skills and agility, UC's youth could prove to be its weak link."The scary thing is we will be playing three freshmen and a sophomore in the backcourt," Huggins says. "That is where games are decided. But, we have as strong a front line as we have ever had, and our freshmen are very talented."

Johnson, a 6-foot-9 shooting guard, and Satterfield, a candidate for the point guard position, both gained high school All-American laurels last year. Furthermore, Stokes was named Mr. Basketball in the state of New York. Huggins credited UC's reputation, style of play and television exposure for this year's recruiting success.

"Those guys can come in and make an impact right away," he says."Those are the guys in the class who we wanted."

Martin, already UC's all-time blocks leader, put off the NBA to return for his final season with Huggins. Both are counting on a strong season and a deeper run in the NCAA Tournament. UC has been eliminated in the second round each of the last three years after gaining a top-three seed.

Huggins says the talents of his incoming freshmen will address last year's weakness, especially apparent in the tournament loss to Temple -- outside shooting. Beyond that, the key to UC's success will be its drive. "We just try to do the best we can every year," the coach says. "That's all. That is kind of what we have been trying to do all along. I try to get them to play as hard as they can play."

A decade has passed, and neither his style nor his expectations have changed. Asked where he sees himself 10 years from now, Huggins responds immediately,"On Lake Erie, wall-eye fishing."

For now though, there is no time for fishing."I don't have time to relax," he says." That is why I plan to relax in 10 years."

A few questions
Bob Huggins spent some time with "Horizons" magazine to share his thoughts on his first decade of coaching at UC.

HM: What has been your best moment?

BH: There have been a lot of them -- the success that our guys have had off the floor. It has been great watching guys come back in here that are successful in business and professionally doing what they want to do.

HM: And the worst?

BH: The bureaucracy. I just want to coach. I guess I need to be more into the bureaucracy. Things are changing. This profession has changed.

HM: A good deal has been said lately about UC's low graduation rates as figured by the NCAA.

BH: Those graduation rates put out by the NCAA don't take into account transfers and junior college players. That skews what people are talking about. The stats ought to say if guys graduated, not if they graduated in five years. Our guys have continually come back and graduated. You get those people in the media that don't take time to look. People continually write about it without ever checking it out and finding out what the facts really are. We just had three guys come back and graduate -- Keith LeGree, Terrence Davis and Rod Monroe.

HM: What has been the biggest reward of this job?

BH: Dealing with young people and helping them to succeed.

HM: Any regrets?

BH: We can all look back and say maybe we should have done things differently.

HM: Anything specific come to mind?

BH: I don't want to get into that.

HM: If you could build a UC all-star team from the last decade, who would be your starting five?

BH: That would be hard to do. You would have to start with Van Exel and Fortson. It could go a lot of different directions from there.

HM: How about the media coverage?

BH: It has varied. There are a lot of misinformed people who carry pens and stand behind mics.

HM: What is your opinion of the fan support in Cincinnati?

BH: It has been fantastic.