Building happy endings to UC dreams
Celebrating the opening of two additional buildings last year, the University of Cincinnati solidified its reputation as a campus-wide gallery for signature architects.

Now, add two more stops to the UC masterpiece tour. The Vontz Center for Molecular Studies, designed by Frank Gehry, opened as the gateway to the UC Medical Center in September 1999. The renovated College-Conservatory of Music, designed by Henry Cobb, opened officially in December.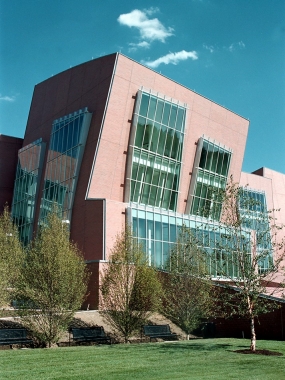 These works, added to existing facilities -- the Aronoff Center for Design and Art by Peter Eisenman, the Engineering Research Center by Michael Graves and the Vera Clement Edwards Center by David Childs -- have lent both acclaim and character to a once-drab campus. "The New York Times" recently deemed UC "one of the most architecturally dynamic campuses in America today."

UC President Joseph Steger shared his enthusiasm for the projects when he accompanied Gehry and Cobb to an exhibition in New York last summer to unveil their work to the international press. The private room of the Four Seasons restaurant, filled with more than 100 media representatives, was the ideal setting for Steger's then-and-now slide show, illustrating UC's massive transformation.

The ceremony, themed "UC Dreams," gained further momentum by July when shared with the Cincinnati media during the preview at the Myers Alumni Center. Steger said then that the completion of the buildings marks a realization of the campus Master Plan that was initially developed 10 years ago.

"The campus looked like it was designed for cars, not people," he said, recalling UC's past. "The stadium was condemned, we had a termite-collapsed building, and the College of Applied Science was downtown at a condemned building on Walnut.

"I said, 'I have a reason why no one believes we are great. Because they walk onto campus and go, Ugh.'"

Steger said that using the signature architects, an idea some viewed with skepticism, increased the $139 million cost of CCM and Vontz by 3 to 5 percent.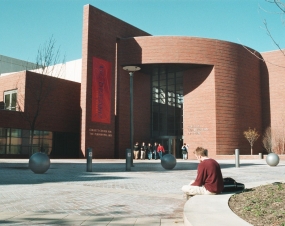 "That bought us national press," Steger says. "That bought us executives flying in here on their way to New York. Now we can talk about the university with them. We now have a sense of community, a sense of place for the next century."

Dale McGirr, UC vice president for finance, said Princeton Architectural Press intends to feature UC in one of its upcoming campus guides, a comprehensive look at the architectural heritage of America's campuses. The short list of institutions previously featured includes Yale, Stanford, Duke, Princeton and Harvard.

Donald Harrison, UC vice president and provost for health affairs, compared the Vontz Center to Gehry's most famous work. "We have stairs and open spaces that are reminiscent of the Guggenheim Bilbao," Harrison says.

Robert Werner, dean of the College-Conservatory of Music, said Cobb's work "gives us a dramatic architectural presence, but most important, it is a venue for faculty and almost 1,400 students to do their work."