Campus News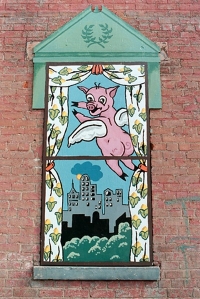 All work and play
Four UC students who spent their days hanging around playgrounds got little sympathy at home when claiming to have a hard day on the job. But now they are reaping respect.

Applying their artistic endeavors to a canvas called Over-the-Rhine, the students did more than splash on a fresh coat of paint. Cincinnati's inner city neighborhood now has images of flying pigs on windows, colorful stripes swirling around playground equipment, signs guiding shoppers to the historic Findlay Market, benches located at two playgrounds and the market, and totem-pole-like sculptures sprouting six feet tall from four different locations in the area.
The prolific UC students spent the summer working with 13 local teens on a project led by Frank Russell, director of UC's Community Design Center, and Traci Rigaud, program coordinator. Russell describes the setting as rich with "historic buildings, talented people, cultural assets" and "physical vigor" -- all of which made a good match for the students' "energy, enthusiasm and talent."
The project was funded by UC, the Ohio Arts Council and the Citizens Committee for Youth.
Colleges in the golden years
Birthday candles are in short supply around the University of Cincinnati these days. Representatives from the College of Engineering and from the College of Pharmacy have spent the last year blowing out 250 years' worth.


This academic year is a historical milestone for both colleges. The College of Pharmacy, celebrating 150 years, will wind down the festivities with a scientific symposium in February. The College of Engineering welcomed its 100th freshman class in the fall and is marking a "Century of Realizing Dreams" with events through July.

Herman Schneider, dean of engineering in 1906, even made a posthumous appearance in September to kick things off. Assisting with his likeness was CCM student Matthew Tweardy, who used Schneider's writings as the basis for his Centennial address.
College of Pharmacy's Web site
College of Engineering and Applied Science Web site
Better and best
Graduates of UC's interior design and architecture programs, save room for one more line on your resume. The Almanac of Architecture and Design 2000 ranked UC's interior design program as the nation's best and UC's architecture program as the country's third best.

The rankings were based upon surveys of design firms, posing the question, "From which schools have you had the best experience hiring employees?"

Speaking of rankings, Yahoo Internet Life placed UC as the 32nd "Most Wired" campus in the country. UC zoomed into the Top 50 a year after making the list for the first time at No. 189.

The university with the best "net resources"? Carnegie Mellon.
Beauty's new title
Miss America 2000, Heather French, DAAP '97, has a new title: Second Lady of Kentucky. On Oct. 27, shortly after completing her year as Miss America, Heather married Kentucky Lt. Gov. Stephen Henry, an orthopedic surgeon who teaches at two universities and shares his bride's advocacy of veterans' rights.

Not surprisingly for a fashion design graduate, Heather collaborated with designers in New York and Nashville to create her white silk peau de soie gown, which was heavily embroidered with crystal beads and rhinestones. For her "something borrowed," the bride wore a $1 million diamond tiara that once graced the head of Princess Diana.

The wedding drew a full-capacity audience of 1,200 to the historic Cathedral of the Assumption in Louisville. Among them were Miss Massachusetts 2000 (a bridesmaid), three Miss Kentuckys, Kentucky Gov. Paul Patton and media celebrity Nick Clooney.

An ensemble of pipers and drummers led the couple to their carriage for the ride to the reception at the historic Seelbach Hotel, attended by 1,500 guests.

UC Magazine article: "Meet Miss America 2000"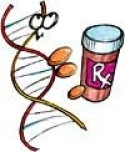 Genetic frontier
Scientists at the University of Cincinnati have demonstrated for the first time that your DNA can predict your response to a drug.

A team of UC researchers, led by Stephen Liggett and working with Genaissance Pharmaceuticals, proved that a patient's genetic "bar code" can be used to indicate which medications will be effective and which will cause negative side effects. Their work, published by the National Academy of Sciences, could be an important initial step toward using DNA to guide the delivery of more personalized health care.

"Genomics is the frontier where the entire field of life sciences is going," says Donald Harrison, UC senior vice president and health affairs provost. "And we want the University of Cincinnati to be on the front edge of the wave."
Dean of jobs
Sam Sovilla has been looking for work for nearly 40 years. And it's a good thing. Without him, tens of thousands of University of Cincinnati students wouldn't have had substantial paychecks or professional experience while in school.

Furthermore, UC's co-op might not have become known as the country's premier large-scale cooperative education program.

As fall quarter began, Sovilla, A&S '62, MEd '69, known by colleagues as the "godfather" of American co-op, stepped down as director of UC's Division of Professional Practice. Part of the division staff since 1961, he had been director for 25 years and plans to return as a faculty member after a year's sabbatical.

During Sovilla's tenure, UC co-op expanded from 22 to 38 disciplines, including criminal justice, computer science, Romance languages, international affairs and political science. He is a recipient of the Dean Herman Schneider Award, the highest honor presented by the Cooperative Education Association (CEA), and has served as a consultant for the U.S. Department of Education and scores of schools and corporations.

This year there are 3,600 students and 1,300 employers nationwide participating in UC co-op.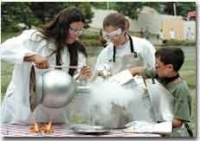 Frozen in time

What exotic experiment requires a trio of researchers on the UC campus to work in protective goggles, aprons and gloves? It's vanilla ice cream, quick-frozen by liquid nitrogen at an Insights Into Engineering summer camp. Program coordinator Linda Rieser says the investigators devoured their work, judging it "delicious."

Rieser, whose job at UC involves technical research of hazardous and radioactive materials, volunteers as camp coordinator because she wants to encourage young people who may be future UC engineering students. "I've seen it happen," she says. "This is something really worth doing."

The two-week camp, so popular that entry is by lottery, also included a project in which students invented technology for an imaginary Middle Ages village, using programmable Lego blocks. Inventive results last summer included carnival rides and defensive devices, but Rieser's all-time favorite was "an automated guillotine built by three little girls."
Theodore Berry lives on
In paying tribute to Theodore "Ted" Berry, A&S '28, Law '31, Cincinnati's first African American mayor who died in October 2000, the city decided to name the following projects in his honor:
Theodore M. Berry Head Start Children and Family Learning Center, a new $4 million facility being constructed at Court and Linn streets downtown
Theodore M. Berry International Park, to be built on Eastern Avenue next spring
Theodore M. Berry Way, a yet-to-be-constructed street near the riverfront
Long time coming
When UC President Joseph Steger unlocked the Administration Building doors at 6:45 a.m. on Sept. 8, he had no idea he was taking a memorable step.

Unbeknownst to him, that day, which marked his 16th year and 62nd day in office, made him the university's second longest-serving president. The city declared it Joseph Steger Day and issued a proclamation highlighting a number of achievements attained during his administration, including:
The growth in UC's endowment from $140 million to $900 million
Campus Internet usage increasing 5,000 fold
Launching economic development projects such as the Institute for Advanced Manufacturing Sciences
Serving in a leadership role on the Metropolitan Growth Alliance
Bonus-point trivia questions:
Who holds the record for the longest presidential term at UC?
Whom did Steger surpass as second longest-serving president?
(Answers: Raymond Walters holds the presidential record for longevity, with 8,403 days, served during 1932-55. Charles Dabney now ranks third, with 5,907 days in 1904-20.)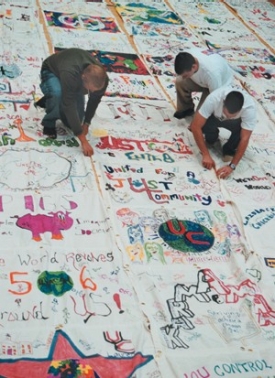 Banner year
The largest freshman class in 10 years made its mark on the UC campus right away, by crafting colorful flags at Student Orientation to support the university's Just Community Initiative. The artworks were later combined for use as an enormous backdrop at last fall's convocation for new students.

This year's freshmen also will be the most technologically advanced class because, by the end of the academic year, many will be required to have laptop computers linked to their college's wireless network. The College of Engineering is taking the lead in campus wireless service, followed by the College of Design, Architecture, Art, and Planning, UC's main library (Langsam) and both medical and law libraries.

To help thousands of new students build friendships and review college survival tips, the university presented "Bearcat BOUND," a weekend retreat immediately preceding the start of the fall quarter. A national speaker gave advice on decision making, goal setting and effective studying.
Johnson new foundation director

The torch is passed. Shining as the new executive director of the UC Foundation is Ronda J. Johnson, formerly vice chancellor for Institutional Advancement at Texas Tech University. She assumed her new duties Nov. 1, replacing the Foundation's retiring director Dick Bauer.

Johnson, also former chief operating officer of the Texas Tech Foundation, has 22 years of fund-raising experience: 10 years as a consultant, six years at the University of Texas Health Science Center in Houston and several years as development director for Houston's symphony orchestra and a child guidance center. She earned her undergraduate degree at the University of Texas, Austin, and an MBA from Houston Baptist University.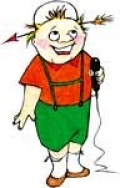 Quite amüsant
The word "cabaret" may conjure up images of footlights and orchestras, but UC's German department went for authenticity when it welcomed German "cabaretist" Thomas Breuer last fall. The small tables of the Max Kade German Cultural Center created the perfect ambience, while Breuer's wry sense of humor triggered the response that everyone hoped for -- hearty and continual laughter for most of an evening.

An outsider, of course, might not have understood a single joke because the entire show was in German, part of the Fifth Annual Graduate Conference for the department, which celebrated its 100th anniversary last year. But the audience for whom Breuer was hired considered him quite amüsant.
Baconlaureate
He didn't stand guard with Mick and Mack, but UC's scholarly porker, "Baconlaureate," stood proud among 424 other painted pigs on the streets of Cincinnati during the Big Pig Gig last October. Sponsored by UC and named by President Joseph Steger, "Baconlaureate" proved to be a fine swine for the city's first porcine public art project.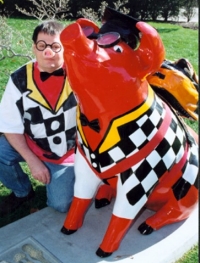 The success of the event, celebrating the Queen City's 19th century pork-packing industry, proved that the citizens of "Porkopolis" -- Cincinnati's early nickname -- keep a special place in their hearts for these fat little friends. Proving the point is UC graphic designer Tom Levesay, who dressed like his creation on Halloween.
At the event's close in November, pigs were auctioned off for more than mere bacon bits. The online and in-person pig peddling left 140 local charities sitting high on the hog with more than $400,000.
That's pressure
As if taking a professional licensure exam did not put enough pressure on a graduate, the College of Pharmacy's most recent class had a tradition to uphold -- a tradition of perfection. And all 65 of them succeeded. Their 100 percent passing rate on the North American Pharmacist Licensure Examination repeated the success of the previous class and maintained UC's five-year lead in the state.
Last year's class from the College of Law similarly maintained UC's lead in the state by successfully achieving a 93 percent pass rate for first-time takers of the Bar Exam, 7 percentage points higher than any other Ohio school and well above the state average of 76.4 percent. The November results put UC in the lead for the eighth year in a row.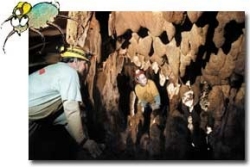 Program outlines never explained that studying evolution might involve sliding through cold, dark, dirty places on your stomach to hang out with bugs. But biology grad student Molly White and her colleagues agree the results are worth the laundry bill.
For several years, professor Thomas Kane and his students have been slithering around southern Kentucky caves to study the manner in which animals adapt to survive. Most recently, White has discovered insects demonstrating the same abnormal behavior in two completely separate cave systems -- cave beetles digging up and preying upon the eggs of cave crickets.

"These beetles are the only ones that do this," White explains. "But there is absolutely no gene flow between the species. It's a physical impossibility.

"It's called convergent evolution. The species end up doing the same thing, even though they started at completely different places."
"Biologists find evolution evidence in Kentucky caves"
$16.7 million won
The College of Engineering's new $16.7 million five-year contract with the U.S. Environmental Protection Agency will enable professor Makram Suidan to expand his environmental engineering research. Previously, Suidan used a $6.2 million EPA contract to work with 20 full-time researchers, 50 graduate students, six other UC faculty members and researchers at a Columbus laboratory, over a three-year period, on projects that included oil-spill remediation, toxic-soil cleanup and water decontamination.