In Focus Photo Feature
Time management: Tangeman University Center's clock tower requires regular maintenance.
Photograph by Dottie Stover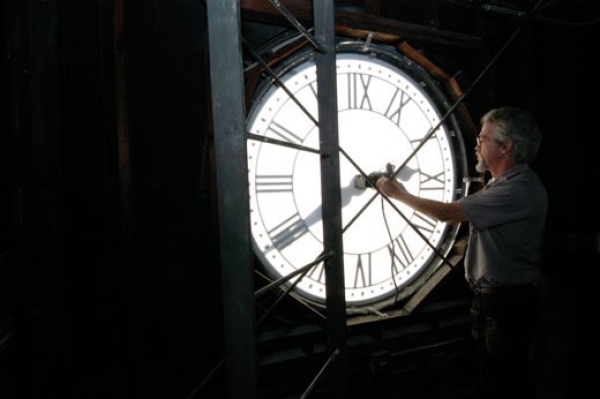 If you're late to class, don't blame Don Kaiser. At least once a week, the University of Cincinnati facilities tech climbs the long spiral staircase and a double set of ladders from the peak of the Tangeman University Center atrium to access the renovated building's 1937 clock tower. Regular time checks and a good gear greasing have become part of Kaiser's routine maintenance on the tower's four massive clocks that overlook campus.

Today an electronic chiming system broadcasts from tower-top speakers every 15 minutes -- including a noon and 6 p.m. rendition of UC's "Alma Mater." Prior to TUC's makeover, however, Kaiser says the chimes weren't as timely, and an older lady used to call from the neighborhood to chide, "Your clock is off by five minutes."

"People take the clock tower for granted," he says. "I'm glad they kept it because it gives the building class and is a signature for this part of campus."
Link:
A brief history of TUC