Co-op means real-world experience ... and paychecks
UC program launches careers around the globe
by Amanda Hughes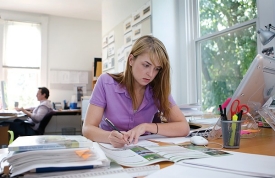 UC co-op students have been working alongside professionals in their fields ever since the university became the global founder of cooperative education in 1906. In 2008, co-op students in 45 academic majors across campus continue to alternate quarters in the classroom with quarters of paid, professional work around the world. In fact, UC houses the largest co-op program of any public institution in the U.S.
In the 2007-08 school year, UC students held 5,258 jobs through the co-op program --breaking the 5,000 threshold for co-op placements for the first time in the UC program's history.
From 2003 to 2008, participation in co-op at UC rose by more than 23 percent. In that same time span, UC students' collective pay increased from $25 million to $35 million. Currently, the best-paid UC co-ops make as much as $32.88 per hour, with average pay at about $14.25 per hour, up from $10 in 2003. This year, UC co-op students are expected to earn a collective $37 million.
Working around the world
Last year, 1,500 employers around the world hired UC co-ops, compared to 1,300 five years ago. Those students worked in 638 U.S. cities and at least a dozen other countries. Last year alone, UC students tested their skills in Berlin, London, Moscow, Paris, Tokyo, Venice and Zurich.
Jumpstarting futures
Upon graduation, about 66 percent of UC co-op students receive job offers from their co-op employers. Half accept that offer; the other half accept a better offer.
According to the National Commission for Cooperative Education, 95 percent of co-op students have jobs immediately upon graduation, either with their co-op employer or another firm.
Related article: