University of Cincinnati rises in national rankings
Nationally ranked programs reflect rising reputation in '08

by Amanda Hughes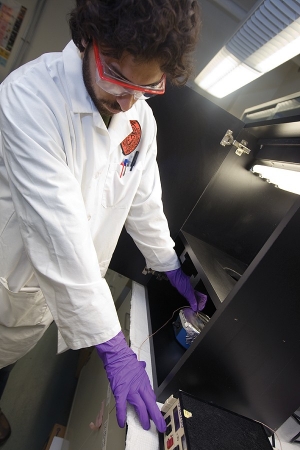 The University of Cincinnati continues to gain national and international recognition for outstanding academic programs, world-class faculty and successful co-op partnerships around the globe.
Princeton Review places UC among nation's best
For the second year in a row, the Princeton Review named UC as one of the nation's best institutions for undergraduate education.
The education services company featured UC in the 2009 edition of its annual book, "The Best 368 Colleges." UC is ranked 19th on the top 20 list of universities with a diverse student population. The school's profile also shows that UC garnered high ratings in terms of fire safety and green efforts.
Princeton editors surveyed students who praised UC's diversity in terms of race, culture, age and background. One student called the campus "a vibrant quilt of culture" that feels "very realistic." "It could really be considered the melting pot college of the Midwest," said another.
The publication highlights the real-world opportunities available at UC, citing students who are interning and co-oping around the world.
Other Princeton scores
Entrepreneur program -- UC's undergraduate entrepreneurship program in the College of Business is ranked 21st among Princeton's "Top 50 Entrepreneurial Colleges."
College of Law -- UC's College of Law is ranked among the top 117 schools in the country.
Business programs -- UC's College of Business is ranked one of the best among 296 programs in the country, considering academics, institutional data and candid student opinions.
U.S. News & World Report rankings
The University of Cincinnati has dozens of programs ranked among the top 100 public universities in the nation. Thirty-three UC graduate programs are ranked in the top 50 in the United States. (Note: U.S. News & World Report does not rank individual undergraduate programs.)
Graduate programs in the country's top 25

(top 25 as of December 2008)
Criminal justice – 3rd
Interior design – 3rd
Opera/voice – 3rd
Pediatrics – 3rd
Cooperative education – 4th
Musical conducting – 5th
Industrial design – 6th
Music – 6th
Paleontology – 7th
Music composition – 9th
Orchestra/symphony – 9th
Nursing: anesthesia – 11th
Environmental engineering – 20th
School of Design among world's best
The College of Design, Architecture, Art, and Planning was one of four in the world to receive an International Design Excellence Award, considered the "gold standard" and sponsored by the Industrial Designers Society of America and BusinessWeek magazine.
Also, DesignIntelligence journal ranked four design programs in the top 10 for 2009:
No. 2 for interior design --For the past decade, UC's interior design program has ranked No. 1 or 2 in the nation.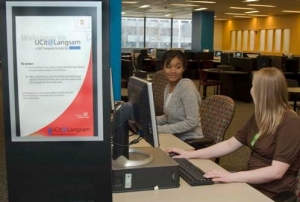 Above, in January 2008, UC Libraries and UCit partnered to open UCit@Langsam, a 24/7 computer and study space. The facility provides 100 computers, wireless access, a quiet study room and four group study rooms. UCit@Langsam is the result of student requests for individual and collaborative study space on campus and has proven popular since its opening. UC Libraries held 3,418,599 print and electronic materials in 2007. Photo/Lisa Britton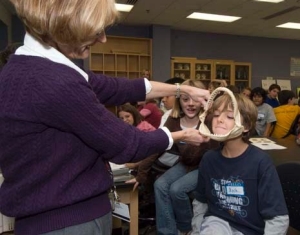 In an unusual partnership between an elementary school and a college, UC's Raymond Walters campus is home to Blue Ash Elementary, which houses students in kindergarten through fourth grade. The school opened in August 2002 and offers firsthand lessons for students beyond their textbooks, such as the fossil lab at the Darwin 2009 celebration. More than 100 Blue Ash students participated in the hands-on activities. Pictured above: Raymond Walters biology instructor M.J. Weintraub helps student Jack Loon get a closer look at shark jaws. Photo/Lisa Britton
No. 3 and 8 for industrial design --UC was named as having the No. 3 industrial design program for undergraduate studies, ahead of The Ohio State University, and the No. 8 program for graduate studies.
No. 2 for architecture --UC's architecture program ranked No. 2, right behind Harvard University.
Applause all around
UC programs, schools and colleges receive recognition and high rankings from all corners. Here, we present a sampling of where the university falls on their lists.
No. 4 internationally --The 2008 International Student Barometer, the largest annual study of international students in the world, ranked UC fourth among 84 institutions across four continents as one of the best choices in the world for obtaining an education. Approximately 67,000 international students voted based upon their college experiences in four areas: arrival, learning, living and support.
Also, the influential Academic Ranking of World Universities, published by Shanghai Jiaotong University, ranks the University of Cincinnati in the top 200 of more than 2,500 ranked worldwide as of 2008.
No. 1 for criminal justice --UC's criminal justice department led the nation in having the most published researchers in the field over the last five years, according to a 2008 Journal of Criminal Justice survey.
No. 5 for real estate --UC is the fifth most influential real estate research institution in the U.S., based on the quality of faculty research and literary citations in journals. UC's Real Estate Center placed ahead of schools such as Cornell, Harvard, Wisconsin and Yale in the Journal of Real Estate Economics measure.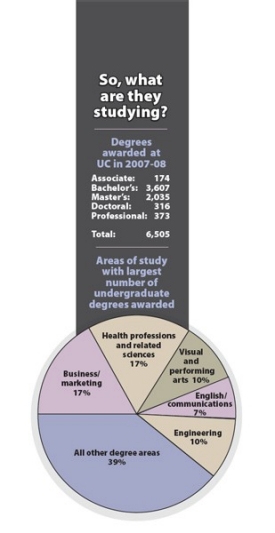 Top 10 for faculty productivity --Academic Analytics used faculty scholarly productivity to place these programs in the following rankings among nearly 7,400 doctoral programs in the U.S. as of December 2008:
- No. 2, Biological sciences (Only Harvard ranked higher)
- No. 3, Classics and classical languages
- No. 6, Criminology and justice studies
- No. 6, Environmental engineering
- No. 6, Ecology
- No. 7, Physiology
- No. 9, Biomedical sciences
- No. 9, Special education
- No. 10, Toxicology
Top 20 for Clermont program --The Accreditation Review Committee for Education in Surgical Technology rated Clermont College's Surgical Technology program one of the top 20 among 360 programs in the country.
No. 28 for research grants, contracts --During fiscal year 2008, UC and its affiliate organizations earned more than $353 million in grants and contracts, an all-time high for UC. The National Science Foundation ranks UC 28th in the country according to research and development expenditures.
No. 43 for College of Business --BusinessWeek ranked the College of Business 43rd among public universities, and its undergraduate program among the top 100 of public and private business programs in the country.
No. 47 for libraries --At 47th, University of Cincinnati Libraries ranked among the top 50 U.S. and Canadian research university libraries, according to the latest report by the Association of Research Libraries. A decade ago, UC's University Libraries, Medical Center Libraries and the Law Library were ranked 58th.
No. 48 in diversity --The University of Cincinnati is ranked 48th in the United States in awarding bachelor's degrees in engineering to African American students by Diverse Issues In Higher Education.
Related article:
Co-op students earn experience