The Arts
Art for the eye and soul: a look at UC's impressive fine arts collection and a view into a variety of artistic viewpoints and endeavors.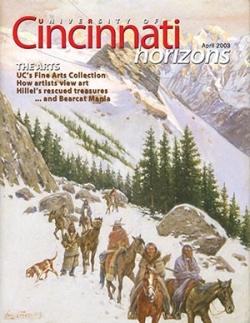 Outside the lines
Delve into the minds of 10 artists who share their insights into music, painting, sculpture, dance and more.

UC's Fine Arts Collection
Those who think they have never seen the collection are probably mistaken, but local art experts rarely overlook it.

Rookwood sampler
Examples of Rookwood Pottery in the university art collection.

Locating campus art galleries
Where to find UC's five dedicated galleries.

Saving frames from flames
Students save valuable artwork from a 1920 Baldwin Hall fire.

Fiberglass Bearcats overrun campus

Dorm food worth writing about
A review of the latest addition to campus life, MarketPoint.
Sports
Tackling twin peaks
Alumnus bikes 8,000 miles to climb the highest peak in the Americas.
Departments
Letters to the Editor

Campus News
One-stop student spot, mummy's scroll, Bono visits, Tesla MRI
In Focus Photo Feature
In the heat of the night
On Campus Yesterday
Paint-in for Peace, c. 1969