Transforming UC's campus
Lasting legacies create University of Cincinnati's CCM Village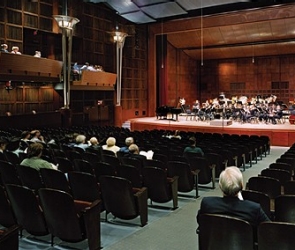 Around the country and even the world, UC's College-Conservatory of Music is recognized as one of the leading conservatories of performing arts and electronic media with alumni holding positions in nearly every first-ranked symphony orchestra, opera company, production house and media organization. Furthermore, UC music theater graduates can be found in nearly every show on Broadway.
Such results came from having bright students from around the world, a faculty composed of fine artists and scholars and remarkable resources --all of which have flourished because of private support. In particular, generous legacies came from two families: J. Ralph Corbett, HonDoc '63, and his wife, Patricia, HonDoc '76; plus Louis Nippert, A&S '26, JD '28, HonDoc '71, and his wife, Louise, A&S '34, HonDoc '67.
Their gifts, which spanned decades, were critical to completing CCM Village in the fall of 1999. The $93 million, seven-year project comprised new construction and the renovation of three existing buildings.
The impact of those transformational gifts has been evident in many ways --not the least of which is the fact that CCM's 9,000-plus alumni have cumulatively won two Academy Awards, three Emmys, five Grammys, 10 Tonys, one National Medal of Arts and one Cardiff Singer of the World award.
In a weeklong celebration of its 40th anniversary, the UC musical theater program produced the 40-year-old musical "Hair" in Corbett Auditorium in November.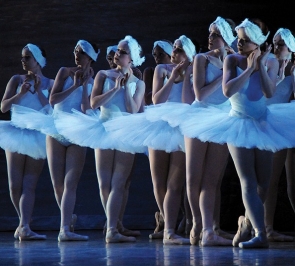 CCM Village
In creating the CCM Village, two historic buildings were renovated. Memorial dormitory was remodeled to create rehearsal rooms and offices, and Schmidlapp gymnasium, at the south end of Nippert Stadium, was gutted to create the Dieterle Vocal Arts Center.
Funds from the Nippert family helped create facilities in the old women's gym for voice, opera, choral and accompanying departments, anchored by a grand-opera-scale rehearsal space and dressing rooms. (The name Dieterle Vocal Arts Center came from Mrs. Louise Nippert's maiden name) The family also endowed the Dieterle Chair of Voice.
The old Mary Emery Hall was partially demolished and encased in new construction to house a 300-seat recital hall, the Walter and Marilyn Bartlett Television Production Center, the Lawrence Leser Newsroom, the J. Ralph Corbett Audio Production Center, the Judy and Jim Van Cleave Multimedia Laboratory and the Jack and Joan Strader Radio Center, a cable radio station.
Corbett Center
Corbett philanthropy was responsible for creating the Corbett Center for the Performing Arts, which boasts the 738-seat Corbett Auditorium. Named Outstanding New Theatre in 1997 by the U.S. Institute for Theatre Technology, the acoustically balanced concert hall is equipped with a 60-rank organ, dressing rooms, warm-up rooms and resources for recording performances.
The extensive center is also home to the 400-seat Corbett Theatre, the Cohen Family Studio Theater with flexible seating, three dance studios, five rehearsal rooms, a digital recording studio, band rehearsal halls and a theater production wing featuring studios for producing scenery, costumes, wigs, make-up, prosthetics, sound-design, lighting and music sequencing programs. The Corbetts also endowed chairs in opera and musical theater.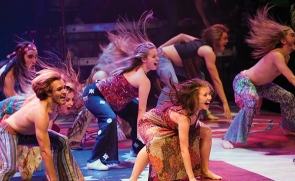 Taking to the stage

Soon after graduation, CCM students often find themselves on Broadway or on national tours as actors, musicians, composers, writers, producers, directors, designers, makeup artists, wig-masters, dancers, broadcasters and stunt performers. Among CCM's famous alumni are Kevin McCollum, CCM '84, HonDoc '05, who co-produced the Tony-winning show "Rent"; Karen Olivo, CCM '97, who won the '08 Astaire Award for Best Female Dancer on Broadway; Stephen Flaherty, CCM '82, who composed the Tony-winner "Ragtime"; along with musical-theater actors Lee Roy Reams, CCM '64, MA (CCM) '82, HonDoc '98; Faith Prince, CCM '79, HonDoc '09; and Ashley Brown, CCM '04. In addition, Sony Pictures Imageworks executive and visual effects producer Debbie Denise, CCM '73, produced "The Polar Express" and "Harry Potter and the Sorcerer's Stone."
Performing arts leader

With nearly 1,000 public events scheduled annually, CCM has become the largest single source of performing arts events in Ohio. One such performance was a full-length production of "Swan Lake," directed by Dance Division head Shellie Cash in '08, with music provided by the CCM Concert Orchestra.
Students, programs and facilities all across the CCM Village have benefited from the generosity of others. Without private support, the footlights would be dimmer and the applause more of an echo.
Magazine content for the Proudly Cincinnati campaign and transformational giving provided by the UC Foundation, Marketing & Communications.
Related articles:
Alumni form relationships for life
UC hallmarks to shape future
Linder Honors-PLUS prepares students
Proudly Cincinnati campaign update