Lindner Honors-PLUS model for preparing business students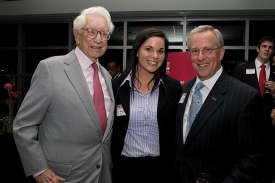 For finance major Upasana Todi, the most memorable educational experience at UC required her to step outside the classroom and into the real world. As part of the Carl Lindner Honors-PLUS program in the College of Business, she collaborated with University of Cincinnati engineering students on a hypothetical product launch.
"We had to handle every aspect of production, from developing a prototype and addressing design problems to executing market research and preparing to bring the product to market," says Todi, due to graduate in 2011. "It was very challenging to work alongside biomedical engineering students to create our product. We all learned so much about what it takes to make things happen in the real world."
The transformative education Todi describes is common among Lindner Honors-PLUS students. When Carl Lindner, HonDoc '85, chairman of Cincinnati-based American Financial Group, provided the leadership investment to create the honors program 12 years ago, he wanted to establish the country's premier business undergraduate educational experience. The idea was to change the landscape of business education by combining cooperative-education assignments at well-known regional companies, opportunities to study the global marketplace abroad and mentoring by Greater Cincinnati's successful business leaders.
Now, 200 graduates later, Lindner's dream is succeeding -- evident, in part, by the caliber of young men and women recruited for the program. Members of the 2009 freshman class, for example, had averaged a 3.9 GPA in high school and placed in the top 4 percent of their classes.
Todi says that being a part of the program makes an impression on potential employers, co-workers and clients. "In my previous internship, when my boss would introduce me to someone, he'd mention that I was a Lindner Honors-PLUS scholar. I could tell it made a lasting impression on people because they would ask questions about my experience or what it was like to be in the program."
Todi's current assignment is at CincyTech, a nonprofit venture capital company that provides investment funds to startup companies. When she graduates, Todi will have nearly 18 months of paid experience, giving her an advantage over the competition and confidence to take on bigger challenges.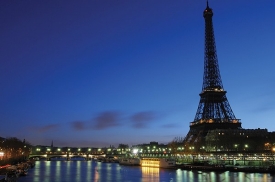 One of Todi's classmates in the program, operations-management major Rosie Meyer, says that learning from business professionals in Cincinnati and across Europe has given her a better perspective on what to expect after she graduates in 2011. "There's so much to learn about business that can't be presented in a classroom or by just reading and studying," she says.
"The opportunity to co-op and gain experience, make connections, learn how to handle yourself in a professional business environment, those things really set Lindner Honors-PLUS apart. Working and studying overseas is a great experience, especially when you're able to connect with companies you may want to work for some day."
Meyer's class completed their study abroad last spring. They traveled to London, Geneva, Brussels and Munich, among other destinations, while studying at a university in Finland. At each stop, her class was introduced to professionals working for some of the world's most prominent businesses.
"We met with staff from UniLever, Nokia, Ernst & Young, P&G and many other companies -- some with connections in Cincinnati and some entirely in Europe," Meyer says. "Because virtually every company conducts business in a worldwide forum, we learned what it takes to be a major player in the global market. We also met a few graduates from the Honors-PLUS program who were working there, which was a cool experience."
In addition to Carl Lindner's leadership support, other friends, companies and alumni have donated to extend Lindner Honors-PLUS scholarship opportunities each year. The transformative nature of the education students receive in the five-year program is evident when they graduate with an average 3.7 GPA.
Furthermore, eight of the classes that graduated from the program have produced seven winners of UC's Presidential Leadership Medal of Excellence, one of the highest awards a student can achieve. Ryan Rosensweig, '09, was the latest recipient in 2009. Afterward, these alumni have studied at Harvard, MIT, Rochester's Simon School, Wharton, New York University, Chicago and other prestigious programs.
Still, most graduates (approximately 75 percent of the first seven classes) remain in Greater Cincinnati where the region can benefit from their talents and experience. Furthermore, 85 percent of Lindner Honors-PLUS scholars from those classes had accepted full-time business positions by Christmas of their senior year.
The list of companies hiring the grads included American Financial Group, Cintas, Delta, Ernst & Young, General Cable, General Electric, PricewaterhouseCoopers, Procter & Gamble and Royal Bank of Canada.
The Lindner Honors-PLUS program remains an ambitious, forward-thinking model of how education can transform students into confident, successful professionals. In turn, these alumni will ultimately transform the way we do business through their leadership and expertise.
Learn more about the program at www.business.uc.edu/HonorsPLUS.
Magazine content for the Proudly Cincinnati campaign and transformational giving provided by the UC Foundation, Marketing & Communications.
Related articles:
Alumni form relationships for life
UC hallmarks to shape future
Legacies create CCM Village
'Proudly Cincinnati' campaign update
Link:
Visit the 'Proudly Cincinnati' web site