Tales of a mascot
Alumnus Tom Humes shares his fond memories from inside the suit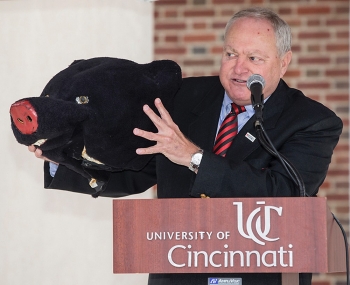 You're not supposed to have the best job of your life at 21. But Tom Humes, Bus '71, A&S '77, says he did.
In 1970, Humes interviewed in front of a panel of five people for the honor of being the University of Cincinnati mascot — then known as the Bear.
"I was asked by someone to try out, and the tryout turned out to be the interview. I was a little worried, because I thought you had to do gymnastics," says Humes, a member of UC's board of trustees since 2005. "If you knew me, you knew I wasn't exactly a gymnast."
Fortunately, for Humes, no cartwheels were involved, and for the next year, he would serve as the Bear.
UC's mascot was a bit different in the '70s. He was covered in black tufts of fur and his fiberglass head was pinpointed by a bright red snout. There was only one early Bear suit, and it was by all accounts warm, itchy and had poor visibility.
"You could only see out of one eye," Humes says. "The first time I wore the suit, I lost about 15 pounds and left cross-eyed."
The physical discomfort was a small price to pay for Humes, who says he was inspired by the mascot's ability to lift people's spirits.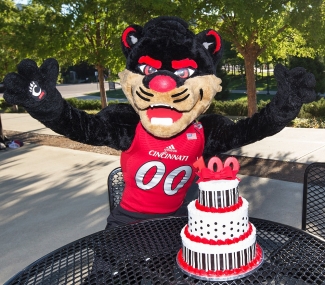 "Being the Bear was the greatest job I've ever had in my life. I peaked at 21."
Humes has hundreds of fond memories as the Bear, but recalls one particular evening at a men's basketball game. The Bearcats were scheduled to play the Louisville Cardinals at home, and Humes was doing his regular pre-game routine, shooting free throws to entertain the students who had come early to get tickets.
"You couldn't get tickets ahead of time, it was a first-come, first-served sort of thing," he says.
The Cardinal mascot was also early, but his motives appeared to be more sinister. He started giving the Bear a hard time and chucked a basketball at Humes' head. It was too late to duck by the time Humes saw the ball, and he took the blow.
"Instantly I realized I could never be bested by the Cardinal. So on that day, we won two battles on the court. The team won, and the Bear won," Humes laughs.
Today, Humes' mascot head sits behind his desk in his home office. It was passed down to him from the late Dick Strubbe, A&S '54, a former president of UC's Alumni Association and former longtime president of the UC Booster Club.
"It's my most prized possession," says Humes, who is president of Great Traditions Land and Development Co.
He recently dusted it off and brought it to the 100th birthday celebration for the Bearcats, where it was placed on UC President Santa Ono while the current mascot looked on.
"Every time I see the Bearcat, I smile," Humes says. "I am so proud to see how the mascot has evolved as a symbol of the university.
"He's truly a great ambassador."
Today's mascot by the numbers
When Tom Humes was the mascot, there was only one suit worth $500 and the job was unpaid. Things have changed. Here 's a look at the current Bearcat by the numbers:
Four mascot suits in rotation
Each suit costs $5,000
Returning mascots receive a $600 stipend per year
The mascot makes about 360 appearances per year
The Bearcat Mascot Fund
During the Bearcats Centennial on Oct. 31, UC President Santa Ono announced the establishment of the Bearcat Mascot Fund, which will provide scholarship assistance to future mascots. Tom Humes, the 1970 and 1971 mascot, was the first supporter of the fund.
"The mascots do so much work and represent the university in so many places, it's nice to give back to them," Humes says. "I challenge all other past Bears to give."
UC hopes to have 100 donors to represent all 100 years of the Bearcat. Those interested in making a gift can do so at uc.edu/foundation/mascot.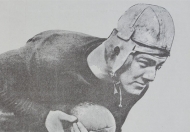 A century after the original Bearcat inspired his team's name, Teddy Baehr's legacy extends far beyond the football field.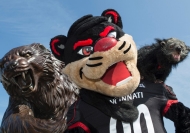 How a simple cartoon drawing became UC's symbol of pride. Plus, a timeline of UC's mascot.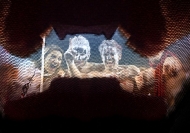 Graduates share some of their favorite memories from their days as the Bearcat mascot.