NEWS
Wrongfully convicted man free after 39 years in prison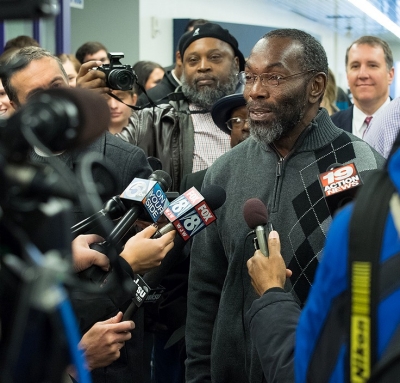 After spending the previous 39 Thanksgivings behind bars for a crime he did not commit, Ricky Jackson sat at the dinner table of UC College of Law Professor Mark Godsey thankful for his freedom.
Jackson, who walked out of a Cleveland courthouse a free man on Nov. 21, 2014, was wrongfully convicted of a gruesome murder in 1975. Nearly four decades later and with the help of UC's Ohio Innocence Project (OIP) -- which Godsey directs -- Jackson took on the tragic distinction as the nation's longest-incarcerated exoneree. Also cleared were co-defendants and brothers Wiley and Ronnie Bridgeman.
"The English language just doesn't fit what I'm feeling right now," Jackson told reporters immediately after his release.
Within days, Jackson made a trip to UC to personally thank the students and faculty from the OIP for all they had done, which included starting a gofundme.com account that raised more than $44,000 in less than two weeks to help him begin to put his life back together.
"Ricky Jackson is one of the strongest men I know," said OIP attorney Brian Howe, who worked on the case. "I can't even imagine what it was like to be in prison for 39 years for a crime you didn't commit."
Jackson's nightmare began at the age of just 19 after a 12-year-old boy testified that Jackson and the Bridgeman brothers committed a bloody attack on businessman Harry Franks, who had just left a Cleveland grocery store. The 59-year-old victim, who sold money orders to local convenience stores, had been beaten, doused with acid, shot twice through the chest, robbed and left to die on the sidewalk.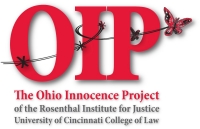 Though no physical evidence linked the three men to the crime, the state produced Eddie Vernon, the neighborhood paperboy, who claimed from the stand that he saw Jackson gun down Franks then turn the gun on an occupant inside the store, who was also seriously wounded.
Vernon's story stuck from 1975 until 2011 when a reporter from the Cleveland Scene, an alternative weekly magazine, began to punch holes in the state's case. Not long after, the OIP, based in UC's College of Law, began investigating.
After years of digging through each of the trial transcripts, conducting witness interviews and gathering evidence, the state's case crumbled when witness Vernon, now 52, took the stand and recanted his childhood statements claiming police had intimidated him into concocting the story.
Jackson said he had forgiven Vernon long ago. "He was a 12-year-old kid who was manipulated and coerced by the police. My heart started softening toward him because I knew he was as much of a victim as I was in the whole situation."
Prior to this case, UC's OIP had helped free 17 inmates who served nearly 300 combined years in prison for crimes they did not commit.
-- J. Bach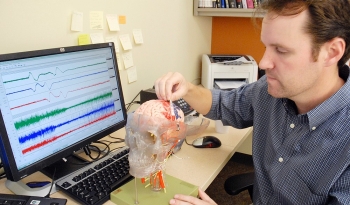 Measuring brain tsunamis
The potential for doctors to measure damaging brain "tsunamis" in injured patients without opening the skull has moved a step closer to reality, thanks to pioneering research at the UC Neuroscience Institute. This discovery has the potential to revolutionize care for patients suffering from traumatic brain injuries. Electrical disturbances that spread through an injured brain like a tsunami can now be detected by placing electrodes on the scalp. Until this discovery, these "tsunamis" could only be detected by invasive surgery. The research, led by Jed Hartings, UC research associate professor, may lead to new therapies that would halt the brain "tsunamis" and reduce disability in people who have suffered a traumatic brain injury. This research is funded by the U.S. Department of Defense.
Environmental health department gets big dollars for big data
Researchers from the UC College of Medicine Department of Environmental Health are part of a team that received a five-year, $19.7 million grant from the National Institutes of Health to create a data coordination center that seeks insight into how cells react to drugs and toxins. The grant is part of the NIH's Big Data to Knowledge initiative and was awarded to a multi-institutional team that includes UC, the Icahn School of Medicine at Mount Sinai in New York and the University of Miami (Florida). Mario Medvedovic, UC environmental health professor and the principal investigator for the data coordination center, says his team's role is to maximize the use of billions of data from large-scale studies, specifically biomedical research.
UC scientists create the first 'mini-stomach'
For the first time, scientists grew a miniature version of a stomach using stem cells. Researchers from the UC College of Medicine in collaboration with scientists at Cincinnati Children's Hospital Medical Center generated functional, three-dimensional human stomach tissue in a laboratory -- creating an unprecedented tool for researching the development and diseases of that organ central to many public health challenges, ranging from cancer to diabetes. This first-time molecular generation of 3-D human "mini-stomachs" presents new opportunities for drug discovery, modeling early stages of stomach cancer and studying obesity-related diabetes, according to Jim Wells, principal investigator and professor in the UC Department of Pediatrics. It also is the first time researchers have produced 3-D tissue that will be a promising starting point for generating other organ tissues like the lungs and pancreas, he said.
UC professor notes substitute for plastic may also be toxic
UC researchers are studying the safety of BPA-free plastic consumer products that contain bisphenol S, or BPS, as a substitute. Lead investigator Hong-Sheng Wang, UC associate professor of pharmacology and cell biophysics, says BPS may have similar toxic effects on the heart as previously reported for BPA.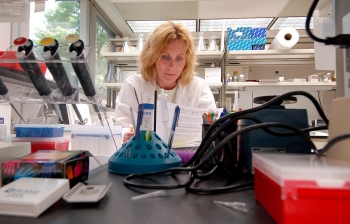 Discovery of new target for treating kidney cancer
Researchers at UC and the Cincinnati Cancer Center have discovered a new target for treating kidney cancer. Maria Czyzyk-Krzeska, member of the UC Cancer Institute and professor in UC's department of cancer biology, explains they have discovered a "membrane channel" that promotes growth of kidney cancer tumors. Targeting this channel therapeutically could lead to more treatments for a disease that currently has few treatment options.
-- E. Wendler
Best, most beautiful: UC national rankings rise
The University of Cincinnati is one of the best and most beautiful universities in the country. And that's not just us talking.
U.S. News & World Report ranked UC high among the "Best National Universities." The Princeton Review includes UC among the best institutions in the nation for an undergraduate education. And, Best College Reviews says UC is one of "The 100 Most Beautiful College Campuses in America."
The U.S. News & World Report ranking of UC represents a rise of 27 places in the last five years. The publication ranks UC at 129th of the top national universities, up from 135th in 2013 and 156th in 2009.
The Princeton Review included UC in its publication, "The Best 379 Colleges." Best College Reviews called UC's unique architecture "arresting -- and often beautiful -- structures."
Business
UC's Carl H. Lindner College of Business was ranked a "Best Business School" by Princeton Review, and the master's in business administration program earned the biggest jump in ranking of any such program in the country from U.S. News & World Report. The publication ranked the Lindner full-time MBA No. 60 in the nation and No. 33 among public institutions. The part-time MBA was listed as No. 81 in the nation and No. 47 among public institutions.
Record-breaking enrollment
The student enrollment figures for the University of Cincinnati's fall 2014 semester exceeded projections. The final number -- 43,691 -- includes a record-breaking number of freshmen, 6,651, up 4.7 percent from the previous year. Other stats show UC improving in its diversity and retention of first-year students.
---
Bloomberg Businessweek placed the business college's MBA program at 47th in the nation and ranked 23rd among the country's public programs. CollegeAtlas.org ranked the Lindner MBA program No.1 in the nation for best value based on "academic quality, job placement success and tuition affordability." The college was also recognized by Affordable Colleges Online for having one of the Best Online MBA programs in the nation.
Design, Architecture, Art, and Planning
Design employers across the nation have again named a UC design program as the country's best. In a survey by DesignIntelligence, the undergraduate industrial design program was No. 1 in the U.S. -- the fourth year that the UC program has been named best in the nation. In the same survey, DAAP's undergraduate interior design program was ranked No. 6, the graduate design program No. 9 in the nation and the graduate architecture program No. 18.
College of Nursing
The College of Nursing is ranked among the top 10 "Best Online Graduate Nursing Programs for Veterans" by U.S. News & World Report. The college was listed as No. 37 out of 95 nursing schools ranked by that same publication in its "2014 Best Online Programs." The Best Colleges.org ranked UC at No. 6 for its online master of science in nursing. In 2014, SuperScholar.org listed it as No. 19Êamong its top nursing schools for online degrees, and NurseJournal.org puts the college at No. 10 for "Most Social Media Friendly Nursing Schools."
-- B. Blum
UC's College of Nursing celebrates 125 years of teaching caregivers

In 1888, a handful of prominent Cincinnati women in the "Ladies Board of Managers" saw the need for skilled nursing care in the burgeoning river city. Finding space in an obstetrics ward of a local hospital, the Cincinnati Training School for Nurses opened Jan. 1, 1889, with the first class of five students starting a two-year program.
More than 125 years later, UC's College of Nursing now boasts more than 2,900 students in on-site, online and hybrid nursing programs that include bachelor's, master's and doctoral degrees as well as registered nurse training. In 1916, the college was the first to offer a baccalaureate program in nursing and became the eighth college of UC in 1938.
In the modern era, UC's nursing program upgraded all classrooms to be "e-learning equipped" in 2009 and has been recognized as an Apple Distinguished Program for 2014-16 for its "iCoN Initiative," which focuses on creatively leveraging an iPad as a vehicle for learning. The college began using iPads in 2011 and established the iPad Institute, a multiday intensive training course for faculty on how to use an iPad, Apple TV and apps.
"Nursing has always been a blend of art and science," says Greer Glazer, dean of the College of Nursing. "This continues to ring true. Just as stethoscopes, X-rays and digital devices have proven that technology can improve health care outcomes, we feel iPads can be used to enhance nursing student learning outcomes."
-- B. Blum
UC trains cyber sheriffs
Cybercriminals, those crooks who steal identities or hack major websites, can make life online seem like the Wild West. The digital cavalry is on its way, though, and the University of Cincinnati has been recognized as one of the best at training the next generation of cyber "sheriffs."
The National Security Agency (NSA) recently selected UC as a National Center of Academic Excellence in Cyber Operations, adding UC to an elite group of 12 other schools nationwide with the certification.
Demand for employees with the appropriate IT skills has surged in public and private realms in recent years as increasing amounts of sensitive data goes digital. Protection against online outlaws is at a premium, and the NSA's Cyber Operations program aims to identify and groom talent in order to increase the pool of highly qualified workers in the cybersecurity field.
The NSA visited campus multiple times to help determine whether UC met the strict criteria for inclusion. By the program's definition, a center must be a "deeply technical, interdisciplinary, higher education program firmly grounded in the computer science, computer engineering, and/or electrical engineering disciplines, with extensive opportunities for hands-on applications via labs/exercises."
UC provides students a range of interdisciplinary academic offerings connected to cyber-security, blending the expertise of faculty and industry partners in computer science, computer engineering, political science and information technology.
-- T. Robinette
Scioto follows sister's LEED
If buildings had feelings, it's safe to assume the University of Cincinnati's Scioto Hall must have been pretty jealous.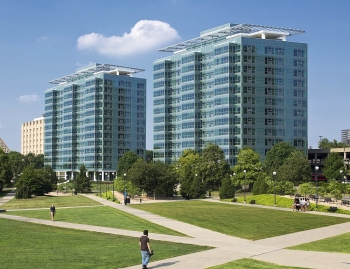 Morgens Hall is her sister after all -- the two residence halls were part of a trio known as the "Three Sisters" built in the '60s -- and in 2013, a $35 million renovation transformed Morgens into a modern beauty dressed in a brilliant glass exterior.
The nerve!
Now it's Scioto's turn for a makeover. In December, UC began a renovation to Scioto that will mirror the work done on Morgens, and a remade Scioto is expected to welcome more than 400 students to apartment-style living in fall semester 2016.
The most noticeable change will be to Scioto's facade. Two thousand glass panels featuring a high-tech design will replace Scioto's concrete-and-brick exterior.
The $35 million project is being partially funded by approximately $29 million in "green bonds," a new segment of the municipal bond market in which proceeds are used to fund environmentally friendly projects. UC will become the first public university in the U.S. to bring a green bond to market. The Massachusetts Institute of Technology issued the country's first green bond in higher education in September 2014.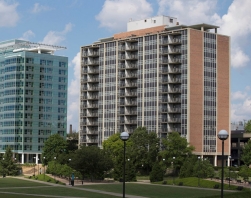 Scioto's new glass panels will give the building a greater insulation value than the original exterior. Each is made of two quarter-inch thick windows with a half inch of air space separating them. The panels will be partially adorned with a white linear pattern called "fritting." The reflective pattern adds another degree of insulation to the glass by decreasing solar heat gain by 20 percent, and it also serves as a visual warning to errant birds. On the inside, the fritting gives the floor-to-ceiling glass walls something similar in appearance to a chair rail.
The renovation is expected to earn Scioto a minimum of silver certification in Leadership in Energy and Environmental Design (LEED) from the U.S. Green Building Council. Among other eco-friendly updates: energy-efficient mechanical systems, 100 percent LED lighting and an energy-recovery system which will capture exhaust heat and use it to warm the fresh air pumped into the building from outdoors.
Scioto, Morgens and the third "Sister," Sawyer Hall, were built in 1964 by architectural firm F.W. Pressler & Associates for about $6.5 million. At the time, the residence halls were meant to usher in a then-new concept in UC housing: high-rise structures. After serving as a home away from home for thousands of students over more than 40 years, Scioto closed in 2008.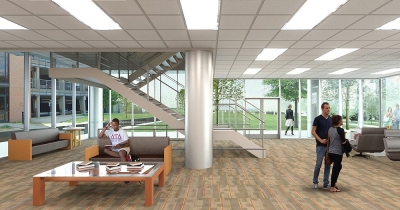 Scioto's renovation was partially motivated by increased demand for on-campus housing resulting from record-setting student enrollment and greater desire for such accommodations by upperclassmen. UC currently has an enrollment of 43,691, the highest in its almost-200-year history.
A different plan is being considered for Sawyer Hall, which was razed in 2006, leaving behind little more than her foundation. Options for Sawyer include turning her into a low- or mid-rise building with dining center service. Until then, she'll be left as the jealous sister.
-- T. Robinette