Market savvy
A revolutionary pace of change and the need to be market savvy

Although technology has made an enormous difference in classrooms today, the whole higher education field, during the last decade or so, has coped with immense changes that had little to do with classroom environments. Moreover, coping with the rapid rate of change was quite a new experience for academia.

"It's probably no exaggeration to say that up until 1990, higher education was probably one of the most conservative institutions in our culture, in terms of not having changed the basic way its business was conducted," says University of Cincinnati provost Tony Perzigian. "Yet we were supposed to be the sources of new knowledge, innovation and creativity. Now things are changing at a revolutionary pace."

Although the university is dealing with certain dilemmas that are unique to UC, many of the complexities simply stemmed from societal shifts:
An increasingly competitive market -- "Every year, 'for profits' are getting a bigger share of higher education," Perzigian says. "They know how to market, how to be convenient, how to package and sell it. Faculty don't want to hear you talk about 'clients,' but to remain viable, UC has to be market savvy."

Changing markets -- Professionals are looking for certification. Adults are making multiple career changes. Some people want to attend college without setting foot on campus. "The life-long learning market is ever expanding," he says.

Accountability movement -- About a decade ago, the public, accrediting agencies and legislators wanted to know what they were getting from their investments. "In other words, 'Did anybody learn anything?'" Perzigian explains. The field experienced a shift, vice provost Kristi Nelson adds, from focusing on "what the professor knows" to "what the student learns."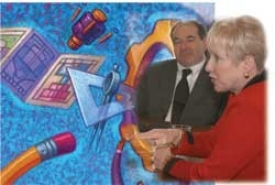 To cope with current trends in higher education, the university has taken many steps. A few of them follow:
Center for Exploratory Studies -- Complimented in the New York Times' educational supplement last summer, the center enables students to enroll with an undecided major, then explore their options. In the long run, the one-year-old center, begaun in '03, saves time and money for those declaring "the country's most popular major," Nelson says.

Faculty Development Fund -- Established in 1985, the fund finances opportunities for faculty to develop new talent, master the newest technology and revise curriculum. UC has probably put more money into this fund than any other U.S. university, Perzigian says. "(Former) president Joseph Steger made it an institutional priority, and we put our money where our mouth was."

Center for Access in Transition -- Opening in fall '04, the center will help bring under-prepared students up to the level needed for admission into a baccalaureate-degree program. It replaces, in a more efficient manner, some of the programs lost when University College recently closed.

General Education Program -- Begun in fall '01, the program puts certain requirements in place for every baccalaureate degree. Cutting across all college boundaries, it mandates a certain number of credit hours in courses deemed appropriate for developing critical thinking skills, communication competence, knowledge integration and social responsibility.

Strategic Enrollment Management -- Started in the mid-'90s, the university-wide program has focused on student retention, recruitment, marketing new learning markets and graduation rates.

Warren County classes -- UC provides on-site courses and distance learning programs in Warren Country through a new partnership with the Wayne Local School District and the Warren County Educational Service Center. More offerings are under consideration to meet the locale's demand.
No matter how much the university does, it can never be everything to everyone. As leaders consider demands, needs and responsibilities, they also have to weigh the realities of time and money. On one hand, faculty and administrators are excited over never-ending possibilities. Then again, higher education has traditionally been slow to change.

"The challenge we face is the typical conservatism of higher education," says Perzigian. "We have tenured faculty and departments with their own mores, traditions and disciplines. We have to be respectful."
Related article: