UC band gets its first permanent home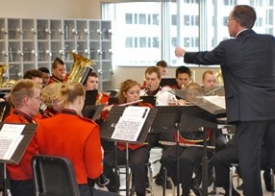 Eighty-five years is a long time to wait for a designated office and practice room, but the UC Bearcat band has been quite patient. And it paid off. In the spring of '05, the band's 230 members, best known for their performances at football and basketball games, moved into the band's first official home — the Rockwern Band Room in the new Calhoun Garage facility.
Although no one is as thrilled as band director Terren Frenz, who has pushed for the facility for the entire 12 years he has been at UC, alumni will certainly be nearly as impressed. After all, alumni are the ones who recall being housed in such locations as a boiler room under the stadium, the Armory Fieldhouse lobby and a storage room in the basement of Lawrence Hall.

The latter had swimming-pool steam pipes running overhead, which created some pretty hot practices. Percussionist Chuck Hamilton, A&S '00, Ed '01, jokes about buying Reese's Cups in the vending machine and finding the chocolate melted in the wrapper. Frenz says molten chocolate was nothing compared to pipes leaking on uniforms and instruments.

Regardless of the location, the band never had more than one large room — used for storage, dressing, rehearsals and office space for Frenz, who simply plopped a desk into a corner somewhere rather than occupy the office he was sometimes furnished in separate, but totally impractical, locations.

Now he has a real office. So does his assistant director. And instruments are properly stored in secure cages around the practice room, which can accommodate up to 350 people for small concerts and features state-of-the-art audiovisual equipment. Uniforms are carefully hung in another storage area, and authentic locker rooms contain showers. In addition, there is a music repair room, music library, a reception area and a conference room.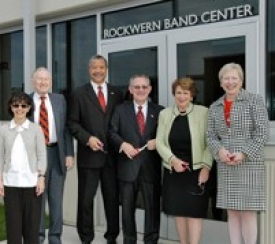 Frenz says the facility is only part of his vision for improving the band. He has already had some success in recruiting students who have a passion for playing in the band and has been annually awarding $5,000 divided among 10 to 20 scholarships. His goal is to build the band's endowment to $4 million so he can give each band member a $1,000 scholarship. He is one-quarter the way to his goal.
Credit for that achievement began with the Band Alumni Association, which had started an endowment shortly before Frenz arrived in 1993. The Rockwern Charitable Foundation recently contributed to the fund in memory of Boris Rockwern, Russia's first Jewish military band leader, in the early 20th century. The estate of Boris' son, Sam Rockwern, established the foundation to support traditional band concerts in Cincinnati. Sam, who was on staff at University Hospital for 60 years, dearly loved music and UC, says his niece Stephanie Amlung, a foundation trustee, making the gift highly appropriate.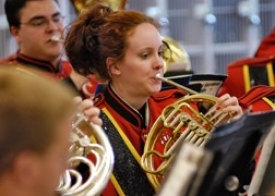 Another major accomplishment for the band was being finalized this summer — an endorsement deal from a musical instrument company in which every brass and percussion instrument would be furnished and replaced every three years. Frenz estimates the worth of the contract to be approximately $4 million over the life of the instruments.

"My personal thrust is to make the band better," he says. "I want a high-intelligence, high-integrity band. After all, we're here to contribute to everyone else's program. And I personally believe that the more you give away, the more you get."
Related article:
Traditions of the marching band
Links:
Hear the band play UC fight songs