Iceman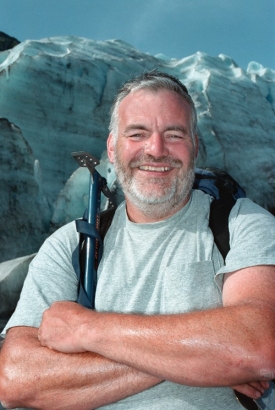 Glacier study keeps professor's passion from melting
by Amanda Hughes
Living in a tent in the cold, barren landscape of Antarctica, Thomas Lowell found his calling. And for 20 years, the UC geology professor has been taking students to remote corners of the globe to study melting glaciers and climate change.
"We've been to places on the planet nobody else has been," he says. "I've seen some pretty dramatic changes. It sinks in a little more concretely when you see it with your own eyes."
To investigate the changing planet, Lowell has literally been to the ends of the earth and back, including Greenland, Bolivia, Chile, Canada, Antarctica and Tierra del Fuego, an island located at the southernmost tip of South America. In New Zealand, a lake now fills a collapsed part of a glacier where Lowell only saw puddles forming in the 1970s. In Alaska, some glaciers have already disappeared.
Glacial behavior is one of the simplest ways to categorize and measure climate change, Lowell says. Glaciers are frozen bodies of water, so if the climate warms, they melt; if it gets colder, they grow.
By looking at glacial patterns over time, Lowell is able to reconstruct climate behavior from 1,000, 5,000 or 20,000 years ago. "Understanding what those patterns looked like in the past can tell us what is happening now and what might happen in the future," he says.
Lowell, who has taught geology at UC since 1986, regularly takes students to Iceland, where retreating (melting) glaciers are easily identified. There, students perform exercises to determine where glaciers were on their birthdates, then measure the distance they have retreated. Older students find a greater distance than younger students.
Although such patterns tell us what we might expect in the future, Lowell says one key variable is altering the climate for the first time in earth's history. "There's increasing evidence that Homo sapiens' agriculture and construction are changing the chemistry of the atmosphere with the introduction of CO2.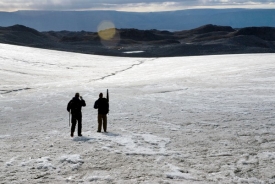 "We're now the most important geologic agent on the planet. This generation of change is going to be pretty significant."
To determine if current warming is outside recorded limits, Lowell and his colleagues are trying to answer major questions: How fast can climate change? What are the natural limits of change? If change happened quickly in the past, what are the chances it might occur at the same rate in the future?
The information they collect is used to calibrate computer models that attempt to predict how fast temperatures will rise. A bigger issue, however, is ascertaining the impact of higher temperatures.
Recently, Lowell returned from a research project on frozen lakes in northern Michigan where impact was obvious. The ice was significantly thinner this year compared to previous years.
Even though Lowell's global warming course at UC allows him to communicate the realities of climate change with students in the classroom, he says the real lessons are learned in the field. "I like students to see how dynamic the earth is.
"I also enjoy watching them in their own self-discovery process. You might see the answer first, and you kind of have to bite your tongue and wait for them to discover it for themselves."
"Self-discovery" brought Lowell to glacial study work to begin with. The New England native was working toward his geology master's degree in Maine when his mentor, George Denton, invited him on a trip to Antarctica -- one that ignited his interest in glaciers and determined his life's work. He would return to Antarctica two more times, once for a three-month stint, before obtaining his PhD at the University of New York in Buffalo and being hired at the University of Cincinnati.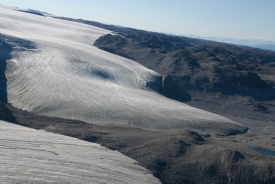 His first project in Cincinnati was to investigate evidence from the last ice sheet that covered parts of Ohio and Indiana 15,000 to 20,000 years ago. The research continued for years, which he says is necessary to really understand a location.
First hypotheses are often wrong, he explains. "One of the surprising things I learned from my mentor is that it might take a decade to figure a place out. You can't just drop in and understand it.
"You go and work on it for awhile and analyze the data, then when you think you understand it, you go collect some more data. Then that whole first story falls apart. So you develop a new one."
Lowell's research locales have gotten a bit farther away from home since the early days, but he says the rewards remain the same. "The contributions we're making, the lessons of change, they're important.
"I don't think I'd be totally satisfied if all this great data we've gathered was buried in some science journal. It's fun to bring those lessons out to the kids and the public. That's a little gummy, but it's true."