Ancient fortress found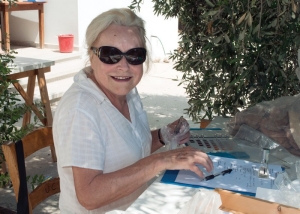 Eleven-year Cyprus excavation brings professor Gisela Walberg and UC international recognition

by Dawn Fuller
photos by Lisa Britton

When the Cyprus Department of Antiquities wanted a respected archaeologist to conduct excavations of a probable trading center that flourished from the 13th through 11th centuries B.C., they sought out University of Cincinnati professor Gisela Walberg. It's no surprise that heads turned toward UC to find such expertise since scholars consider the UC Classics Department to be one of the best in the country.

Walberg, who specializes in the prehistory of Greece and Cyprus, began her excavations in 2001 at Episkopi-Bamboula, which is situated on a plateau not far from the Mediterranean Sea. Researchers think that this bustling urban center was a cultural melting pot for the Middle East, Egypt and Turkey in the Late Bronze and Iron ages.

At the time Walberg started sifting through the ruins there, archaeologists had not closely studied the area for 50 years. On her 2010 expedition, discovering a wall more than 15 feet thick was part of the research that has brought her 48-year career international recognition.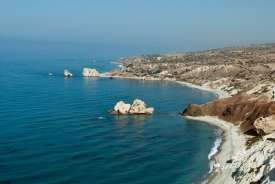 In 2005, she had first come across the structure that she knew was no ordinary ancient wall. "We tried to dig a small trench next to it, but we found that the wall was too wide to be an ordinary house wall," Walberg explains. "As we continued our work year after year, we found that we were dealing with military, rather than civil, architecture."

It was a fortress, and one that had a spectacular and strategic view of the mountains, a river below and the Mediterranean. "It is likely that the fortress is the early core from which the later Bronze Age city expanded," she says. "No such predecessors have been found elsewhere at any of the other Late Bronze Age cities in Cyprus."

On the 2011 summer trip, researchers unearthed a carefully laid thick layer of smooth pebbles -- collected from the river -- to serve as the foundation for the fortification wall. The previous summer, Walberg and her team uncovered a broken, circular lookout tower and a staircase that appears to have crumbled in a violent catastrophe.

In 2005, they discovered a water cistern and a Roman well that still held clean water. Cyprus is known to have some of the world's oldest water wells, and the team found another one that held Cypriot pottery, ivory, bronze objects and vases.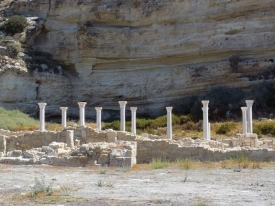 Additional finds have included a pot holding what were apparently the remnants of mutton stew (the pot had sheep bones sticking to the inner walls) and a well that contained the skeletons of 36 dogs of varying sizes and ages. "We do not know if the dogs were sacrificed or if they died from an epidemic," says Walberg. "A large shard from a storage vessel, which is often found in sanctuaries, was found in the same well as the dog skeletons."

Preserving the site hasn't always been easy. Walberg had to ask for the government's help in 2003 after cultivation from farmers damaged one of the huge blocks at the site.

During annual expeditions, workers have been joined by local wildlife, including thick black snakes, scorpions and tarantulas. "We get used to the hot weather and animals at the site," she says. "I advise members of the team to wear gloves when they lift stones in case any scorpions are underneath them. And we must remember that they were at the site before we began excavating."

Walberg, who retired in the 2011-12 academic year, has served on the UC classics faculty since 1979 and was appointed Marion Rawson Professor of Aegean History in 1993. The international lecturer previously directed an excavation project in Midea from 1985-2001 and has worked on projects in Sweden, Crete and Italy. A prolific author of 10 books and monographs, she is currently working on a book about her expedition in Bamboula.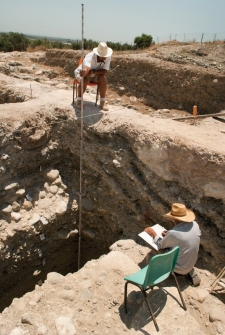 Top Classics Department

"UC's Classics Department is one of the best in the country," says department head Peter Van Minnen. "In the most recent National Research Council report on PhD granting programs, we were beaten only by Stanford, Columbia, Harvard, Princeton and Duke, not bad company to be in."

The department boasts the world's largest classics library and has an average of 40 to 45 graduate students, Van Minnen adds.

Since the department was created more than 90 years ago, it has specialized in the archaeology of the Bronze Age Aegean, including Pylos and Knossos in Greece, Troy in Turkey and Episkopi-Bamboula. A generous endowment established by Louise Taft Semple in memory of her father enables the department to fund archaeological projects in various sites around the Mediterranean and in Pompeii, Italy.