Waste not, want not
UC economics grad creates Matthew 25: Ministries, one of nation's top charities, from corporate castoffs
by Chip Reeves

"NOTHING is wasted."

The simple sign inside Matthew 25: Ministries' warehouse says volumes about the relief agency's approach toward philanthropy. The sign sits above a baby's crib built from the recycled lumber of a disassembled pallet used for shipping supplies.

Matthew 25:Ministries (M25M) sends thousands of such pallets loaded with food, clothing and supplies to the needy and tragedy stricken around the world. As a consequence of their efficient strategies, babies in remote villages also enjoy a safer place to rest.

"To bless from excess" could easily be one of M25M's slogans. The faith-based not-for-profit located in Blue Ash seeks products from corporations otherwise headed to the dump due to small defects. The imperfections, which are not detrimental to the product, make them unsellable. Believing one corporation's castoffs can be another's treasures, M25M repackages the products and sends them all across the world for aid and relief.

At the helm of M25M sits Wendell Mettey, a '68 UC graduate in economics and a former minister full of anecdotes regarding his institution's success.
Once, Mettey received a phone call from a supplier asking if M25M could handle a large donation of IV solution. Mettey responded affirmatively, though the supplier had one request: "By the way, stop praying for more of this stuff. I'll go broke." While humorous, it reflects Mettey's belief that if people want to strengthen their faith, working at M25M certainly helps because, as he says, "Things happen."

For instance, after a company misprinted a soup can label, M25M received 50 semi-trucks full of soup. The outside of the can, while problematic for the donor, turned into a blessing for people without food, whose interest lay solely on the inside.

Not long ago, a producer of cough medicine sent 50 semis of their patented remedy to M25M, with an additional 26 scheduled to come at a later date. Joodi Archer, M25M's development and media director, thought it perfect timing.
"With the flooding in Nicaragua, and all the related problems with cold and health care concerns," she says, "here came 50 truckloads (of cough medicine)."

"The one thing I've always noticed, when we had a need, a legitimate need, it was always met," Mettey adds.

On one of Mettey's earlier mission trips to visit sites housing special-needs children, someone commented on a great need for pediatric wheelchairs. An odd request -- at least one not commonly donated on a whim. With the wheelchairs in mind, Mettey returned to Cincinnati. Shortly thereafter, a new shipment arrived.

"He opened the doors, and there were what, 100?" Archer asks Mettey.
"Stacked full." Of pediatric wheelchairs, the very donation they needed.

Whether M25M runs on miracles or the simple unrelenting doggedness of staff, board members and thousands of volunteers, it's hard to judge. Last year, 27,000 volunteers donated 80,000 hours of their time.
Already in 2012, M25M has helped more than 2.2 million people and prepared more than 3.3 million meals in their Prasco Food Processing Center. The center processed and shipped a million meals to Japan in the wake of last year's earthquake and ensuing tsunami.

"Our philosophy here is, if we can't get it donated, then we will make it ourselves," Mettey says.

The not-for-profit is involved in many green-centric efforts such as a paint re-blending center, which involves taking leftover paint headed for landfills and mixing it together to use in low-income communities. They also create notebooks for schoolchildren from donated paper.

All of the work Mettey and others put forth attracted the attention of Forbes last year, garnering a No. 1 spot (tying with other charities) on the magazine's list of "20 Most Efficient Large Charities in the U.S." Currently, they also hold the top spot in ratings on CharityNavigator.com.

"People always ask us, 'Did you know it was going to get this big?'" Mettey says, of the 21-year-old venture. "We don't even know it's big. It's just people are in need, and we respond to them."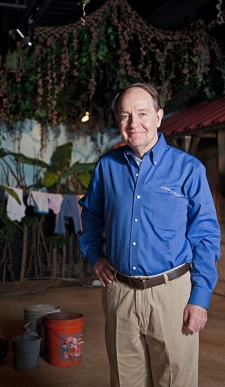 Despite his modest response, the road to success in the world of helping less-fortunate individuals in the U.S. and abroad didn't come with a handbook or a set of guidelines. In 1991, Mettey turned to scripture, specifically Matthew 25: 34-40, to define his organization. The passage ends, "Truly I tell you, whatever you did for one of the least of these brothers and sisters of mine, you did for me."

The journey to where M25M sits today came fraught with pitfalls and problems, including a strenuous search for viable headquarters as their charity grew exponentially. They also faced massive debt improving the previously decrepit warehouse their organization now calls home.

In the end, M25M took something less-than-ideal and created something most call extraordinary. The 132,000-square-foot warehouse named the Center for Humanitarian Aid and Disaster Relief helped M25M reach a significant milestone: more than 100 million pounds of aid shipped since the organization's inception.

Its ability to respond seems its best-known quality. In 2010, following the Haiti earthquake disaster, M25M sponsored medical mission teams and transported relief supplies. Their first team brought in a ton of medical supplies, set up six mobile clinics and visited four orphanages. These actions helped more than a thousand needy patients amidst the ruin in an eight-day period. Plus, M25M provided 200 weather-resistant tents to protect otherwise homeless inhabitants.
Returning months later, they established a distribution plan for Grow Right, a nutritional supplement for Haiti's youth, which led to more than 6,000 children receiving the life-improving elixir throughout the course of a year. In all, M25M has delivered almost 3 million pounds of product valued in excess of $20 million dollars to Haiti since the disaster.

Another ongoing project started in 2010 focuses on Nicaraguan families suffering in dreadful living conditions by helping them upgrade their homes. The project oversees the improvement of homes and installations of residential latrines and water purification systems at neighboring wells.

"We are getting pretty good at relief work," Mettey understates. "We're usually not the first responders. We are the ones who come in a little later and provide long-term support and care."

Outside of the boardroom, Mettey focuses on finding more space and better efficiencies for M25M. Even under their massive warehouse roof, he knows more space equals more room to handle shipments of incoming and outgoing products, space to accommodate their continuous growth.

Though doing more with less is a continual stress, Mettey seems sure their needs will always be met.
Chip Reeves is a senior journalism student and intern with UC Magazine.