Campus News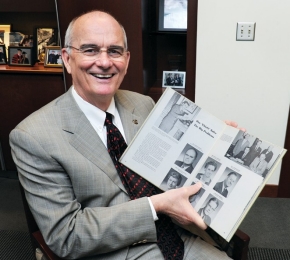 A name from his past

Not long after arriving at UC in 2009, President Greg Williams discovered a surprising connection between UC's campus and someone from his past in Muncie, Ind. It turns out that UC's newest and one of its most impressive structures, the CARE/Crawley Building on the medical campus, was named for his high school guidance counselor, Edith Crawley.
Crawley, A&S '30, JD '32, who died in 2003 at the age of 95, bequeathed almost her entire estate -- more than $12 million -- to UC to create an eye disease research center and support scholarships for UC students engaged in eye research. Besides having attended UC, Crawley had corrective eye surgery at her alma mater's hospital in the '80s, reversing vision problems after an unsuccessful surgery in Indianapolis.
"I was delighted to learn that my high school guidance counselor had made a major donation to the University of Cincinnati, and that the CARE/Crawley Building was named after her," Williams says. "I remember that she was in charge of counseling services for over 2,000 high school students. I imagine her love of learning and welfare for students must have emerged from her great academic training at UC."
$12.7 million for stroke research
UC stroke researchers will receive $12.7 million over the next four years from the National Institutes of Health to continue an international study that began in 2005. The multicenter study compares treatment approaches for acute ischemic stroke, which occurs when an artery to the brain is blocked. The standard FDA-approved approach to restoring blood flow to the brain is to administer the clot-busting drug tissue plasminogen activator intravenously within three hours of stroke onset. The UC study compares the effectiveness of using a combined IV and intra-arterial treatment to using IV treatment alone.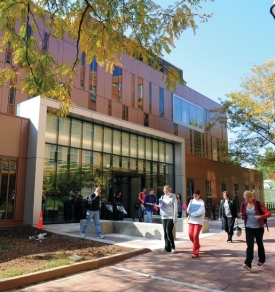 Nursing gets new look, leader
UC nursing students are getting used to some big changes around their college. Not only has their building, Procter Hall, undergone a complete exterior renovation, but the college also has a new dean.
Greer Glazer joined UC in January from the University of Massachusetts Boston, where she served as nursing dean since 2004. Welcoming the new leader was a building wrapped in a brand new metal-panel facade and a renovated main entrance.
A green roof will be installed on the 300-level terrace in the spring. Accessible from the student commons area, the roof will be home to hardy, water-storing plants of the sedum family.
The college has the distinction of having one of the country's oldest baccalaureate nursing programs.
---
Research news
UC tops $418 million in research funding

The University of Cincinnati and its affiliates topped $418 million in research funding for fiscal year 2011. Though down $25 million from 2010, the drop was expected as many funding opportunities from the American Reinvestment and Recovery Act matured.
"The good news is that the rest of research funding remains steady and strong, despite challenging economic times," explained William Ball, interim vice president for research, in November. Industry partnerships, he said, continue to be an important component of UC's research endeavors. In the 2011 fiscal year, UC was awarded $18.9 million from industry collaborators, up 24 percent from the previous year.
UC remains designated as a "very high research activity" university by the Carnegie Commission and is listed by the National Science Foundation as No. 25 among public institutions for federal research expenditures.
Spiders eavesdrop, dance for mates

As male wolf spiders go searching for a mate, it appears they eavesdrop, match and even try to outdo the mating dances of their rivals. According to collaborative research between UC and three other schools, the spiders responded to a video of a male spider sending out leg-tapping courtship signals by matching and even outperforming with moves of their own.
"The closer we look at spiders, the more complex we see they are," says UC biologist George Uetz. "Their capacity for learning, memory and decision making is far greater than we ever would have thought."
"New research shows how male spiders use eavesdropping to one-up their rivals"
---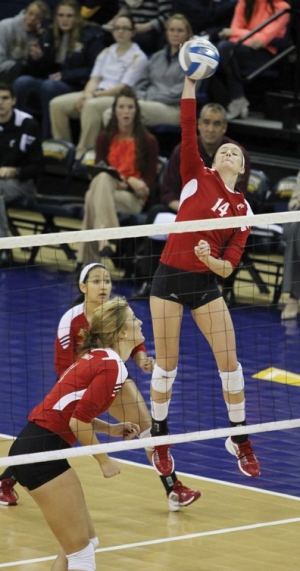 Sports news
Big East champs welcome
athletic director
The Bearcats have a new leader in Whit Babcock, who joined UC as director of athletics in October. Babcock came from the University of Missouri, where he spent five years as executive associate director.
Babcock took over for Mike Thomas, who left for the University of Illinois. Prior to his years at Mizzou, he worked at Auburn and West Virginia and graduated from James Madison University where he was the captain of the baseball team. He and his wife, Kelly, have three sons, Andrew, Brett and Eli.
"Cincinnati is certainly a program on the rise and can compete successfully academically and athletically on a national stage," says Babcock.
Since coming on board, the new AD has already seen three Big East trophies returned to campus. The Bearcats football program won a share of the Big East championship for the third time in four years, which yielded an invite to the Autozone Liberty Bowl in Memphis, where they beat Vanderbilt and finished the season ranked 25th by the Associated Press.
The UC women's volleyball team captured the Big East Championship tournament title for the first time in program history in November. The volleyball team advanced to the second round in the NCAA tournament. After the season, 12-year head coach Reed Sunahara announced his resignation, and Babcock hired Molly Alvey from Houston.
The third champ was grad student Eric Finan, who won both the Big East cross country title and was named Male Scholar Athlete of the Year.
See Big East champs football photo gallery.
GoBearcats.com
---
Business college news
Goering gift creates country's first certificate
The nation's first collegiate certificate in family and private business is now available from the Lindner College of Business, thanks to a $1 million gift from John Goering, Bus '56, MBA '60, and his late wife, Gloria, Ed '55.
In 1979, the Goerings established the Goering Center for Family and Private Business, which has four institutes to help family businesses tackle issues such as succession planning, leadership development, long-term strategic planning and conflict resolution. The new program will enable University of Cincinnati students to benefit from the center's offerings, as well. Professor Sid Barton will lead the new program's curricula, which will likely include four three-credit-hour semester courses.
Lindner gift creates center
The Carl Lindner III Center for Insurance and Risk Management began offering courses this spring, giving the Lindner College of Business the distinction of having the first comprehensive insurance center of its kind in Ohio. The center was made possible by a $5 million endowment from Carl Lindner III, Bus '75, co-CEO of American Financial Group (AFG); his wife, Martha; and AFG. It will combine academic programs, research and executive-level industry education and outreach, offering an undergraduate major and minor, plus eventually adding graduate and certificate programs.

Linder College of Business benefactor Carl Lindner dies
Carl Lindner Jr., HonDoc '85, died Oct. 17, at age 92. His generosity led to the business college being renamed the Carl Lindner College of Business last year. To further honor Lindner, UC donors formed the Friends of Carl Lindner to lead fundraising efforts for the college.
In the 1980s, the college established the Carl Lindner Award for Outstanding Business Achievement and the Carl Lindner Honors-PLUS program. He also served on the college's Business Advisory Council.
Recognized as one of the nation's most successful corporate financiers, Lindner began his career delivering milk door to door during the Depression while attending high-school evening classes. In 1940, he and his family founded United Dairy Farmers. At the time of Lindner's death, he was chairman of the board of American Financial Group, which he founded in 1959.
During his career, Lindner held controlling interests in Great American Insurance Group, Cincinnati Reds, Chiquita Brands, Hanna-Barbera, Kings Island, Taft Broadcasting, Cincinnati Enquirer, Provident Bank, General Cable Corp. and Penn Central Corp. In 1994, he was named a Great Living Cincinnatian. The next year, he received the International Peace Award, the highest international award given by the Jewish National Fund.
---
2011 at a glance
Top rankings
U.S. News & World Report lists UC among the Best National Universities and also among "Programs to Look For: Internships" in its 2012 "America's Best Colleges" guide.
The Princeton Review lists UC as one of the country's best institutions for undergraduate education in its 2012 college guide. UC student surveys in the guide praised UC's "great programs and infinite opportunities."
UC Health University Hospital tied for No. 1 (with Christ Hospital) out of 38 hospitals in Greater Cincinnati, as ranked by U.S. News & World Report.
National recognition
The Bearcats men's basketball program was recognized by the NCAA for its top 10 percent Academic Progress Rate, a first for any UC athletics program.
Deemed a national leader for volunteering, service learning and civic engagement, UC was recognized by the Corporation for National and Community Service.
Academic achievements
A new medical college curriculum, which began last fall, enables first-year students to immediately engage in clinical activities. By the end of the first semester, students were able to complete a full medical history and physical exam on patients. The college also had its highest number of first-year applicants in the fall -- more than 4,300 for less than 2,100 slots.
UC boasts 45 incoming National Merit Scholars and 157 National Merit finalists, record numbers that represent the top 1 percent of all high school graduates. New scholarships are also targeting first-generation students with high GPAs.
The National Underground Railroad Freedom Center and UC now have a formal relationship through a newly created community professorship, established through a private gift.
Diversity advances
UC's African-American retention rate for students improved to 83 percent (from 71 percent in '05), nearly equal to the 85 percent retention rate for all students. Nationally, African-American students lag the majority by about 10 percent.
African-American students report higher levels of integration and satisfaction concerning their UC experiences than majority students. [Data from National Survey of Student Engagement and from Student Satisfaction Inventory.]
A Lesbian, Gay, Bisexual, Transgender and Queer Center opened in the Steger Student Life Center.
Residence life
A 268-bed student housing project on Jefferson Avenue is being built by a private developer. It is scheduled to open in the fall 2012.
Campus residence halls are now 100 percent wireless.
See the president's entire year-at-a-glance report.
---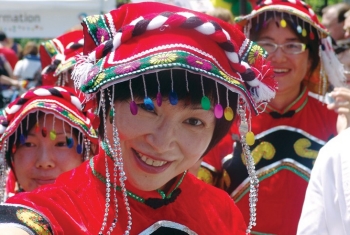 World Choir Games in Cincinnati

During July 4-14, UC will help welcome as many as 400 choirs and 20,000 participants from 70 countries to Cincinnati when the world's largest choral competition, the World Choir Games, makes its first North American appearance. Singers pictured here helped kick off the Countdown to the Games on Fountain Square last July. UC has offered to house international guests and provide facilities for events. In addition, Earl Rivers, D (CCM) '76, College-Conservatory of Music choral studies director, is artistic director for the games, and Davis Stanard, DAAP '98, designed the games mascots, Whirl and Twirl.