#HottestCollegeinAmerica Tour
President Ono's nationwide tour focuses on alumni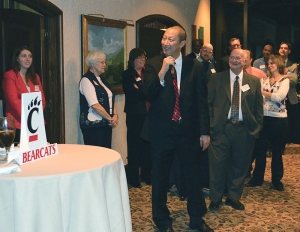 "Our alumni are the living proof of our university's greatest impact," President Santa Ono said in January as he prepared to kick off the #HottestCollegeinAmerica Tour, named for his popular Twitter hashtag. "And I look forward to meeting hundreds of alums on the tour."
His five-month #HottestCollegeinAmerica Tour effectively brings the university to its national Bearcat family -- from Ohio to Florida to California. The first stop was an event in Dayton, Ohio, home of 8,000 UC alumni.
Since becoming UC's 28th president last fall, Ono has brought new energy to campus and built new relationships throughout the UC community. But he quickly made it known that he also wanted to take that energy on the road to cultivate long-term alumni relationships.
The current school year's tour will visit eight cities from January to June, with each stop expected to draw alumni, students on local co-op assignments, prospective UC students, their families and others who have heard of UC's momentum. At each destination, Ono moves around the room exchanging ideas and energy with the audience, working from a central question he poses to attendees: "Why are you proud to be a Bearcat?"
That question was easy for Rich Foley, Eng '61, to answer. "Just about everything I have, I owe to my decision to attend UC and the good fortune that led to my enrollment," he says. "My wife, my family, my career, many of my dearest friends – all of that is because of UC. To Marlene [his wife, Ed '60] and me, UC isn't just a 'place we went to school.' It's a huge part of who we are, so we stay involved.
"We have helped recruit students to UC," he mentioned. "We funded a scholarship for first-year engineering students. We have rallied other alumni to attend events on campus and here in Dayton. We have championed the co-op program. We have cheered on the Bearcats. We can't imagine doing anything else."
The tour is an exciting part of the job for President Ono, as well as fundamental to the work of the UC Alumni Association.
"I'm sharing an exciting look at what UC is doing and where we're going, which people appreciate, especially when they're far away from campus," Ono said. "Yet maybe more important is my opportunity to tap into what they're seeing and feeling.
"Obviously I hear from alumni and students all the time via Twitter and Facebook, but there's nothing like being together, then assimilating those viewpoints into how we advance the university."
UC Alumni Association staff feel the same way, especially in terms of getting that many Bearcats in the same room to talk about the huge common thread in their lives.
---
#HottestCollegeinAmerica
Tour 2013
Jan. 24 -- Dayton
Feb. 22 -- Phoenix
April 4 -- Atlanta
May 29 -- Los Angeles
May 30 -- San Francisco
June 6 -- Cleveland
June 27 -- Tampa
June 28 -- Orlando
---
"When alumni know more about what's going on and who is leading the way, they inevitably want to get more involved," said UC Alumni Association executive director Myron Hughes, Bus '86.
"You wouldn't believe how many alums I meet in my travels who are thrilled at the opportunity to get reconnected. As we're saying goodbye, many of them tell me, 'Myron, let me know how I can help.' There is a genuine need within most alumni to have this important connection -- to somehow be part of it. Working with the president, it's our job to make these opportunities available and to welcome everyone who steps forward."
The 2013 tour is likely only the beginning. "I'd like to keep doing this, visiting different cities every year," Ono said. "Life isn't a snapshot. It keeps changing, and we have alumni all over the world who want to help their university keep climbing higher."
To learn more about the #HottestCollegeinAmerica Tour -- and to register if President Ono is coming your way -- visit www.uc.edu/alumni/connect/events/hottesttour.html.