Proudly Cincinnati campaign hits $1 billion five months early

University steps into prestigious national group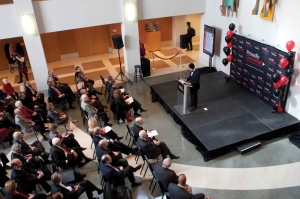 The University of Cincinnati has stepped into the revered circle of 24 public universities that have raised $1 billion or more in a single campaign, thanks to the support of nearly 92,000 donors. UC's $1,004,958,610 fund-raising total put the university in the top 1 percent of all U.S. colleges and universities on Jan. 31, five months ahead of the Proudly Cincinnati campaign's closing on June 30.

The UC Foundation announced the milestone at a February campus event and rallied support for the campaign's wrap-up phase called "A Billion and Beyond." The goal for this phase is to increase UC's total donors to 100,000 people before July 1.

"The success of Proudly Cincinnati solidifies UC's place as a world-class university and allows us to continue to implement our vision," said UC Board of Trustees chairman Fran Barrett, JD '71. Campaign co-chair Otto Budig Jr., Bus '56, added, "We should expect to be in such prestigious company in all that we do."

The campaign's success is "yet another indicator of UC's excellence," said campaign co-chair H.C. "Buck" Niehoff, JD '72. "Every great American city has a distinguished university, and Cincinnati is no exception."

Richard Harknett, immediate past Faculty Senate chairman and political science professor, suggested that the Proudly Cincinnati campaign name should be turned around to indicate, "Cincinnati should be proud."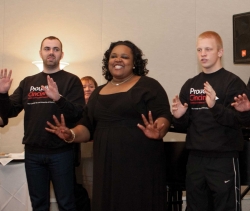 "Raising $1 billion is a truly remarkable achievement," added UC president Santa Ono. "We should take a moment to reflect and celebrate and, above all, to thank those who have supported us so generously. The key to this fundraising success, though, is not simply that we raised the money, but the impact it will have on everything."

The Proudly Cincinnati campaign has always been as much about UC's evolving, emerging vision and mission as it has been about raising money, noted board chair Barrett. He highlighted some of the campaign's most visible examples of transformation — the Lindner Center of HOPE, the Engineering Alumni Learning Center and the Sheakley Athletics Center — then emphasized experiential learning as one of UC's distinguishing characteristics and stressed scholarships as an institutional priority.

More than $101 million were designated for financial aid and scholarships out of the existing campaign. President Ono and board chair Barrett both promised that the university would keep these student-centered fundraising efforts in the forefront.

As the campaign has progressed, the words "bold," "strong" and "ambitious" were adjectives often used to describe it. So it should come as no surprise that those words are still appropriate in the campaign's final push, when the university not only attempts to raise its donor total to 100,000, but also works to foster a philanthropic culture throughout campus and the community.

"President Ono talks about creating a culture of philanthropy at UC," said then student body president Lane Hart. "To me, that means gaining a better understanding of our individual responsibilities to our university and accepting those responsibilities when we become alumni."

Co-chair Budig shared Hart's sentiments, "Everything I am, everything I have become, I owe to this university."

After the Proudly Cincinnati campaign ends, the UC Foundation intends to generate at least $125 million annually in private support, which translates to $1 billion in another eight years.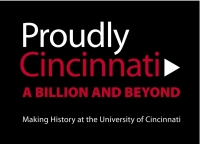 Campaign history

The campaign's silent phase began on July 1, 2005, preceding the launch of the public fundraising phase on Oct. 25, 2008. The campaign runs through June 30. Central to the campaign's success has been strong regional support, particularly in the fundraising "hubs" of Cleveland, Columbus and Dayton, Ohio; Atlanta; Chicago; Florida; Indianapolis; New York City; Northern California; and Washington, D.C.

Facility upgrades tied to campaign

Lindner Center of HOPE
Engineering Alumni Learning Center
The Goering Center
Sheakley Athletics Center
Henry Winkler Center for the History of the Health Professions
Gardner Center for Parkinson's Disease and Movement Disorders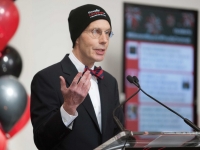 Impact of Proudly Cincinnati campaign on UC

$101 million for financial aid and scholarships
$37 million created 479 new scholarships
42,529 scholarships awarded
$171 million fueling research advancements
$57 million donated from UC faculty/staff
$45 million for professorships and endowed chairs
$58 million for the Lindner Center of HOPE
$173 million for Academic Health Center and UC Health
Cincinnati Cancer Center created
30 new endowed chairs
---