On Campus Yesterday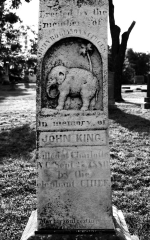 Certainly you would have thought your eyes were deceiving you, but a full-size stuffed elephant was, indeed, transported on a horse-drawn cart outside the UC gymnasium in 1902. More surprising, the pachyderm lived on campus until 1998.
Old Chief, a five-ton Asian elephant, was imported to the U.S. in 1872 and performed with the Cincinnati-based Robinson Circus until his demise in 1890. His remains were stuffed and displayed at the Cincinnati Zoo for a decade or so until making the trip to UC.
The skin and stuffing somehow disappeared, but the skeleton stayed on campus until a grant allowed UC to transfer its collection of paleontological specimens -- including the behemoth's bones -- to the Cincinnati Museum Center.
While still alive, Old Chief developed quite a reputation as an unruly rogue. That notoriety was cemented when his handler, John King, was crushed between Chief and a train car while the elephant was being unloaded in Charlotte, N.C. King was buried in Charlotte's Elmwood Cemetery beneath a 5-foot monument [right] donated by his fellow circus workers.