UCAA president Simendinger tells what UC means to him
by Keith Stichtenoth, associate executive director, UC Alumni Association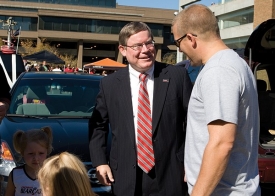 For Steve Simendinger, being a Bearcat is a way of life. After following his father William, A&S '51, to UC, Steve met his future wife, Joycee, on campus as a student. They earned bachelor's degrees in 1974 and MBAs in '76. Then in 2007, they proudly watched their son Chris, a Lindner Honors-PLUS scholar, receive his UC business degree.
As the president of the UC Alumni Association's volunteer Board of Governors, Simendinger answers a few questions about his UC pride and the organization he leads.
What has UC meant to you and your family?
Of course, UC provided a tremendous education and preparation for my professional life, but it also has provided a common bond for my family and many of our friends. No matter how busy we all have been through the years, we could always count on getting together on campus, usually at a Bearcats game. And I see so many of our fellow alumni doing the same thing -- using their mutual UC connection as a means to connect with each other.
What is your fondest memory from being a student?
Besides meeting my future wife in the very last class I took in my graduate program, my lasting memories were from cheering on the Bearcats with my fellow students in the "Cardiac Castle" -- the old Armory Fieldhouse.
Why does the UC Alumni Association matter to the typical UC alumnus?
I think every alum wants UC to be the best university possible, and they know that a vibrant alumni community is essential to its overall success. Alumni need to be informed and connected so that their engagement can cycle through the life of the university. No other group or organization is directly involved in this work -- only the UC Alumni Association. It's important that alumni see the value in what we're doing and actively support it.
What about alumni who don't live anywhere close to Cincinnati?
On one hand, we live in a largely online world, so whether you're near or far from campus, many of our alumni connections occur electronically -- UC Alumni Association e-communications, our Web site, the inCircle online community, Facebook and more. On the other hand, nothing beats personal interaction. Thanks to many of our most devoted alumni, we have more than 30 regional alumni networks around the U.S. and even in China and India. Bearcats are everywhere, so engaging directly with each other is easier than ever.
What is most exciting about the foreseeable future?
The UC success story is compelling, and our progress is clear to see. When I talk with fellow alumni -- especially when they visit campus after having been away for a while -- they're amazed at how their university is transforming in so many ways.
The stars are aligning for UC, and the UC Alumni Association is a big part of it. There are more than 240,000 UC alumni worldwide, and when we're interacting with each other, championing and supporting our alma mater, engaging in whatever ways best fit us personally, everyone wins.
Related articles:
UC Day honors achievements of alumni who make a difference
Alumni Weekend 2009