President Zimpher on "Today Show"
Medical breakthroughs
Breathing news -- New treatments for rare lung disorders such as pulmonary alveolar proteinosis (PAP) may be a step closer. Researchers at UC's College of Medicine and Children's Hospital Medical Center have found a molecular defect in patients with PAP that explains why microbial infections are so often deadly. The study was led by UC associate professor Bruce Trapnell.
Wheezing limit -- The presence of dogs in a home, combined with high levels of bacterial contaminants, seems to protect high-risk infants from developing wheezing in the first year of life. Immunology professor David Bernstein, senior author for this study, admits that investigators do not yet understand how and why pet ownership exerts this protective effect.
Better MRI -- Children with chronic neurological conditions and other disabilities often cannot hold still long enough for doctors to get an accurate MRI. The "Free MRI" project, funded by a $100,000 State of Ohio grant, is changing that. Kenneth Weiss, associate professor at UC's College of Medicine, has developed a way to allow faster high-quality images, as well as improved diagnosis and treatment.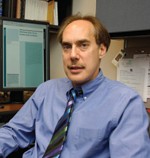 Sniff test -- After "Say, 'Aah'" and "Take a deep breath," the doctor soon may order, "Sniff this." According to psychology research studies at UC, loss of smell can be the signal for a range of problems, from a deviated septum to Alzheimer's. A person takes a larger sniff when inhaling for air, but a smaller one when detecting an odor. Development of a Sniff Magnitude Test is under way.
Geriatric docs -- By 2030, more than 70 million Americans will be over 65. Will there be enough geriatric-medicine practitioners to care for them? UC researchers say the numbers of doctors in that specialty are "dropping dramatically." Here's why: Salaries are much lower than in other medical specialties, even though students must take an extra one to three years of training beyond their normal residencies, and most students think working with elders is depressing.
Germ warfare -- Researchers from UC, headed by Bradley Britigan, collaborated with peers from the University of Washington to find a new way to fight antibiotic-resistant bacteria that prevent treatment of serious lung infections. The solution was to replace the iron that bacteria need in order to grow with a bacteria-killing element, gallium. In both cell cultures and mice, gallium won.
National media quote UC
ABC News -- asked Stephen Page, UC associate professor and director of research, if stroke patients benefit both from mentally rehearsing physical therapy tasks and actually exercising. Neuroimages show that the same areas of the brain are activated by physical and mental effort. Page is directing a national study seeking the optimum combination of mental and physical effort.
New York Times -- wanted to hear about UC assistant professor Stephen Wilson's findings that secondhand smoke may create more problems for African-American children than others. For more than a year, researchers monitored 220 children's exposure to smoke, measuring nicotine levels in the home and traces in children's blood and hair. Although exposed to less smoke, African-American children showed higher levels of harmful components.
Washington Post -- quoted researcher and psychology professor Joel Warm about the power of peppermint to improve concentration. He confirmed that there is more than a bit of truth in the peppermint theory. A hint of peppermint scent in the workplace has been shown to increase alertness, performance and attitude on the job.
Forbes -- quoted Jonathan Bernstein, associate professor and a leading researcher in asthma and allergy studies, stating allergy patients are three times more likely to develop asthma than non-sufferers.
Washington Post -- checked Paul Caron's "TaxProf Blog" for the ruling on a charitable donation of designer clothing. Although the court disallowed more than $40,000 of the claimed value and ordered more than $17,000 in penalties and back taxes, the UC law professor called the judge lenient. "The burden of proof is on the taxpayer," he says.
New York Times -- questioned Carlos Co about his new way of making glass. The assistant professor of chemical and materials engineering has fashioned a sugar-oil-surfactant emulsion that dries solid, hard and very clear. Future uses could include optical and sensing devices, food and pharmacy items or nanoscale materials.
Two million in gifts
The university accepted a pair of million-dollar gifts in the spring of 2007 for the advancement of justice and education.
Benefactors Lois and Richard Rosenthal made their second $1 million gift to the UC College of Law in support of the Lois (A&S '60) and Richard Rosenthal Institute for Justice/Ohio Innocence Project. The project was formed to provide justice to Ohio's wrongly convicted.
Emeritus professor of medicine Ward Bullock made his gift of $1 million to establish the Ward Bullock Endowment Fund for Research and Education in Infectious Diseases. Dr. Bullock is internationally known for his research on leprosy and histoplasmosis.
Rankings and accolades
The $5,000 scholarship is great, but impressing executives in one of the world's leading interior design firms was the real reward for Kyle Barker, an interior design student in the College of Design, Architecture, Art, and Planning. Barker won the prestigious Gensler competition this year with his design to transform a Cincinnati business into an art gallery by day and a dance club by night.
Economic outreach
After 30 years of engaging educators and reaching out to business leaders in Greater Cincinnati, UC's Economics Center for Education and Research was ranked No. 1 in the nation for promoting literacy in economics.
The National Council on Economic Education rated the College of Business' nonprofit center best among 230 of its kind nationwide. Each year, the center at UC trains 800 to 1,000 school teachers who want to boost their knowledge of the economy, entrepreneurship and business practices.
Applied Science winners
A team of student chefs from the College of Applied Science earned first place in the RCA Culinology Product Development Cook-Off in New Orleans in 2007. The gold-winning performance won the UC students recognition as some of America's top young chefs, as well as $5,000.
For the second straight year, a construction management team from the college won the national Best Student Contractors Award and a team prize of $25,000 in scholarships.
College of Business lauded
BusinessWeek magazine ranked UC's College of Business undergraduate programs among the best in the country in 2007. The publication, which examines programs, enrollment, test scores and alumni starting salaries, placed the college 79th among all universities and 43rd among public schools.
The future of design
A pair of transportation design students was featured on the Discovery Channel's "FutureCar" series in February 2007. The four-part program highlighted the futuristic car concepts of seven student designers from around the country, including that of Mark Chrapla and Matt Zoller, who were co-oping at General Motors' design studios.
Students build solar house
UC students entered the final leg of the Solar Decathlon, a two-year international competition to develop the world's best solar house.
After 18 months of prep work by literally hundreds of design, engineering and business students, UC's team got a chance to get their hands dirty in the spring of 2007 and began constructing their prototype in front of Braunstein Hall. UC's entry boasts such advances as evacuated tubes to cool and dehumidify the home and photovoltaic panels that will produce enough energy to power the house, all the appliances inside and even an electric car parked outside.
UC's team, like 19 others from universities around the world, will work through mid-October when their house -- constructed in four sections on mobile home trailers -- will be trucked to Washington, D.C., and assembled on the National Mall.
Edible books festival
UC librarians simply stood by and watched as classic literary works disappeared in front of their eyes. "Catch 22," "Ivanhoe" and "Great Expectations." Gone forever. Swallowed up in a few delightful gulps.
Digging into a book took on a whole new meaning during the annual Edible Book Festival at Langsam Library in April 2007 as faculty, staff and students gobbled up "The Hungry Caterpillar" and wolfed down "The Three Little Pigs".
By the end of the day, the nearly two dozen tasty volumes cooked up by contestants had been consumed, including "Murder Can Depress Your Dachshund" and "Everything on a Waffle."
Sports shorts
Lacrosse over rowing
The sports landscape at UC will look significantly different in the fall of 2007 as the Bearcats field the school's first varsity women's lacrosse team while discontinuing women's varsity rowing.
"Lacrosse is growing exponentially across the nation and will provide a strong competitive environment in the Big East Conference," says Mike Thomas, director of athletics. "While I would prefer that the addition of one program didn't have to come at the expense of another, we need to be as strategic as possible when evaluating and adding new programs. We feel like these moves are in the best interest of our program."
Rowers who were on athletic scholarships will continue to receive those funds through their senior year at UC. Lellie Swords, an assistant at Johns Hopkins University for the past six years, will coach UC's new lacrosse team. Other Big East teams with varsity women's lacrosse include Georgetown, Notre Dame, Syracuse, Rutgers, Connecticut and Louisville.
Athletics wins diversity award
UC is one of just 10 programs nationwide to earn the Diversity in Athletics Award for its graduation of black male athletes. AD Mike Thomas says the distinction, presented in March by the Laboratory for Diversity in Sport at Texas A&M University, signifies UC's overall progress in the academic arena since the inception of his Catapult plan a year ago.
Catapult is athletics' five-year action plan that calls for a Big East championship in every sport by 2011. But it also challenges athletes to outperform the general student body in the classroom.
At last check in February, UC's sports teams were closing in on that goal, earning a combined 2.938 GPA compared to the general student body's 2.965 average.
Additionally, 11 of the 17 sports squads posted team GPAs higher than the general UC average for fall quarter.
Clermont College wins national title
The UC Clermont College men's basketball team won the United States Collegiate Athletic Association Division II National Basketball Tournament in March. It was head coach John Hurley's 600th college career win.
How prepared is UC for an emergency?
As campuses around the country analyzed the effectiveness of emergency procedures following the shooting tragedy at Virginia Tech, aspects of UC's system were held up as a model in media outlets as far away as Australia.
That's not to say that the university's administration felt no need to investigate its procedures further. "In the wake of unimaginable tragedy such as the one Virginia Tech suffered, we naturally ask what measures are in place for our own security," said public safety director Gene Ferrara.
Media interest in UC's system centered on the Public Safety Communications Center's ability to broadcast audio messages campus-wide over the fire-alarm system from a single point. Within 24 hours of Virginia Tech news coverage, the University of Cincinnati's voice-capable alarm system was mentioned in nearly 40 publications, including the Brisbane Times, Australia; the Guardian, United Kingdom; the Boston Herald; Forbes; and MSNBC.
UC immediately tested its emergency communication system the morning following the shootings although no one realized that such a check was part of what they experienced.
1) In the morning, a university-wide e-mail notified 45,000 students, faculty members and employees that a moment of silence would later take place when the Tangeman University Center carillon would toll on behalf of the victims. Messages to the university's primary e-mail server began landing in most mailboxes within 10 minutes.
2) Simultaneously with the e-mail notice, an "emergency headline" appeared on the UC home page.
3) A few minutes before the chimes pealed, an announcement came over the emergency public-address system, reminding people to remain silent during the memorial. Everything went as planned.
Although UC Public Safety continues to meet with various areas of campus to ensure the best techniques are employed to "maintain a secure environment," Ferrara points out that he can discuss only limited details. He explains, for instance, that UC police are trained to respond to an "active shooter scenario . to isolate and confront a shooter in a building." Then he stops. "As these tactics become known publicly, their value is diminished."
Safety procedures exist for fire, severe weather, medical emergencies, theft, violence, chemical spills, fires and chemical/biological attacks. Yet Ferrara warns, "By our very nature, colleges and universities are open environments. There is a certain measure of vulnerability that goes with such openness. Vigilance on the part of the members of our community remains the best defense."
Ohio governor visits campus