UC designer creates on-stage magic for David Copperfield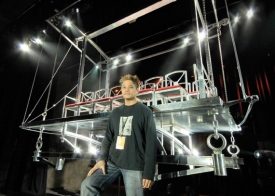 Homer Liwag lives for gasps and shrieks. For 13 years, he has listened backstage for the roar of the crowd as his boss flies in front of their eyes, survives the "death saw" slicing him in half and recovers from being flattened in the squeezebox. The louder the roar, the better job he has done.
The 1992 University of Cincinnati alumnus travels the world with David Copperfield as part of a creative design team that makes it appear not only that the master illusionist's life is in mortal danger, but that he mysteriously escapes. As conceptual art and design manager for Copperfield Design, Liwag has created everything from contraptions for vanishing a dozen audience members to intricate stage elements that make a performance convincing.
A magician himself in the early '90s, Liwag readily calls his work with Copperfield his "ultimate" dream job. "I can't think of any other career where I would be able to pursue so many different disciplines," he says. "At any given moment, I could be doing illusion design, stage choreography, lighting design, sound design, video editing, creative writing, logos, graphics, photography or devising the theme for an entertainment restaurant.
"I've always told myself that if there isn't something new and challenging, week after week, then I should try a different job," he says. "But we are always pushing the envelope, inventing new methods and doing things that no magician or entertainment entity -- neither theater nor Disney -- has done before."
Liwag enjoys his opportunities to work with Academy Award-winning directors, Emmy-winning designers and even Disney artists. "It is extremely rewarding to work with a team where our projects become multi-Emmy Award-winning Copperfield television specials," he smiles.
"We are among the very few designers who get to see their work reach fruition. What usually happens is that a person's original design undergoes changes because of some marketing decision or the realities of production."
Liwag credits Copperfield, who stays directly involved in design projects and works closely with his elite four-person creative team, with fostering a great working relationship. He admires Copperfield's ability to cultivate talent and bring out the best in people.
"For example," the UC alumnus says, "six years ago, I wanted to learn how to edit music and video. David provided me with some good equipment and encouraged the learning process. Fast-forward five years, and now I'm editing all the music and sound design for the Copperfield show, as well as most of the video."
Home base for the show is the MGM Grand in Las Vegas. That's where Liwag and the team stir up new visual confections in a secret laboratory ("The Magic Lab"). When the show is on the road, the team goes along, packing their complex workstations in protective cases.
"David performs more than 500 shows a year, all over the world," Liwag notes. "Rather than explain where we've traveled, it would be easier to list the few countries I haven't been to.
"We are now experimenting with working with UC co-ops from several disciplines, but our schedule is tough," he admits. "We are traveling city to city and sometimes country to country for 46 weeks out of 52."
While studying industrial design at UC, Liwag performed on stage as a professional magician at an Indiana nightclub-restaurant. He even invented an original magic trick known as "Coin One." For him, there is a parallel between magic and design: both require a creative, problem-solving process.
The designer loves his job and willingly spends long hours in the "Magic Lab" backstage, but he's still an entertainer. His day is not complete unless he hears the gasps and shrieks of the crowd.