Former Bearcat dancer takes NBA stage
Erika Hamilton is frozen at center court waiting for the music to start. Her heart pounds in anticipation of the first drumbeat. Her mind is racing through the routine. It has to be flawless.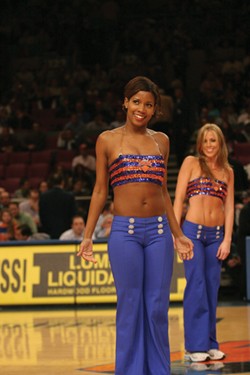 There are 20,000 unforgiving fans in the seats, but it is the throng of stars along celebrity row that makes her nervous. She needs to nail it. After all, this isn't some picnic in Piqua, Ohio. This is Madison Square Garden.
The Knicks City Dancer arrives at the Garden four hours prior to every tip-off -- just enough time to perfect the night's steps, have dinner and get through hair and makeup. Called upon twice a week during New York Knicks basketball games, Hamilton and the 11 other dancers perform between quarters and during timeouts.
When the NBA players leave the court, KCD takes the stage. Their charge is to infuse the building with a burst of energy -- a 120-second exhibition of electrifying moves choreographed to hip-hop, street jazz or rock.
Over the years, the stage has grown exponentially for Hamilton, A&S '01, who boogied four years with the UC Dance Team. After graduating with a communication degree, she moved east on a whim to pursue a dance career and ended up securing a spot with the Philadelphia 76ers. A year later, she was selected from among hundreds of hopefuls auditioning for the Knicks City Dancers, an elite squad among NBA performers.
But her moves have taken her well beyond professional roundball courts. Hamilton is a rising talent in New York and has landed several commercials, most notably as a featured dancer in two national iPod spots (one with Wynton Marsalis [see below] and one with Bob Dylan). "Living in Ohio, you kind of think of what's around you," Hamilton says. "I don't think I ever even dreamed this far.
"And now I feel like I'm one of the 'it' people in New York. It is weird to say. I'm someone that people look for and people know and recognize in New York City." Though the venue for showing off her talents has changed, Hamilton's love for performing, especially dancing, has never wavered. Larry and Linda Hamilton remember their daughter as a toddler standing atop a picnic table during a family reunion in Piqua, singing and dancing for all who would watch.
"From the time Erika could walk, she was always hopping, skipping, jumping or tumbling her little body on the floor," Mom recalls. "She enjoyed being in front performing."
Growing up, Erika performed in ballet, gymnastics and cheerleading. Once at UC, she thrived in her studies and immediately made the UC Dance Team. "That definitely set me on the path that I'm on now," Hamilton says. "I learned how to manage my time, get things done and still have this strenuous activity."
After college, Erika was offered a TV job with WCPO in Cincinnati, where she had interned for the sports department. But before starting the position, she decided at the last minute to move to Philly.
"When she first told us about trying to be an NBA dancer, we were frightened," recalls Linda. "I was worried about how she would be presented. I'm happy to say that the Knicks are one of the classier dance teams in the NBA. The team has opened up many doors for her."
One of Erika's favorite doors opened in December 2006 when she got to spend Christmas in Paris during the Nike France All-Star Basketball Game. "The crowd was so insane. It gave all of us chills," she says. "We ran off the court and cried."
Beyond traveling to places like France and China, the Knicks dancers serve as PR ambassadors at New York events. Plus, the KCD is involved with charities like the Garden of Dreams Foundation in which they share dance with kids in crisis. Then there are the day jobs.
All 18 Knicks City Dancers also work or attend college. On the roster are grads from Harvard, Columbia and NYU. Their resumes boast positions as researchers, teachers and marketing directors. Hamilton, who works for an online market-research firm, auditions for commercials and other gigs during lunch breaks. After work, she heads straight for three-hour rehearsals two to three days a week.
It is a demanding lifestyle, but hard work isn't an option when your goals include touring with a major artist and performing on Broadway. "There are a lot of things I'd like to do now that my dreams are getting bigger," she says.
Erika Hamilton appears at the 19-second mark of this
commercial for an iPod, featuring Wynton Marsalis.