UC alum wins 2007 national championship
Urban Meyer one of college football's top coaches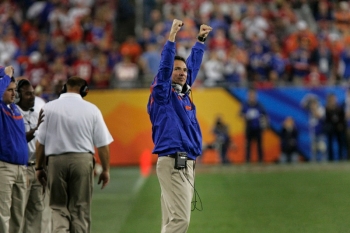 Gigi Escoe was a bit surprised to see her little brother in a Gatorade commercial. Not because he didn't belong there. He is, after all, the head coach of the 2007 national champion Florida Gators football team. She just figured he might have mentioned it.
But that's Urban Meyer's style. He shies away from the spotlight. The 1986 psychology grad doesn't grant many interviews these days. Given the choice of a black-tie party and a backyard grillout, the 42-year-old father of three will reach for his shorts every time, particularly if Jimmy Buffet tunes are involved, says Escoe, the senior associate dean in the McMicken College of Arts and Sciences.
"He is low key and very much into the football and very much not into the fame," says his sister, who usually resorts to text messaging her year-younger sibling when they need to talk. Consequently, she wasn't surprised that he didn't call back when the magazine requested an interview or when she text messaged the request.
One call Meyer did take, however, was when President Bush phoned to congratulate him after his Gators stunned top-ranked Ohio State January 8, 2007. Escoe remembers that Urban took it in stride.
"You know you have a dream job when you are having breakfast with your family the morning after winning the national championship and they come in and say, 'Hey Urb, you have got to take this call, it's the president.' In a weird little way, he was not surprised to be hearing from him. They talked football."
Escoe and Urban represent two of many family connections to the University of Cincinnati. It began with their grandfather, Urban Meyer Sr., who taught traffic law at UC and was director of transportation for Procter & Gamble. Next came Urban "Bud" Meyer Jr., who graduated from the College of Engineering in 1957. His children all attended UC -- Gigi Escoe, A&S '83, Erika Jones, A&S '86, A&S MA '94, and Urban Meyer III, A&S '86.
The youngest Urban thrived in sports at St. John's High School in Ashtabula, Ohio. The star tailback and shortstop was drafted by the Atlanta Braves in 1982 and spent two years in the minors before tendonitis ended his baseball career. Meyer walked on for the Bearcats as a defensive back and lettered in 1984. By his senior year at UC, Urban had met his future wife, Shelley Mather Meyer, Nur '87, and taken his first step toward his life-long interest in coaching by landing an internship as an assistant at St. Xavier High School in Cincinnati.
Next he went to Ohio State as a graduate assistant under Earle Bruce and completed his master's in sports administration. Meyer later apprenticed as an assistant at Illinois State for a year, Colorado State for five years and Notre Dame for four more before getting to call the shots at Bowling Green in 2001. He was promptly named the Mid-American Conference coach of the year. In '03, Meyer went west to Utah and was named the Home Depot Coach of the Year in '04 when he guided the Utes to a perfect 12-0 campaign.
The next year, just four years after his first head coaching position, he signed a seven-year $14 million contract with Florida. Year one in Gainesville saw a 9-3 season and the Gators' first January bowl game victory in four years. Year two saw a national championship. Needless to say, they love Meyer in "The Swamp," where 90,000 orange and blue fanatics have sold out Griffin Stadium more than 100 consecutive games.
Vernell Brown, Florida's 2005 team captain says he spent more time talking to Meyer about family, friends and schoolwork than he did football.
"I developed a relationship with him that goes far beyond the football field," Brown says. "You can't quantify the value of friendship and trust. He has a special way of relating to you as an individual."
Through it all, Meyer has developed a reputation as a coach who cares for his players like sons and a man who puts his family first, particularly his relationship with his father.
Gigi tells the story of December 2006 when Urban knew he wasn't going to make his dad's 75th birthday party. It was the day after he learned his football team had been invited to the Bowl Championship Series title game. Meyer was in New York to emcee the College Football Hall of Fame induction cere-mony, and when it became clear he couldn't catch a flight in time to celebrate with "Bud," Urban called his sister, who was hosting the gathering in Cincinnati, to work out a gift plan.
He asked Escoe to stop at a jewelry store and pick out a ring box. No ordinary empty ring box would do. It had to be the velvety variety -- the kind fit for an engagement ring. He asked his sister to enclose a note that read, "Championship Ring TBD."
The gift was a promise from Meyer to his pop, that he would fill it with a piece of impressive hardware -- either from the Southeastern Conference title (which his Gators had already won) or the national title, which he had every intention of winning. Florida's 41-14 pounding of the undefeated Buckeyes assured the latter.
Escoe and the entire family watched the game from the 50-yard-line. She remembers an Ohio State fan noticing the tears streaming down her face toward the end of the game and asking what in the world she could have to cry about.
She simply exclaimed, "My brother just won the national championship!"