Alum expresses nation's joy and sorrow through military music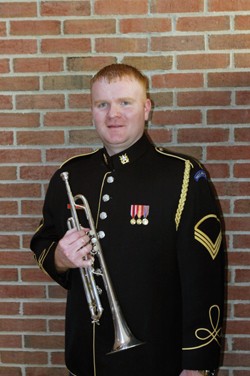 Jason Sanders shuddered slightly as he stood at attention by a fresh gravesite on his first assignment to play "Taps" at Arlington National Cemetery. The mourners' sense of loss touched the young sergeant's heart, and he clamped his eyes shut to hold back tears. Then his lips stopped trembling, his hands no longer shook, and he played the traditional tribute perfectly, with full military dignity.
It was the first of hundreds of times Sanders' music has since honored fallen heroes, comforted survivors, helped the president welcome international dignitaries, saluted retiring public servants and entertained other visitors to Washington, D.C. Whether playing solo, as part of the Army's elite Ceremonial Band or with the larger U.S. Army Band, Sanders, MM (CCM) '02, has had opportunities to play professionally nearly every day for more than three years.
For example, when foreign dignitaries make a state visit to Washington, they often want to take part in a wreath-laying ceremony at the Tomb of the Unknown Soldier in Arlington. If the Army Ceremonial Band provides music, both the U.S. national anthem and the visitor's anthem are on the program, and Sanders is frequently selected to play "Taps."
Staff Sergeant Sanders has played with the Army Band at funerals of two former American presidents, Ronald Reagan and Gerald Ford. While visiting relatives in Ohio last December, he was called back to Washington to prepare for Ford's funeral. With military musicians from all branches of the service on hand for that national event, Jason recognized Gunnar Bruning, MM '01, a trumpeter with the U.S. Navy Ceremonial Band, as the musician playing "Taps" that day.
"Gunnar finished a year before I did at the University of Cincinnati, but actually we first met in 1994 at a music camp," Sanders recalls. "There are not many musicians who can say they played 'Taps' at a president's funeral," he adds wistfully.
Jason earned his master's in trumpet performance at CCM, where he credits professors Allen Siebert and Phil Collins with making a big impact on his career. Encouragement to join the Army Band, however, was initiated by two of his College-Conservatory of Music friends who were Army musicians: Emily Randle Leader, MM '96, and Anjali Lind, CCM '94, MM '97.
Their advice was valuable. In fact, Jason has enjoyed his work so much that he recently signed on for an additional two years. Salary and benefits are very good and he gets to observe significant world figures close up, such as Indian prime minister Manmohan Singh, Afghanistan president Hamid Karzai and Iraqi leader Aiyad Allawi.
"This job is unique in a lot of ways," the sergeant confirms. "What we do is important on many levels. It's part of our long tradition, playing ceremonial music for our national leaders, welcoming their guests at the White House and Pentagon, honoring public-service retirees for their dedication and presenting military honors at veterans' funerals."
Is there anything about his job that Sanders doesn't enjoy? "Bad weather," he concedes.
"The band plays in rain and snow, almost any weather that isn't clearly dangerous," he says. "When the temperature is below freezing, however, the whole band doesn't go out for a gravesite funeral -- just the trumpet player or bugler."
Getting hired for a military band is not a simple process. Music samples and a resume must be sent before any invitation to audition is issued. In addition, each applicant must pass an Army physical and a battery of background checks.
What's more, musician-soldiers must go through regular U.S. Army basic training, the same series of challenges that face all Army recruits. Sanders couldn't say he enjoyed that.
"I've never been fond of sleeping outside, throwing live grenades, rappelling down 40-foot walls or engaging in hand-to-hand combat," he admits. "I was just relieved that I passed."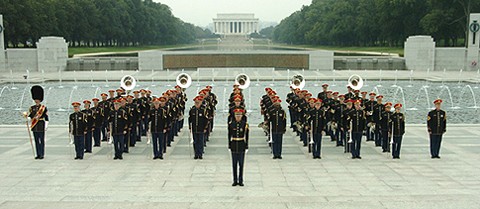 Top military bands sign up UC talent
U.S. AIR FORCE BAND
MSgt. Julianna Evans Arnold, MM (CCM) '99, clarinet, U.S.A.F. Concert Band
Tech Sgt. Benjamin Bowers, CCM '03, clarinet, U.S.A.F. Concert Band
Tech Sgt. Brooke Emery, MM (CCM) '03, clarinet, U.S.A.F. Concert Band
MSgt. Kathleen Fitzpatrick, CCM '98, principal French horn, U.S.A.F. Concert Band
MSgt. Tara Islas, MM (CCM) '91, French horn, U.S.A.F. Ceremonial Brass
Senior MSgt. Christine Kosky, CCM '88, bass, U.S.A.F. High Flight jazz ensemble
Tech Sgt. Jess Lightner, MM (CCM) '03, tuba, U.S.A.F. Ceremonial Brass
Tech Sgt. Valentin Lukashuk, CCM '99, trumpet, U.S.A.F. Concert Band
MSgt. Charles McKinster, att. CCM '96, cello, U.S.A.F. Air Force Strings
Senior MSgt. Christopher Moehlenkamp, CCM '81, principal cello, U.S.A.F. Concert Band
MSgt. Erica Montgomery, MM (CCM) '90, percussion, U.S.A.F. Concert Band, Ceremonial Brass and Chamber Players
Tech Sgt. Christian Pagnard, MM (CCM) '99, trumpet, U.S.A.F. Concert Band
MSgt. Jill Westeyn, MM (CCM) '99, oboe and English horn, U.S.A.F. Concert Band
Tech Sgt. Roy Wimbush, Jr., CCM '99, tuba, U.S.A.F. Ceremonial Brass

U.S. ARMY BAND
Staff Sgt. Anjali Lind, CCM '94, MM (CCM) '96, viola, U.S. Army Strings
Staff Sgt. Emily (Randle) Leader, MM (CCM) '96, violin, U.S. Army Strings
Staff Sgt. Jason Sanders, MM (CCM) '02, trumpet, U.S. Army Ceremonial Band
Staff Sgt. Scott Weinhold, MM (CCM) '95, saxophone, U.S. Army Concert Band
U.S. MARINE BAND
Staff Sgt. Samuel Barlow, MM (CCM) '03, trombone, U.S. Marine Band
Staff Sgt. William Bernier, MM (CCM) '00, clarinet, U.S. Marine Band
Staff Sgt. Jonathan Bisesi, CCM '00, percussion, U.S. Marine Band
MGun.Sgt. Marcio Botelho, CCM '85, cello, U.S. Marine Chamber Orchestra
MGun.Sgt. Michael Faulkner, CCM '68, MM (CCM) '74, DM (CCM) '80, violin, U.S. Marine Chamber Orchestra
Staff Sgt. Jennifer Paul, MM (CCM) '03, French horn, U.S. Marine Band
Staff Sgt. Julia Piorkowski, MM (CCM) '03, music librarian with U.S. Marine Band
Staff Sgt. Elisabeth Plunk, CCM '01, flute, U.S. Marine Band

U.S. NAVY BAND
Musician 1st class Gunnar Bruning, MM (CCM) '01, trumpet and cornet, U.S. Navy Band
Musician 1st class Curt Duer, CCM '90, percussion, U.S. Navy Band
Musician 1st class Petty Officer Christian Johanson, att. CCM '01, French horn, U.S. Navy Brass Quintet
Chief Musician David Kolo, MM (CCM) '95, French horn, U.S. Navy Band
Musician 1st class Lera League, MM (CCM) '99, clarinet, U.S. Navy Band
Musician 1st class Leading Petty Officer Suzanne Rice, CCM '98, French horn, U.S. Navy Ceremonial Band
Links:
Listen to streaming online radio music by the Army Band