President's column: Dreams in reality
When I learned that the theme of this issue of "UC Magazine" would focus on alumni "dream jobs," some examples that first came to mind are the exemplary alumni who have served as our commencement speakers.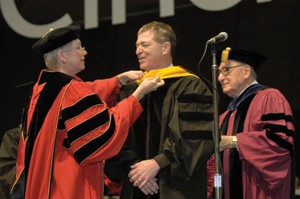 Not long after I arrived at UC, our institution made a strategic decision to seek commencement speakers who are our very own sons and daughters, rather than celebrities available through speaker agencies. I can think of no more poignant role models for our new graduates than a fellow Bearcat who has walked in their shoes, taken what they've learned at UC out into the world and put it to work in a notable life of achievement, whether through professional or altruistic endeavors -- or both. I hope that the inspiration and life lessons that one hears during a graduation ceremony become far more meaningful when offered by another member of the UC family.
This year at June commencement, we tried something new featuring the life and wisdom of Oscar Robertson, unarguably one of UC's and the National Basketball Association's greatest basketball players, in a special video presentation. The legendary Big O was voted Player of the Century by the National Association of Basketball Coaches (NABC) and was one of the first inductees into the NABC's new Collegiate Basketball Hall of Fame in 2006. The NCAA has named him one of the 100 most outstanding student athletes of all time, and the National Collegiate Basketball Hall of Fame inducted him as a charter member of its Hall of fame.
Oscar, who earned his bachelor of business administration degree from the College of Business in 1960, is a successful business leader, entrepreneur and a great humanitarian, as well. He and his wife, Yvonne, have also established three scholarships at UC.
Some other examples of alumni who have shared a message of their dreams come true at recent commencement exercises are:
It has truly been inspiring to be able to meet and get to know each of these individuals. I am particularly struck by their wide range of disciplines and interests -- true evidence that dreams come in all sizes, shapes and disciplines. Practically speaking, a university is a steppingstone to a degree, but, as these five examples show, we are also a pathway to dreams fulfilled.