UC women's basketball 35 years after Title IX
The days of shabby uniforms and second-rate courts are long over at UC
There was no sense in arguing.
She was a 5-foot-nothin' girl on a man's court. Or at least that's what she was told. Rainey Rohrmeier, the starting point guard for the Lady Bearcats, had come early to Armory Fieldhouse to shoot around before the game. A few dim lights provided just enough illumination to see the basket. But she didn't mind dribbling through the shadows.
It was the 1974-75 season, the first year the UC women's team got to play their games in the Fieldhouse, which up until then had been reserved for the men. Since her team was still using the old Schmidlapp gymnasium for practices, Rohrmeier was hardly more familiar with her home court than the visiting team. So she brought a ball to the Fieldhouse to put in some extra work. Instead, she was shown the door.
"I was just shooting around trying to get a feel for the rim," Rohrmeier recalls. "And I was actually run off the court. They said, 'You are not allowed in here. This is (men's coach) Gale Catlett's court.'"
Rohrmeier, Ed '77, who remains a "die-hard loyal" of UC women's basketball, discounts the incident as one of the "growing pains" in the young program's history.
"I don't want to be sour grapes," she cautions. "Unfortunately things happened. But I don't want to keep dwelling on them. I always want to keep moving forward. Just look at the progress."
Few can claim the view of the women's sports program that Rohrmeier can. As a perennial season-ticket holder, she never misses a home game. But it is more than her courtside seat that gives her such a great perspective of the program. She knows its history. She knows how far women's athletics have come at UC.
Rainey was the one, after all, who brought a hammer to practice to pound the nails back into the floorboards in Schmidlapp. She was the one, as a multi-sport athlete, who wore the exact same drab uniform for three different sports -- basketball, volleyball and softball. And years later, she was the one who insisted on women's championship banners to match the men's when Shoemaker Center was built.
Her scrapbook includes a check stub from the university for $310. Rohrmeier, a 22-year electrician at General Electric, was one of UC's first female athletes to receive scholarship help. She saved the stub because she knew it was significant, even if it only covered tuition for the last quarter of her senior year in 1977. It was the first of many to come.
Three decades later, 271 out of 557 scholarship athletes at UC are women, and a single full-ride scholarship today is worth more than $33,000 a year for out-of-state tuition, room and board, plus books. One such athlete, Shelly Bellman, UC's 5-10 junior guard, can't even fathom what it would have been like to play basketball in the early days.
"I feel so blessed to have this opportunity," says Bellman, an early childhood education major who was ranked one of the top-20 guards in the nation out of high school. "With the facilities that we have, we feel we're on the same level as the boys. And that's how we are treated, too.
"It is amazing because I have heard stories about the past. Women athletes at UC have everything we could ever ask for. We have all the opportunity in the world. Just look how much has changed.
"We are so lucky. We get to fly everywhere. We get all this new equipment. If a shoe breaks every practice, I could get a new basketball shoe every day."
Bellman, who made the Big East All-Freshman team two years ago and led the Bearcats in rebounding last season, is grateful to UC's pioneering players and coaches who laid the groundwork so today's students can enjoy state-of-the-art facilities, shoe deals, full scholarships and -- more than anything -- equal treatment.
"God gave us a talent to play basketball, and that's what we are here doing," she says. "We are having a blast."
Bellman was recruited by head coach Laurie Pirtle, who retired this year after leading the UC women's program for 21 years. Pirtle offered her perspective on the program's progress since she took it over in 1986.
"My first team bought their own shoes, and they were called Kangaroos," she says. "I slept in rest stops to recruit. It was just a really, really different time. I was driving the vans, and my assistant sat on the opposite side and played the music. We have come so far. But it is just the tip of the iceberg of what women's basketball is going to be."
Pirtle, who campaigned and was eventually successful getting the word "Lady" taken off the women's uniforms in 1990, said during her final press conference that she was most proud of leaving the program better than she found it -- with more financial backing, a greater appreciation of the sport by fans and more talented and dedicated players.
Her successor, J. Kelley Hall, who came to UC from Louisiana-Lafayette, says the plight of women's basketball was similar at institutions around the country.
"I've seen a lot over the years," he says. "I've been in it 25 years. My first coaching job, I think I got $3,000. And that was in the '80s.
"I've seen the progression from the ladies not being allowed to play in the arena where they had to play in the old gym. I've seen it grow from that point to where it is now." Hall says that he has also seen the women's game skyrocket in terms of skill level in the last decade. "The things some of the kids can do with the basketball, kids couldn't do eight or 10 years ago. Not only that, as a coach, you wouldn't allow them to even try it." Though national TV exposure is helping, UC's new coach points out the need for more marketing in the sport. And closer to home, he intends to build a stronger following at UC by getting his players into the community to serve as role models to young people.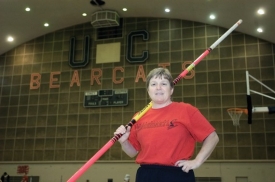 Landmark legislation
Many point to Title IX of the Educational Amendment of 1972 as the watershed moment in women's sports because it banned gender discrimination by educational programs that receive federal assistance. But those who were playing and coaching at the time say the legislation only started the trickle of equality.
Mary Jo Huismann, MEd '71, volunteer-coached the university's first five-player women's team from 1969-74 (with a one-year break in '72). Until then, women's basketball was a much different, less-aggressive game played with six players.
Huismann's first team got their own rides to away games, sold candy to buy their uniforms and recycled warm-ups from one of the men's teams. She recalls taking a cynical approach to Title IX when it passed.
"I don't remember it being a big deal," she said. "I think it was like, 'OK, right. Show us first.' Schools didn't jump and give scholarships right away. But if Title IX wouldn't have happened, things would have been even slower. It would have been a long time before we would have gotten some of the facilities and some of the scholarships." Today, Huismann is athletic director and basketball coach at Mother of Mercy High School in Cincinnati. And more than anything, she is proud of the progress that's been made in women's sports -- from elementary age through the pros.
"Probably a third to half of our student body (all girls) plays a sport," she says. "The kids can look forward to receiving a scholarship and playing competitively on the college scene."
Huismann points out the advantage that student athletes gain on their way to becoming successful citizens.
"You see the girls later on and what confidence, independence and determination they have gained," she says. "Whether they are mothers or they are attorneys, they are strong individuals who continue to make a difference in the world. These are the same things that men have been gaining forever. It is neat to be able to see the women do that, too."
UC Hall of Famer and two-time All American Cheryl Cook, Ed '85, agrees the future for female athletes is promising.
"I can honestly say that we have arrived as women in sports," says Cook. "I think everyone around the nation is starting to take women's basketball seriously. It is an awesome thing to see and be a part of. The product has been there for so long."
Today Cook is a corrections administrator in Cleveland and coaches the two-time state champ women's prison team. UC's all-time leading scorer (2,367 points) left in the mid-'80s to play professional basketball in Spain and Italy (prior to the WNBA) for six seasons, earning between $100,000 and $300,000 a year.
"I was blessed to have been given the opportunity," she says. "It was awesome to be able to play basketball and see the world. I just respect the people who came before me who paved the way. We didn't play for shoe deals. We didn't play for money. We played because we loved the game."
Ten who went pro
Cheryl Cook, Ed '85, Spain
Deanna Fry, A&S '86, Germany
Valerie King, A&S '04, WNBA (Sacramento) and Greece
Tanya Kirk, Eve '99, Sweden
Bev Obringer, Ed '89, Australia, Chile, France and Spain
Asa Odeus, A&S '90, Spain and Sweden
Doris Scott, Ed '99, Finland
K.B. Sharp, Ed '03, WNBA (New York Liberty and Indiana Fever)
Madinah Slaise, A&S '02, WNBA (Detroit) and Israel
Tonya Taylor, '92, Finland
UC Hall of Famers
Linda Norwell, Ed '78
Bev Ventura, RWC '78
Barb Jaksa, DAAP '83
Joy Roberts, Univ '83
Cheryl Cook, Ed '85
Keely Feeman, Ed '87
Bev Obringer, Ed '89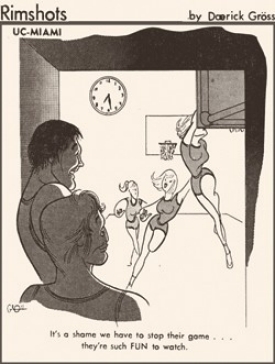 Women's plight goes public
Embarrassing incident in 1975 reveals inequity
Rainey Rohrmeier, a UC basketball player from 1973-77, was twice booted off the court at Armory Fieldhouse. The first time, few knew about it. The next was far more public and far more controversial.
UC and Miami had reached the five-minute mark in January of 1975 when their game, which was delayed in getting started, was halted at 7:30 p.m. to allow the men to begin warming up for an 8:05 start.
"All I remember was somebody saying, 'They've got radio contracts they've got to take care of now,'" says Rohrmeier. "And so with a few minutes left in the game, they made us stop.
"We were not happy. We were out there giving it our all. We couldn't believe this. It was like the ultimate slap in the face."
The student newspaper used the incident to highlight the inequities that existed between men's and women's sports at UC. One News Record writer, Harold Perlstein, A&S '76, opined in an editorial: "The incident at the Fieldhouse is only unusual because it happened in public. It is more common for women's athletics to get the 'private shaft.' You know -- no scholarships, no paid coaches and no acceptance from the athletic department."
The paper also quoted Jeannie Cracium, '76, president of the Harriot Hunt Association, a student organization for women's athletics, after the incident: "When the men came out, all the crowd booed our men's team. That's terrible, but yet, it's great, because we want equality."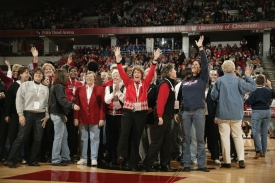 Righting decades of wrongs
UC athletics is searching for past female athletes who never received their varsity letter
UC and Xavier used this year's Skyline Chili Crosstown Shootout between the Bearcat and Musketeer women's teams as an opportunity to recognize dozens of former female student athletes at halftime. Organizers are building upon the success of the event, which drew more than 10,000 fans to Fifth Third Arena in January, to locate and recognize thousands of other women who competed in a sport but never received a varsity letter.
The idea for this special recognition project -- a banquet and ceremony in advance of the women's Shootout -- was initially pitched by Bill Keating Jr., MBA '76, JD '79, a former Bearcat swimmer and local attorney. "We hope that this call to action will help us locate these former student athletes so we can invite them to our banquet in December and honor them as the pioneers of women's sports," says Keating. (For more information or to provide details about your athletics career at UC, contact Bryan Allen by phone, 1-877-55-UCATS, e-mail ucats@uc.edu or visit here to update your information online.)
Women's Bearcat basketball in the modern era
A timeline of progress for female athletes at the University of Cincinnati
1969 — UC women field their first five-player basketball team under coach Mary Jo Huismann, MEd '71. Prior teams, going back as far as 1897, played with six or more players with a divided court.
1971 — Women's intercollegiate athletics debuted at UC with six varsity sports: basketball, volleyball, swimming, bowling, softball and field hockey. The teams adopted the name "Lady Bearcats."
1973-1977 — Linda Norwell, Ed '78, is the first UC women's basketball player to top 1,000 points in a season, finishing her career with 1,799 points and a career-best 1,309 rebounds.
1974-78 — Former UC player Tom Thacker, Ed '63, a key contributor on the men's championship teams of the early '60s, takes over as coach, directing the team to a pair of Ohio Valley League titles.
1975-76 — Back-to-back Midwest Association of Intercollegiate Athletics for Women Regional Tournament appearances.
1979-83 — Ceal Barry, Ed '79, becomes head coach, helping to push the young varsity program to regional and national status, compiling an 83-42 record, including the team's first post-season tourney in 1981.
1983-86 — Sandy Smith takes over as head coach, compiling a 49-37 record. 1984 — Cheryl Cook, Ed '85, aka the "Cookie Monster," finished her career with 2,367 points, the top mark to this day. The two-time All American is the only women's basketball player to have her number retired by UC and was a finalist for the 1984 Olympic team before playing professionally in Spain.
1986-2007 — Laurie Pirtle takes over as head basketball coach and is credited with turning the program around with eight post-season runs, four in the NCAAs and four in the WNIT.
1988-89 — Standout Bev Obringer, Ed '89, helps the team compile a 21-9 season earning its first berth in the NCAA tournament.
1990 — Women drop "Lady" from team names.
1996 — Players Doris Scott, Ed '99, and Jolinda Lewis, A&S '98, help halt seven straight losing seasons for the Cats, finishing 17-11.
1998-99 — Team earns Conference USA league title with a 12-4 record, 22-9 overall.
2002 — UC wins first NCAA basketball tournament game, 73-63 over St. Peter's.
2003 — Team goes on a 21-game winning streak, setting a school record.
2004 — Valerie King, A&S '04, scores 46 in a home game, setting the top scoring mark for C-USA, as well as Fifth Third Arena.
2005 — UC joins the Big East, the nation's largest Division 1-A conference.
2006 — Treasure Humphries, Ed '07, becomes the first Bearcat to earn All-Big East honors, while leading UC to its eighth postseason appearance in nine years.
2007 — UC hires J. Kelley Hall from the University of Louisiana at Lafayette as the new head coach.
Information compiled from the George (Ed '35, MEd '51) and Helen Smith Athletics Museum, the UC Women's Basketball Media Guide and interviews.