DAAP alum designed original "Star Wars" toys
Jim Swearingen's toy story spans the galaxies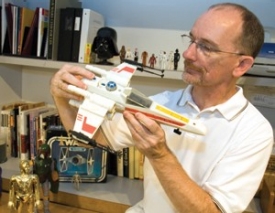 He had an hour alone with Papa Jedi.
It was 1978, and Jim Swearingen, DAAP '72, was the principal conceptual designer for Kenner's line of "Star Wars" toys. The Cincinnati-based company was coming off a year in which it had sold millions of toys based upon the 1977 smash hit. Trying to meet the clamor for more intergalactic merchandise, Kenner sent Swearingen to Skywalker Studio for a sneak peek at the character Boba Fett, which was to be released as an action figure prior to the fierce bounty hunter's appearance in the 1980 sequel "The Empire Strikes Back."
"They brought a guy out in the Boba Fett costume so we could photograph him and get enough stuff to get started on development," Swearingen recalls. "My boss had wandered off with a producer, and I was left alone to have lunch with George Lucas and his dog."
Three decades later, Swearingen's one regret from his career is that he didn't ask Lucas, the 2007 inductee into the Toy Hall of Fame, for a job when he had the chance.
"I was never much of a self promoter. I spent an hour alone with him, and we just chitchatted about the movie and his collection of comics. I should have said, 'Hey George, what you really need is a toy guy on your staff.' But it never dawned on me. Now it is like, 'What were you thinking?'"
The close encounter with the legendary moviemaker wasn't Jim's first brush with the creator of the six-part space opera. Rewind to 1976. Swearingen was working in Kenner's preliminary design group evaluating potential entertainment properties.
At the time, movies weren't given much consideration for toy lines. They didn't have the staying power of a television series. They weren't as marketable as, say, "The Six Million Dollar Man."
Swearingen recalls his boss, Dave Okada, coming in with a script and some photographs from a new movie called "Star Wars." "At the time, it was kind of like, 'Does anybody want to look at this?'"
Since Jim was familiar with Lucas' first sci-fi film, "THS 1138" (courtesy of the UC film society) and had recently read a blurb about Lucas' upcoming flick in Starlog magazine, he agreed to take the script home and read it.
The next day he eagerly went searching for Okada and insisted he lock himself in his office for an hour to read it. "We have to do this," he told him. "We have to make these toys."
Within months of the movie's release, every 8-year-old in the country seemed to have entered Jedi training to wield a light saber and "use the force." And, to Kenner's delight, they all needed a lunchbox-load of action figures.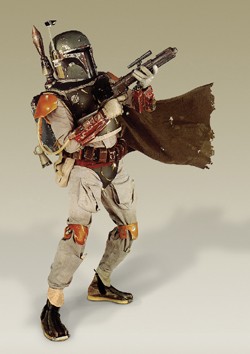 From 1976-79, "Star Wars" became Swearingen's baby. He had a chance to witness portions of the film being made and even attended the first public showing in San Francisco.
"This was the dream job for a designer," Swearingen says. "Since I had been in on it from the beginning, I got to do all kinds of things that people don't do today. I got to go and see some shooting. They were doing special effects. I got to view all of that stuff as a relatively young designer."
The success of Kenner's "Star Wars" toys even shifted the toy industry's focus toward thinking small. Up to that time, action figures were foot-long dolls like G.I. Joe.
"It was obvious that we had to do the vehicles in 'Star Wars,'" Swearingen says. "And you couldn't do vehicles for a 12-inch figure." So Kenner's diminutive 3 3/4-inch Lukes and Leias stemmed from the UC designer's mock-ups, the size of which were based upon what he rummaged from the company toy bin.
Besides "Star Wars," Swearingen also contributed to many other wildly popular product lines while with Kenner, including PlayDoh, Spirograph, Baby Alive, Care Bears and Strawberry Shortcake.
"The best part of being a toy designer is you get to do so much," the industrial design major says. "The variety is amazing. You get to relive that Peter Pan kind of stuff, and you get to ask, 'How would a kid really play with this?'"
Once Kenner was bought by Hasbro in 1992, Swearingen-and coworkers Tom Osborne, DAAP '75, and Tim Effler, DAAP '74 -- started SOEDA in Cincinnati. SOEDA spent 15 years doing contract work for major toy companies across the country, often specializing in licensed products from movies such as "Alien," "Jurassic Park," "Men in Black" and, most recently, "Pirates of the Caribbean II: Dead Man's Chest." Their Ultimate Black Pearl Pirate Ship play-set design even landed toymaker Zizzle a 2007 Toy of the Year Award. The T.O.T.Y. Awards are the toy industry's Oscars.
These days Swearingen's partners from SOEDA have moved on to other ventures, and he is now working on projects that interest him personally as opposed to big corporations. The latest is Kimmie Cares, a series of dolls, a book and a Web site that help moms going through chemotherapy to explain cancer, its treatment and effects to their children. The dolls have removable hair, a wig and scarf accessories to "help reduce the fear factor when Mom loses her hair." Proceeds will benefit families dealing with cancer.
Whether sketching playthings for corporate America or nonprofit ventures, Swearingen clings to a single principle for his toy designs. "It has to be fun. It can be as simple or as complex as you want it to be. But it really has to be fun for kids. And it is fun if it tweaks your imagination."