@PrezOno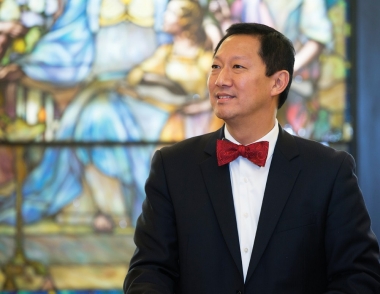 The esteemed journalist Edward Murrow launched the "This I Believe" radio program in the 1950s to get people talking about the core beliefs that grounded, guided and sustained their daily lives. National Public Radio resurrected the concept in 2005, and I always found myself drawn to the clarity and conviction at the heart of this exercise.
But it wasn't until recently—in reflecting back on my career as a professor, administrator and lifelong learner—that I put pen to paper. Here's what I believe.
I believe in believing—in others and in something bigger than ourselves.
I believe in the power of diversity and the promise of inclusion.
I believe in first impressions and second chances.
And I believe in helping everyone get where they want to go.
I believe music is medicine.
I believe caring is contagious.
I believe a good laugh is a great thing.
And I believe no kind act is too big or small.
I believe in heroes.
I believe in dreamers.
I believe in teamwork.
And I believe in leaders eating last.
I believe teaching is a calling.
I believe learning is a passport.
I believe research is a lifeline.
And I believe the world has yet to see the best from higher education.
Above all, I believe the possibilities are limitless.
Because I believe all of these things, I especially believe in the University of Cincinnati. Every day our remarkably dedicated faculty, staff and alumni empower our students to develop, test, stretch, share and celebrate their ideas, aspirations, values and beliefs. And, in turn, they inspire us to continually refresh our own personal philosophies.

Santa J. Ono
President, University of Cincinnati
What do you believe? Share your insights with us via email at magazine@uc.edu.


LINKS