Fields of dreams — Kautz built it, and they came
Masters Forum has attracted renowned alumni from all fields to help students achieve their dreams
Fifteen years ago, alumnus Jim Kautz realized something was missing in a University of Cincinnati education. Students rarely had a chance to talk to the people they probably admired the most -- successful alumni who had already "been there and done that."
So Kautz, a retired limited partner at Goldman Sachs, created a program in which students could meet alumni face to face and barrage them with questions: How did you overcome hurdles in your field? What was your most successful endeavor? What do you wish you had done differently? Did your degree really make a difference?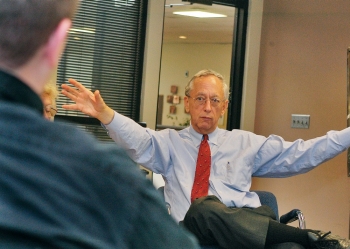 The Kautz Alumni Masters Forum has brought back to campus more than 50 distinguished alumni -- the kind of leaders who have set new standards of accomplishment by which others measure themselves. The forum takes advantage of the wealth of wisdom from UC's alumni body and lets students learn from their experiences.
"It's really meant to be an interchange of ideas," says Kautz, A&S '53, HonDoc '95, a political science grad. "If you look in the dictionary, a 'forum' means an interchange of ideas. That's what I wanted the Alumni Masters to be."
While students benefit by learning from the Masters' experiences, alumni also benefit from being able to reconnect with the school they love. Reigniting alumni's passion for the university is a big goal of the program, Kautz adds. To do that, it's important to get them back to campus.
At 83, Kautz does not return to campus as often as he would like. He currently resides in Tucson, Ariz., which makes the trip quite a haul. But he still manages to visit once a year. "When I do make it back, I pack a lot into my visit," he says.
In 2005, he came back as a Master himself, based upon his career in worldwide portfolio management. He has worked for a number of business titans, including Goldman, Sachs & Co., Procter & Gamble and the Boston Beer Co.
Alumni Masters have covered a wide range of careers -- CEOs, world-renowned architects, engineers, innovators, doctors, judges, performers and writers, for example. And all of them have reached the upper strata of professional achievement.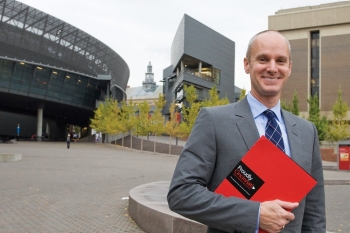 In 2010, Drew Becher, DAAP '93, came to UC as an Alumni Master, speaking on "Greening America's Biggest Cities." As president of the Pennsylvania Horticultural Society and a renowned urban planner who has planted more than 2 million trees, he knows what he is talking about.
He was pleasantly surprised at campus, which was far less attractive when he was a freshman. At that time, a massive parking lot covered the area now called Campus Green, a 6-acre green space blanketed with grass, walkways, trees and water features. Shortly before his return, campus had been ranked by Forbes as one of the most beautiful college campuses in the world.
"Everything done was done to the highest level," he says. "It's really the complete package for students now."
During Becher's two-day visit, he shared his story with students at the College of Design, Architecture, Art, and Planning and the Carl Lindner College of Business. The biggest advice Becher had for students? Get involved on campus through extracurricular activities.
As a student, Becher had started developing his dedication to the beautification of urban areas -- getting involved in tree plantings along McMillan Street and creating the Facilities and Landscaping Committee within student government. His own experiences inspired students, but in sharing them, he received something back as well.
"I can't say enough about the reconnection I felt with UC because of this program," Becher says. "Not that I ever wasn't connected, but the connection became deeper because of it.
"We often get so busy with our careers, trips like this can be tough to take. But it was nice to hit the timeout button, so to speak, to go back to your alma mater and see the positive things that are happening.
"It was really special, and something I'll never forget."
-- by Caitlin Whitehurst and Deb Rieselman
Becoming a Master
Becoming an Alumni Master depends upon one's body of work and willingness to help students succeed. Upon their return to campus, most Masters participate in small discussion groups with both students and faculty, conduct class presentations, attend lunch and dinner gatherings, and enjoy special visits to colleges and departments. University of Cincinnati alumni interested in sharing their own stories with students through the Forum are encouraged to go online to learn more.
To get involved or learn how you can support the Forum, please visit Kautz Alumni Masters Forum. Or call Laura Bolduc, vice president of donor engagement for the UC Foundation, at 513-556-6750.
Variety of UC Alumni Masters
Karen Bankston, D (Nur) '05, president and CEO of KDB Associates and Consulting Services
Otto Budig Jr., Bus '56, HonDoc '09, innovative developer of road and rail transport
Earl Hamner, CCM '48, HonDoc '08, entertainment writer and producer who created "The Waltons"
James Newton, MSW '78, counselor, police officer and CEO
Colombe Nicholas, JD '68, director of international fashion businesses
Brigman "Brig" Owens, Ed '65, HonDoc '08, professional athlete and youth advocate
Steven Ruben, M (A&S) '86, D (Med) '89, biotechnology researcher for healthier lives
Dorothy Smith, PharmD '72, patient advocate and author
Michael Valentine, Eng '72, Cincinnati Microwave founder
William Wiesmann, A&S '68, HonDoc '08, M.D. and inventor of lifesaving products
Jeffrey Williams, DAAP '75, HonDoc '09, financial adviser to world's largest corporations