UC in the news
UC research first-of-its-kind for IBD
In what's believed to be a first-of-its-kind study, cancer and cell biology professor Susan Waltz and her research colleagues have documented a genetic growth factor responsible for stimulating cell growth in the development and progression of Inflammatory Bowel Disease, for which no cure exists and which affects more than 1.4 million Americans. The growth factor is tied to the RON receptor, a cell often found in certain cancers. Results are in the American Journal of Physiology-Gastrointestinal and Liver Physiology.
'Touchy' subject
UC researchers have identified the very foundation of the sense of touch, the least understood of all five senses on a scientific level, says UC pain researcher Jianguo Gu. "The implications are profound."
He foresees clinical applications to treat and prevent conditions that hinder touch sensations—disorders such as diabetes or fibromyalgia, pathological conditions such as peripheral neuropathy or side effects from medical treatments such as chemotherapy.
Gu, postgraduate fellow Ryo Ikeda and their research colleagues discovered that Merkel cells, which contact
many sensory nerve endings
in the skin, are the initial
sites for sensing touch. To
prove their hypothesis, Gu's team studied Merkel cells
in rat-whisker hair follicles, because the follicles have
a high abundance of Merkel cells.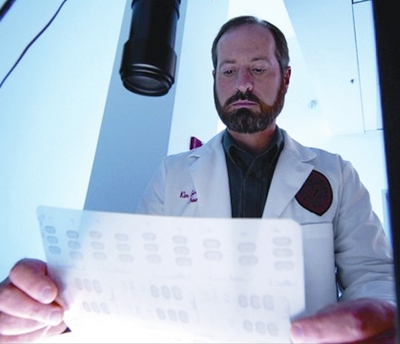 Stress complicates Parkinson's disease

Chronic stress-induced depression exacerbated an experimental model of Parkinson's disease, making it a complicating factor in progression or severity of the disease, UC researchers have shown. The findings were published in the scientific journal Molecular Psychiatry. Researchers were neurology and basic research professor Kim Seroogy [above] and behavioral neuroscience professor James Herman.
Even a gentle touch of the whiskers immediately fired up a response in the cells, they found. They also were able to identify specific data on how the response occurred. In April, their results were published in Cell.
The discovery is also relevant to those who are blind. "This is a paradigm shift in the entire field," Gu says, pointing to touch as indispensable for environmental exploration, tactile discrimination and tasks such as modern social interaction.
UC clinical trial shows Olean removes toxins
A University of Cincinnati clinical trial shows that a snack-food ingredient called olestra (or Olean) can speed the removal of toxins in the body. Researchers have demonstrated that the zero-calorie fat substitute, found in snacks such as Pringles, could reduce the levels of serum polychlorinated biphenyls (PCBs) in people who have had enough exposure to increase hypertension and diabetes.
Results are reported in the April Journal of Nutritional Biochemistry, says principal investigator Ronald Jandacek, adjunct professor in pathology and laboratory medicine. Procter & Gamble developed olestra in collaboration with UC and introduced it into foods in 1996.
UC experts say changes needed in workforce for aged
Immediate and significant changes are needed to ensure a larger and better-trained workforce to care for the growing population of older adults with Alzheimer's, UC experts said in Health Affairs journal. To meet the needs of more than 5 million Alzheimer's patients in the U.S. (expected to triple by 2050), geriatrics professor Gregg Warshaw and associate nursing professor Elizabeth Bragg suggest changes in college curriculums, expanded team-based models of care, incentive programs to attract clinicians into education roles, expanded federal workforce training programs and increased compensation for the direct-care workforce.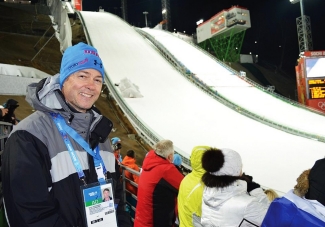 UC at the Olympics
When American Matt Antoine clinched the bronze medal in the 2014 Olympics for the U.S. men's skeleton sled team, he was riding a sled designed in part by a UC professor.
The design team for the ProtoStar V5 skeleton sled was led by Grant Schaffner, assistant professor in UC's Department of Aerospace Engineering and Engineering Mechanics, as well as Tuffy Latour, the head skeleton coach for the U.S. Bobsled and Skeleton Federation.
Schaffner joined the athletes in Russia for the competition. "It has been a wonderful experience for me," notes Schaffner. "Watching Matt slide to a bronze medal was a dream come true!"
The skeleton sled, a one-person unit that uses the same track as the luge, was developed in a partnership between UC's College of Engineering and Applied Science, Cincinnati-based ProtoStar Engineering, Machintek, deBotech and Carpenter Technology.
The music of the games: Award-winning composer and UC alumnus Randy Edelman, CCM '69, HonDoc '04, composed the rousing theme music featured in NBC's coverage of the 2014 Sochi games. The network also used his music to close the 1996 Summer Olympics in Atlanta, for which Edelman won an Emmy.
'Noteworthy' changes in rankings

One UC program can boast the single biggest increase in ranking of any school in the country in the 2015 U.S. News & World Report annual graduate program rankings. The full-time MBA program rose 39 spots over last year, and the part-time MBA program climbed to 81 out of 282 similar MBA programs, a rise of 69 spots over last year's ranking.
"One of the most noteworthy changes came from the Lindner College of Business at the University of Cincinnati, which climbed from a tie at No. 99 to a three-way tie at No. 60 this year," according to the publication.
Other rankings:
UC ranks among "America's Best National Universities" in U.S. News & World Report's 2014 Best Colleges guide. UC was also listed third among 23 universities as "Up-and-Coming Schools."
UC's undergraduate industrial design program is ranked No. 1 in the nation, according to the 2014 survey by DesignIntelligence. The DAAP interior design program was ranked fourth, and the graduate architecture program was rated 15th.
The UC College of Nursing was ranked 37th out of 95 nursing schools by U.S. News & World Report in its best online program listings.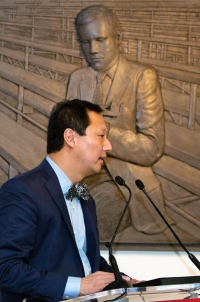 Exhibit honors Neil Armstrong
UC President Santa Ono helped open a temporary Neil Armstrong exhibit on campus last fall as the university announced its vision for a Neil Armstrong Space Science Institute and an important partnership with NASA's Ames Research Center. While the exhibit has ended, the bas-relief behind Ono, which depicts Armstrong, HonDoc '82, on campus when he taught at UC from 1971-79, will be permanently installed in the entrance to Rhodes Hall. The life-size bas-relief of the first man on the moon was created by local artist John Leon, att. '70s. The photo used for the artwork was taken by Ralph Spitzen, Eng '74, MBA '76.
'A Dinosaur Says Moo'
Art became the bridge the art teacher used to reach his 3-year-old son. Ryan Mulligan, an assistant professor of fine arts at the College of Design, Architecture, Art, and Planning, created an interactive installation for children at the Contemporary Arts Center in downtown Cincinnati with his son, Hobbs, in mind. The boy has profound autism and is severely impaired in communication and social skills.
Determined to connect with his son, the professor turned to what he knows best. The installation is engagingly titled "A Dinosaur Says Moo," a reference to a time before Hobbs lost his ability to speak.
The exhibit is Mulligan's artful outreach to his son — a space and time for them to be together on his son's terms. "Hobbs has changed my work," says Mulligan. "I designed and built this for him. And, maybe, for people to enter our confusing, gray world. Or maybe because if I don't make art and don't connect with my son, I'll lose my mind."
The installation features about 10 random, small holes like those on a Putt-Putt course. "Only I call it a foot-putt course," explains Mulligan. Balls can be foot-putted into the holes, foot-putted because Hobbs has difficulty holding anything like a toy putter.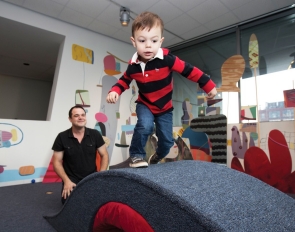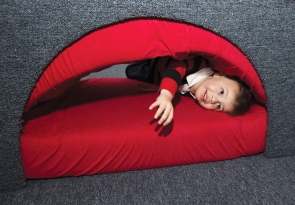 The balls, collected together, rest in a "pool" that Hobbs can sit or lie in — enjoying the pressure of the balls pressing in on either side. Such pressure often serves as a kinetic energy release for those with autism. That is also the function of the "squeeze tunnel ramp." A small "trampoline ramp" allows children to jump off, since jumping off an object is, again, often a release of kinetic energy.
While he's made art to provide his son physical release, Mulligan adds that art is also his release. "My making this art is selfish. It's my therapy, too, my catharsis, my release of energy. In making art and play for him and his release, I've made it for myself."
Visit "A Dinosaur Says Moo" at the Contemporary Arts Center of Cincinnati, located at Sixth and Walnut streets.
Communication professor's homelessness experience turns 10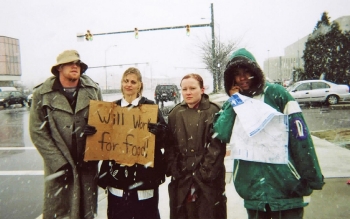 Students begin MJ Woeste's homelessness experience feeling uncomfortable. They finish a day and a half later saying it was unforgettable. Woeste, a professor of communication in the McMicken College of Arts and Sciences, takes groups of UC students into downtown Cincinnati for an immersive, 36-hour crash course in homelessness as part of his Intercultural Communication class.
Last fall marked an important milestone for Woeste: 10 years of giving students a raw glimpse of life as they have never known it. Woeste says it changes them for the better.
"I tell students up front that it's not for everybody, it will make you uncomfortable," Woeste, M (A&S) '99, D (Ed) '02, says. "But there will be things you're going to learn from it that you won't get other ways. I have 10 years' worth of data that supports the notion that students were impacted positively by being exposed to a community that they wouldn't have willingly spent time with."
Reflecting on 10 years, countless lessons from experience
Mobile app enhances safety, connections to UC police

The university rolled out a new app this year that is designed to enhance safety on and around campus by creating a next-gen safety network.
LiveSafe, a free download in app stores, allows students, faculty, staff and the wider community to connect to campus police from their smartphones without having to call 911. The app's user-friendly interface makes it simple to discreetly report an incident or tips by sending a message, photo, audio or video to police. A second feature allows police to also share safety information or emergency alerts quickly with users.
Those on or near campus who download LiveSafe, which was customized for UC, can view a map showing their location or even invite one of their phone contacts to monitor their walk to a destination through location tracking.
"The new LiveSafe app is just one part of a number of strategies being implemented to enhance public safety," said Robert Ambach, Bus '89, M (AS) '97, UC's interim public safety director. "The purpose is not to replace other means of communication but to supplement what already exists."
Final renovations to create new look for Teachers College/Dyer Hall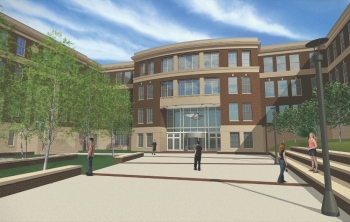 The home base for the College of Education, Criminal Justice, and Human Services (CECH) will start its third phase and final renovations later this year.
Teachers College/Dyer Hall will undergo major renovations starting in the fall of 2014 that will include a brand new entrance (rendering pictured above) featuring a two-story atrium with abundant natural light. The project also will create five new classrooms, two additional elevators, a coffee shop, expanded multimedia capabilities in all classrooms, new restrooms on every floor, a new 120-seat auditorium, a science lab, additional video conferencing rooms and specialized lab space for multiple disciplines.
The two-year project concludes the building update that saw significant improvements on the 500 level in 2001 and a modernization of the original Teachers College portion of the complex in 2008.
Classrooms and labs for CECH will be moved to Clifton Court Pavilion North and South, temporary structures built on space once occupied by Wilson Auditorium, which was razed last year.
Commencement a massive
social media experiment
UC's latest class of graduates wasn't just the largest-ever group of spring graduates—with 6,272 students. They were also the first to take part in a massive social media experiment.
For the first time during commencement, the university used a live feed inside Fifth Third Arena to post Twitter and Instagram messages and photos to video boards during the ceremony. Using the hashtag #UCGrad14, those who walked in one of two ceremonies April 26 were able to snap and share their selfies inside the arena while their family and friends could tap out 140 characters or less to publicly congratulate them from the stands.
Social media metrics reveal that UC's graduation hashtag (which for a time was trending nationally) was used about 6,000 times and reached more than 1.2 million people worldwide.
It may look like a fuel pump for a spaceship, but that thing in the parking lot by Wherry Hall is the university's first electric vehicle charging station. It can charge two cars simultaneously at 240 volts per unit and completely charge a vehicle in a matter of hours.
The station is one of many sustainability initiatives in place, or on the way, that show "green" is growing on campus. In fact, UC was named among the nation's best "green" schools by The Princeton Review for the fifth year in a row.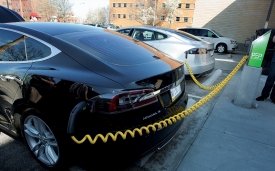 Other notes on sustainability at UC:
Utilities Services reports coal usage is around 90 percent less than what it was in fiscal year 2011, and the university could completely supplant coal as its primary solid fuel within a year's time.
Engineering researchers are developing a process of extracting and filtering oil from used coffee grounds and converting it into biodiesel.
More than 38,000 pounds of organic waste was collected and composted in fall semester as part of Food Services' pilot composting program started at the MarketPointe@Siddall dining center.
UC received a silver rating from the Association for the Advancement of Sustainability in Higher Education's Sustainability Tracking, Assessment and Rating System.
Two UC researchers come up with a 'bright' idea

Two UC researchers from different disciplines teamed up to ponder a simple question: Is there a smarter way to use sunlight? They think they have the answer, and it just might change the future of how building interiors are brightened.
Anton Harfmann, an associate professor of architecture and interior design, and Jason Heikenfeld, Eng '98, D (Eng) '01, an engineering professor, collaborated on an innovative new solar technology called SmartLight and presented it at an international energy forum this fall.
SmartLight uses tiny, electrofluidic cells and a series of open-air "ducts" to redirect sunlight into windowless areas deep inside office buildings, naturally illuminating even the dreariest work space. SmartLight also can store excess energy and direct it to other applications.
"SmartLight would change the equation for energy," says Harfmann. "It would change the way buildings are designed and renovated. It would change the way we use energy and deal with the reality of the sun. It has all sorts of benefits and implications that I don't think we've even begun to touch."