On Campus Yesterday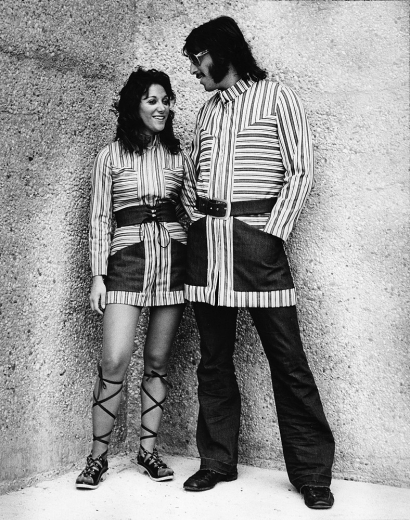 The art of people watching advances to an entirely new level when you hang out in the hallways of the College of Design, Architecture, Art, and Planning, where the rules of fashion differ considerably. Yet the seriously haute couture is found at the annual DAAP fashion show, for which students have been designing and creating entire collections since 1951.
Probably in the early 1970s, these two models showed off a student's creation for this promotional shot, guesses Margaret Voelker-Ferrier, fashion design professor. In 1971, she was a senior at DAA (no P until 1982), but these faces are unfamiliar, she says. Ann Firestone, DAAP '77, fashion design instructor, agrees with the date and suspects the photo was taken outside of Rieveschl Hall, adjacent to DAAP and formerly called the Brodie Science Complex.
This is where we seek help from our readers. Please give us more specifics if possible, such as the year, the designer, the precise location and/or the models' names. Email to: magazine@uc.edu.
LINKS