Historic day for Big-East Bearcats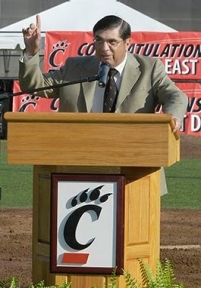 It was a proud moment for the University of Cincinnati as it officially entered what athletic director Bob Goin called "one of the premier conferences in the country."
Goin and UC President Nancy Zimpher welcomed hundreds of UC employees to the Big East celebration July 1, 2005, as they filed into the baseball stadium for breakfast and a free ball cap.
"Entry into the Big East is just about as big as it gets," Zimpher said. "This is a very special day. When I started here, Bob (Goin) said it was academics that led the rationale for entry into the Big East -- supported by a phenomenal athletic program. They go hand in hand."

Goin, who has announced he will retire next year, praised Zimpher's leadership.
"President Zimpher has set standards, and she expects standards to be met in all aspects of this university," he said. "You've got a person with a vision."

Joining the president and Goin at the podium this morning was Big East Commissioner Michael Tranghese.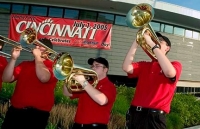 "There were four other institutions joining the Big East today, but note the commissioner is with us," Goin joked. "We got our order in first."
Tranghese, with the Big East since its inception in 1979, welcomed the university to the conference -- a relationship he said would be built upon "trust, integrity, honesty and competition."
UC and four others -- DePaul, Louisville, South Florida and Marquette -- join the Big East today making it the nation's largest Division 1-A conference.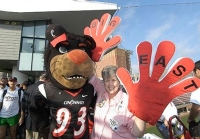 "I should be thanking you for our conference to have this institution among our 16," Tranghese told the UC crowd. "The future is very, very bright for the Big East."
The rest of the Big East celebration included a noon rally downtown at Fountain Square and the main evening celebration with a concert and fireworks at the UC baseball stadium.

Links:
Photo gallery of fireworks and more
Fall sports poised for the big time