Hollywood star gives up silver screen to teach classics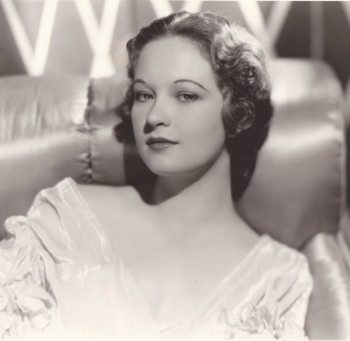 Evelyn Venable also had star status with her students
by Joe Elliott
Stunning small-town Midwestern girl, smart and popular in school, joins drama club, grabs leads in school plays, tours with professional acting troupe, gets discovered by big-time Hollywood producer, becomes film star appearing with such celebrities as Shirley Temple, Katharine Hepburn and W.C. Fields

Although it could have been the basis of a classic movie script, the scenario describes the life of UC alumna Evelyn Venable, att. '33. At least, it's half her story. Long after she stepped away from cameras, the Hollywood starlet entered a new kind of performance space, one in which she transformed herself into a distinguished teacher whose legacy still lives on today nearly two decades after her death.

Born in Cincinnati in 1913, Evelyn was the only child of a tight-knit family that valued education above all else. Her father, Emerson, was an English instructor and classics scholar. Her grandfather, William Henry Venable, was a teacher and a noted author of 20 books of poetry and history.
At various times, both men taught at Walnut Hills High School in Cincinnati, the same school where Evelyn had lead roles in several plays. After graduation, she attended Vassar College, then the University of Cincinnati's College of Arts and Sciences before joining with the Walter Hampden acting troupe, a traveling thespian company. Hampden, a famous Broadway actor, cast her in numerous first-rate Shakespearean productions.

Reportedly she was spotted by a Paramount scout while playing Ophelia in "Hamlet" and soon signed a film contract. Between 1933-43, she starred or appeared in numerous popular productions, including "David Harum" with Will Rogers, "Mrs. Wiggs of the Cabbage Patch" with W.C. Fields, "The Little Colonel" with Shirley Temple, "Alice Adams" with Katharine Hepburn and Fred MacMurray, "Vagabond Lady" with Robert Young, "Lucky Cisco Kid" with Cesar Romero and "Pinocchio" as the voice of the Blue Fairy. (She also may have been the model for the fairy.)

Interestingly, Evelyn's initial contract stipulated that she did not have to cut her long hair or pose for leg art. While she may have requested these clauses, it is also clear that Paramount executives wanted to maintain her wholesome, Midwestern image as a publicity tool.

Her fine features, swan-like form and beautiful speaking voice seemed just right for roles calling for a "poetic" type of actress. But in the period of the brassy, high-chassis platinum blondes like Jean Harlow and Mae West, she was also going against the popular type.

The studio's challenge was to create roles that fit her image as a somewhat demure ingénue, yet allowed her to grow artistically. This was a lot to hope for in an era when most actors had to fit within very limited molds defined by studios.

At the very start of her career, Evelyn found a director who knew how to showcase her delicate beauty and bring out the best in her as a performer — Mitchell Leisen, who would go on to direct some 50 films. He directed Evelyn as the female star in her first film, "Cradle Song," then in her biggest hit, "Death Takes a Holiday," an unusual tale in which Death, played by Fredric March, takes a brief "holiday" from his usual grim tolls by temporarily assuming human form.

March received top billing because he was already an established star. Nevertheless, the production's heart and soul is Evelyn, who was praised for being "luminous" and "radiant" in her performance as Grazia. Leisen's real focus was apparently on Evelyn, so that whatever odd magic this film possessed emanated directly from her character. His efforts paid off handsomely as the movie was a huge commercial hit.
Unfortunately, "Death Takes a Holiday" represents the high watermark of Evelyn Venable's movie career in many ways. Certainly, she would never again appear in a film where the director used her so wisely or where she had the opportunity to flower quite so fully as she did with that production.

Not that she wouldn't go on to other Hollywood successes. She had a very productive career with 24 movies in 10 years. Her last film, "He Hired the Boss," was released in 1943.

By this time, she had married two-time Oscar-winning cinematographer Hal Mohr and was starting to raise a family. Her daughter Rosalia Mohr Woodson explained that her mother left the industry mostly because it was "transitioning from period films, which she adored — wearing gorgeous costumes, playing genteel and well-mannered characters, to more modern projects with more unpleasant, screwed-up characters.

"Also, when my sister, Dolores, and I came into the picture, she chose to be an at-home, hands-on mother," says Woodson.

By the 1950s, Evelyn had returned to academics and was enrolled at UCLA majoring in Latin studies. She completed a bachelor's degree in 1956 and her master's two years later. Immediately, the university hired her as a full-time lecturer in the classics department.

Current UCLA classics professor Robert Gurva says that school records show Evelyn began teaching at UCLA while still working on her own graduate degree. Her teaching load alone was enormous, including courses in Latin prose and composition. Taking on such a task was "extraordinary for someone who had not yet received her own degree," he says.

"During her teaching career, she usually averaged only about three to four hours of sleep, seven days a week," Rosalia recalls. "She spent the rest of the time preparing for her classes, preparing and grading tests. She was a perfectionist."

Moreover, it was as if all those years of hard work as an actress had actually been in preparation for the one stage where she was meant to shine most brilliantly, the classroom. And shine she did.

Not only did the charismatic Evelyn have a passion for and expert knowledge of ancient languages, the former starlet knew how to present it in ways that her students found exhilarating and challenging.

Pat Wickham, a former student who took Greek with Mrs. Mohr, says she was one of her best teachers at UCLA. "Because of her background in acting, she was wonderful in reciting Greek aloud.

"Evelyn's recital of Dido's speeches (attributed to an ancient Carthage queen) was the best I'd ever heard. I remember she always had a wonderful smile on her face. She was so charming and friendly and helpful to all her students," she says.

In addition to teaching, she produced and directed a play each spring. "These were amazing," Wickham adds, "all presented in the Latin or Greek with original music and costumes. After I finished at UCLA, I brought my high school classes to these plays."

One of the most moving testaments of Evelyn's impact as a teacher comes from former student Bruce Thornton, distinguished classics professor at California State University. "To understand the impact she had on me, know that I came to UCLA from a rural cattle ranch, the first in my family to attend university. The world of learning, books, culture and Hollywood stars, of course, was as distant and strange as Mars.

"What impressed me first about Mrs. Mohr was the woman herself: She was formal, but with humor and grace. She spoke beautifully, but with warmth, wit and a genuine interest in what you were saying.

"Of course, she was gorgeous, even at 60. She always dressed as one would think a retired movie star would — her hair and makeup perfect, her clothes elegant.

"The fact that someone so striking and smart took interest in a country kid like me was critical. Her gracious empathy overcame my defensive suspicion that this strange new world was full of smart-ass city-boys who thought they were better than I," he continues.

"She saw past all of that and cultivated my abilities. She showed me that nothing else mattered except talent, that my background was no impediment to my aspirations to be as cultured and learned as those with greater advantages, that the only true elite comprised those who developed their abilities yet remained humane and who, like her, didn't take themselves too seriously."

Evelyn Venable Mohr, who died in 1993 at age 80, was a star in two realms — the movies and the classroom. Her 20-plus years as a UCLA instructor of languages turned out to be a stellar engagement in which she changed countless lives.

"Passion went into her work," says Conrad Barrett, one of her colleagues. "In the classroom, she used her dramatic skills to help inspire and clarify things.

"She believed that the development of the mind was a great thing and urged students to work hard toward this noble end. Her students were moved to do better than they might have done for a less inspired and effective teacher."

Perhaps Professor Thornton sums it up best, "She showed me that learning, beauty, elegance and humanity could coexist in the same person."
Author Joe Elliott is a classic movie fan who spent a great deal of time researching Evelyn Venable. Evelyn's daughter Rosalia helped with the article, a longer version of which originally appeared in Classic Images magazine. "I'd love to hear from anyone who might wish to ask a question about EV or has something he/she would like to share.," Elliott says. You can contact him here (elliottwnc@aol.com).

Elliott dedicates the article in memory of Evelyn's daughter Dolores Mohr Lofgren who died last year.
At right: Evelyn Venable holds daughter Dolores as a baby.
Was Columbia Pictures 1936 Torch Lady an illustration of Venable?

Evelyn Venable believed she was the model for the 1936-76 version of the famous Columbia Pictures logo, the Torch Lady, according to her daughter Rosalia Mohr Woodson. The image of the tall, slender woman holding aloft a burning torch is one of the most familiar in all of film.

But Evelyn had never given the studio permission to use her image, Rosalia adds. "My mother said that she never was asked, nor gave, permission to Columbia. Of course, in that era, the studios did pretty much what they wanted.

"In recent years we have attempted to get info from the studio, but all we got was 'no comment' or 'we don't know.' As far as I'm concerned, that's her."