Never pictured I would …
September 2012

In this issue, we tell stories of graduates whose paths have gone in unanticipated directions. Some discovered within themselves the need to do an about-face in life while others turned on a dime due to unforeseen, even tragic, circumstances. For all, however, it's been a life of which they never dreamed.

Tragedy spurs advocacy
A son's death lands grad on "Food, Inc." and fighting for safer food.

A starlet's story
A Hollywood actress left behind the silver screen to teach.

Honoring a brother's last request
Holocaust survivor builds bridges of reconciliation.

Actor to the rescue -- of tigers
Alumnus found his way from stage and screen to wildlife conservation.

Walking the walk
Doc's career path moved from corporate world to waiting tables to treating cancer.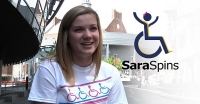 Departments